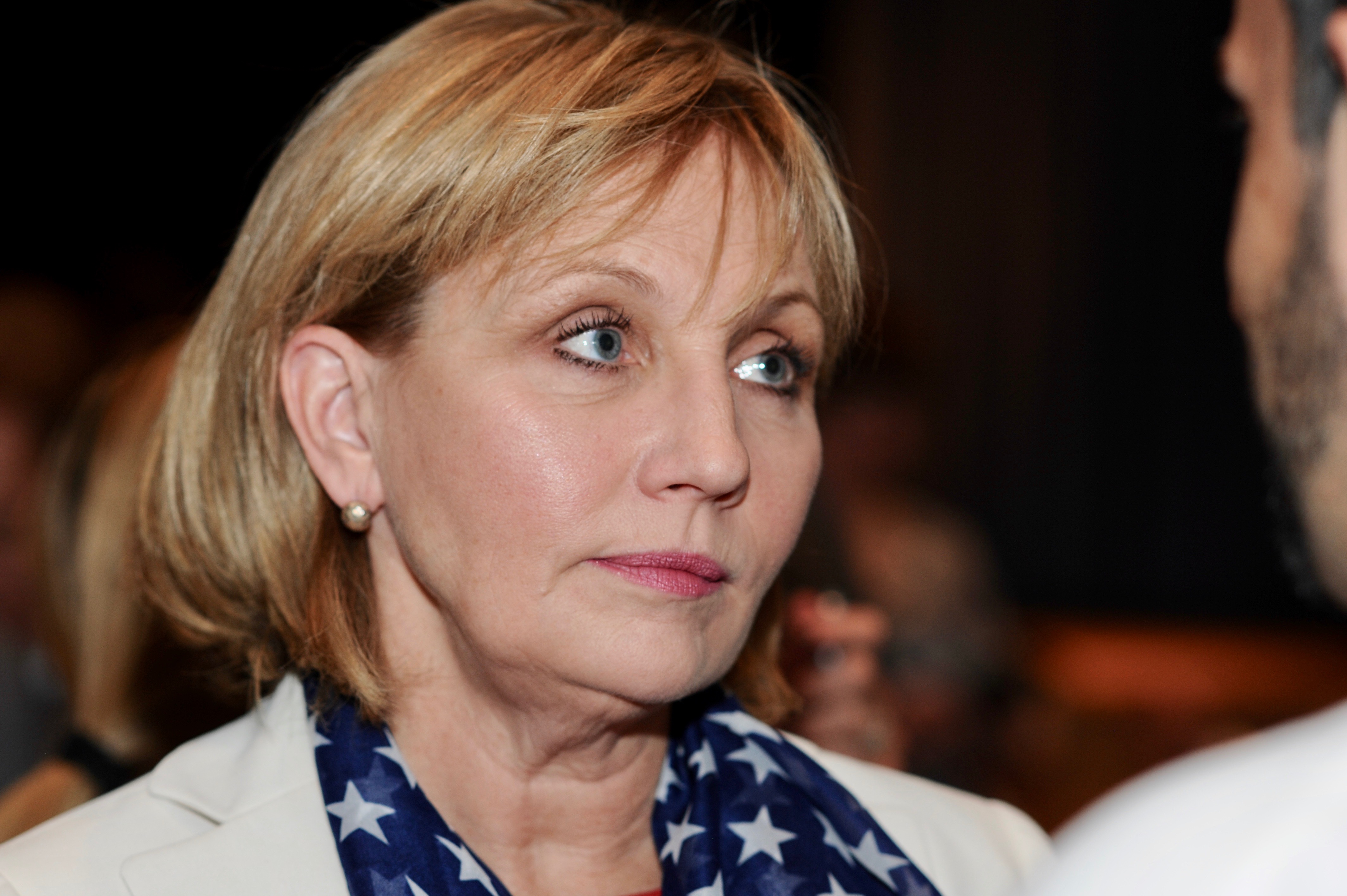 Kim Guadagno, the Republican nominee for governor, declined to comment several times on a state lawmaker who posed for a picture in front of a Confederate flag, telling reporters Tuesday she had not seen the photo.
Assemblyman Parker Space (R-Sussex) and his wife were at a Hank Williams concert over the weekend and were photographed in front of a Confederate flag with Williams's face on it. The flag, known as the Hank Williams Rebel Flag, reads, "If the south would've won, we would've had it made." Only the second part of the sentence is visible in the picture.
Space and his wife are the New Jersey Republican State Committee's representatives from Sussex County.
"Tailgating waiting for Hank," Space wrote in a Facebook post with the picture. "Hope no one is offended! Lol."
Guadagno said Tuesday that she hadn't seen the picture, but later said she had a "vague understanding" that the photo was at a concert.
"I have not seen the actual posting so I'm going to leave it to Parker Space to answer for that," she said at an unrelated news conference in Robbinsville.
"Look — the Confederate flag — I want to see the picture," she said later. "My point to you is, I want to see the picture first."
After a reporter described the picture to her, Guadagno said, "It's offensive if it stands for what it purports to stand for, but I haven't seen it yet."
Assembly Minority Leader Jon Bramnick (R-Union) was also at the event and spoke out more forcefully. Bramnick said that he had seen the picture and that it was "troublesome."
"My position is, I'm from the north. I support the north. I don't support what the Confederate flag stands for and it's obviously troublesome," Bramnick said. "But you've got to ask Parker what his position is. It's troublesome to me as somebody who believes in the values that the north fought for."
Space declined to apologize. "They've got to suck it up," he told Insider NJ. In a statement, he said he didn't mean to offend anyone with the picture, but added those who were offended "don't understand our sense of humor."
"I get up at 4 a.m. every day, work in the fields, care for the animals, their feeding and health. When I'm not baling hay, I'm putting out fires — just like my grandfather and father did, and my son does too, we're all volunteer firefighters," the assemblyman said in a statement. "The working people that I am a part of helped to make America great. We have our own ways, our own music, our own sense of humor."
This isn't the first time Space has sparked controversy with the Confederate flag. In 2015, he was the only Assembly member to abstain on a vote condemning the official use of the Confederate flag.
Two Democratic Assembly candidates running against Space and his running mate, former Labor Commissioner Harold Wirths, seized on the picture Monday, saying in a Twitter post that it showed Space's "true colors." In a joint statement, Democrats Kate Matteson and Gina Trish referenced this month's deadly violence in Charlottesville, Va., where neo-Nazis rallied to protest the removal of a statue of the Confederate general Robert E. Lee.
"Assemblyman Space has willfully disrespected thousands of his constituents by posing in front of a Confederate flag and taunting us with 'hope no one is offended,'" the statement said. "The truth is we are deeply offended and shocked by his behavior. While our country is still mourning the events of Charlottesville, Space is rubbing salt in the wounds."
State Sen. Nia Gill (D-Essex) blasted Space in a statement Tuesday, saying his words and actions "are tinged with hatred and bigotry." She said the Confederate flag has become a representation of racism and white supremacy. Gill also denounced the words on the Hank Williams's version of the flag.
"If the south would have won, African-Americans would be in bondage," she said. "Hatred and bigotry have no place in New Jersey's Legislature or our elected politics. The party of Lincoln has fallen into the hands of people like Donald Trump and Parker Space, who intentionally stoke the fire of racism to create division. I am calling on all people of good conscience, no matter what party, to condemn this bigotry and hatred."
Update (4:36 p.m.): Sen. Nia Gill issued a statement responding to Space's photo and remarks. Her comments have been added to the story.