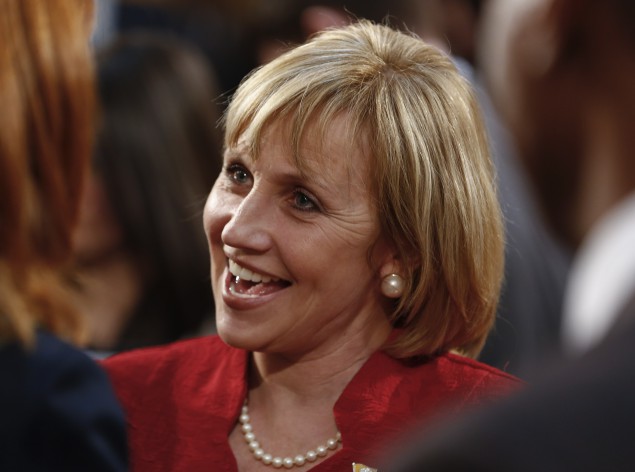 Kim Guadagno, the Republican nominee for governor, is making an unlikely play to win over police officers and firefighters as she seeks to build support for her underdog candidacy.
Although Republicans nationwide have long found success by branding themselves as law-and-order candidates, in New Jersey, the state's largest public safety unions tend to support Democrats, and Democrats in turn tend to support policies favored by those unions.
Guadagno, who is trailing far behind in recent public polling and needs to make inroads with voters outside her base, is hoping to break the mold this year and to divide the rank-and-file members of public safety unions from their statewide leadership.
The state's largest police and fire unions have endorsed Democrat Phil Murphy, a former Goldman Sachs executive and U.S. ambassador to Germany, for governor. A former Monmouth County sheriff and federal prosecutor, Guadagno argues the unions endorsed him too early, without hearing her out first and considering the friendlier bargaining terms she would bring to the table compared with her boss, Gov. Chris Christie.
"Recently, I have been sitting down with each of them and have been saying just that: 'Release your locals,'" she said of public safety union leaders at a town hall Friday with first responders in a Monmouth County firehouse.
Guadagno's running mate, Woodcliff Lake Mayor Carlos Rendo, blasted Murphy's plan to make New Jersey a sanctuary state, describing it as an unfair policy to police officers working to lock up criminals who are undocumented immigrants.
"We're going to release criminals from jail after these gentlemen — these men and women — work day and night to put them in there, and they get convicted and then they get released?" Rendo said at the same town hall Friday. "How is that reasonable? How is that good policy?"
Guadagno's campaign has sought to set her apart from Christie on the question of police and fire pensions, following years of bitter confrontations between public safety unions and the sitting governor. When he first ran, Christie promised not to reduce benefits for police. But then he signed landmark legislation doing just that in 2011. Christie softened the blow then by committing billions of dollars from the state in pension funding. But in 2014, he scaled back those contributions amid a budget crisis caused by his administration's faulty revenue projects.
In 2011, Christie and Democrats froze cost of living adjustments, or COLAs, for all retired public workers drawing a state pension. When the freeze was challenged in the courts, Christie won a ruling from the state Supreme Court upholding his COLA freeze in 2016.
Out of the five pension funds in the state pension system, the Police and Firemen's Retirement System is funded at the healthiest levels and union leaders have tried to spin off that fund from the other ones and restore their COLAs. Christie vetoed legislation to spin off that fund this year, but Guadagno said she would support a reworked version of that plan.
"The pension issues for first responders are different than the pension issues for the [Communications Workers of America] and the teachers' union," she said. "They should be separate. They should be standalone. You should get your COLAs back."
But it could be too little too late for Guadagno, who was at Christie's side as lieutenant governor for almost eight years and trails Murphy in public polls by wide margins. The New Jersey branches of the Policemen's Benevolent Association, Fraternal Order of Police, Fireman's Mutual Benevolent Association and International Association of Fire Fighters are all behind Murphy and aren't wavering in their support.
And Guadagno's play for public safety workers causes conflicts at times with her pledge to reduce property taxes. Days after telling police and firefighters they should get their COLAs back, her campaign sent a news release bashing Murphy for refusing to say whether he will extend a cap on interest arbitration awards. That 2010 law is widely credited for slowing the rate of property tax hikes. But it effectively caps increases in police and fire salaries to 2 percent a year.
"Unfortunately, she had almost eight full years to try and make those changes under the administration she was working with," New Jersey PBA President Patrick Colligan said. "She was lieutenant governor and she didn't do anything to help us then. … I don't know why she's thinking she can do it now, or has much credibility to do it now."
Brigid C. Harrison, a political science professor at Montclair State University, said given Guadagno's background as a sheriff, it makes sense for her to view law enforcement as part of her base constituency. But she said Guadagno's ties to Christie and the perceived inevitability of a Murphy victory make it difficult for her to win support of public safety unions.
"It's all well and good to make a play for these locals," Harrison said. "But I don't hear a lot of locals beating down the door, saying we want to break with the state union and also back someone who is down by so much in the polls."
In May, Christie conditionally vetoed a bill that would have transferred management of the PFRS from the state to a new board of trustees. He said the legislation went too far and would undo parts of the 2011 pension reform law that reined in benefit costs, including the COLA freeze. Those adjustments are to remain suspended until the pension funds reach a "target funded ratio" of 80 percent, under the terms of the pension overhaul Christie signed.
"I refuse to repeat the mistakes of prior governors and Legislatures who enacted pension legislation without ensuring appropriate safeguards for taxpayers nor securing significant concessions from labor," Christie wrote in his conditional veto.
Union officials and state lawmakers argued the bill would have prevented state officials' political interference and history of mismanagement to further harm the PFRS and its dependents. They noted the PFRS was in much better shape than other public pension funds and was therefore in the best position to manage its investments. The PFRS was funded at roughly 70 percent as of June 2016, according to the most recent annual actuarial valuation report.
"She believes the bill had merit, and she's confident a version can pass with tweaks that provides accountability and also protects taxpayers," Guadagno spokesman Ricky Diaz said. He did not say what those tweaks would be.
Tom Byrne, chairman of the New Jersey State Investment Council, said the argument to restore COLAs for retired police officers and firefighters is justifiable given the PFRS's relatively healthy funded ratio and since police don't get Social Security benefits, which include COLAs. Cost-of-living adjustments are paid out directly from the pension funds, not from the state budget.
"But it may mean either a greater insecurity for newer police and fire workers or higher property taxes down the road if contribution rates have to go up to restore a fund that has become less healthy," he said. Byrne added that letting PFRS members manage their own fund is a legitimate proposal too and is done in other states. But he said such a bill needs to be "crafted properly" to protect taxpayers.