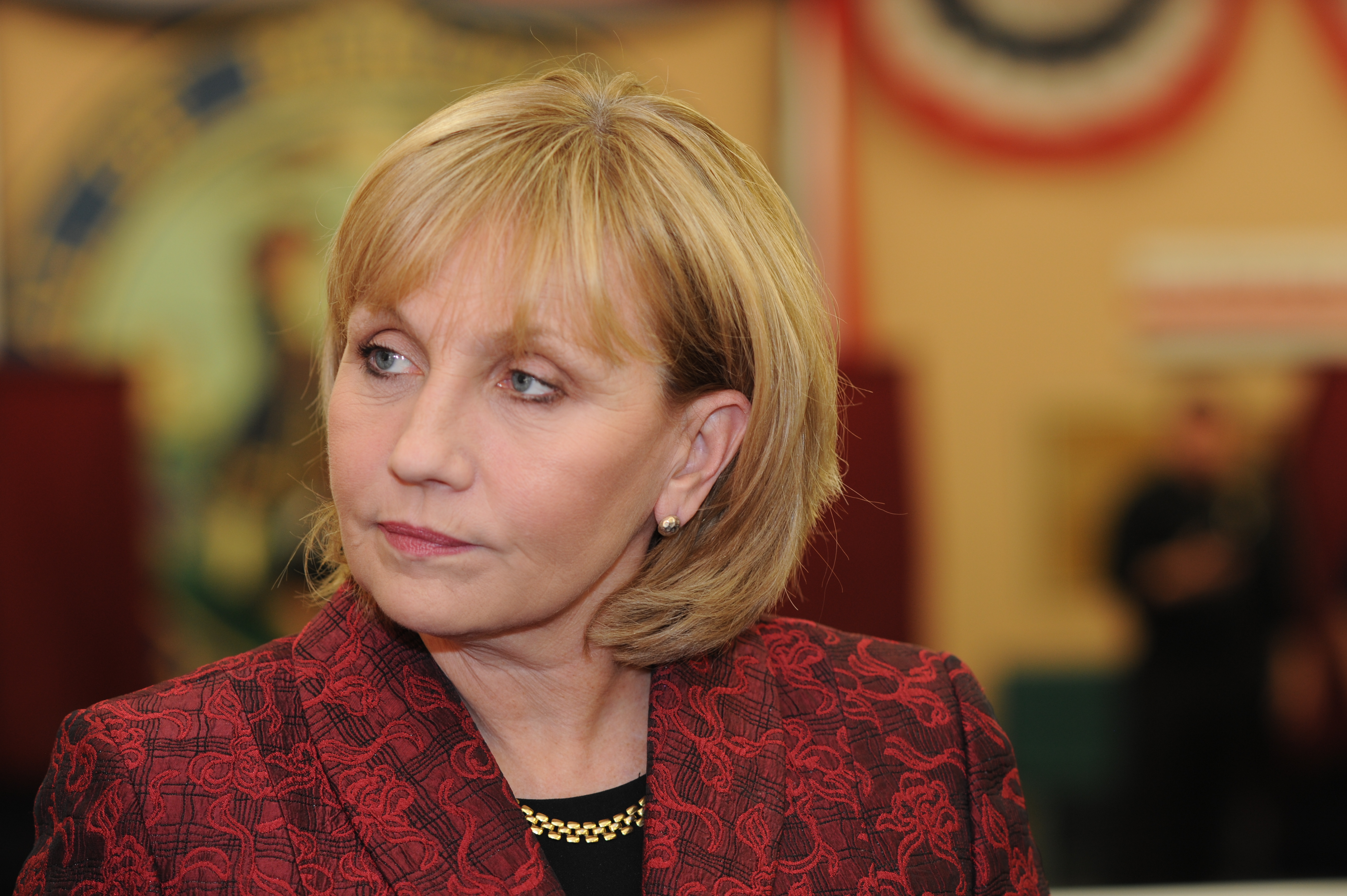 Kim Guadagno's internal polling shows her 9 points behind Democrat Phil Murphy in the governor's race. That's not as bad as public polls have shown in recent months, but it is further evidence of her underdog status.
Guadagno, the Republican nominee for governor, got 27 percent support from likely voters, compared with 36 percent for Murphy, according to an internal campaign poll conducted in late June by Adam Geller, a pollster at National Research Inc. Five other candidates polled at 2 percent or less.
Nearly one-fifth of voters — 21 percent — were undecided and 7 percent only "lean" toward either Murphy or Guadagno. If those "lean" voters were included in the total for each candidate, Murphy would lead 42 percent to 28 percent, a 14-point advantage.
Public polls from Monmouth and Quinnipiac universities have shown Murphy with larger leads of 27 to 29 points. A survey by Marist University had Murphy up by 21 points over Guadagno.
Guadagno has made reining in the state's highest-in-the-nation property taxes a pillar of her campaign. The internal poll showed that was the top priority for likely voters as well, with 24 percent calling it the most important issue facing New Jersey. Improving the economy and reducing health care costs followed with 11 percent each.
The campaign polled messaging about the candidates. Given two choices, 55 percent of voters said they want their governor to be a check on the state Legislature by vetoing tax increases (Guadagno's top line), while 29 percent said they wanted a buffer against President Trump's policies (Murphy's frequent pitch).
In the landscape described by Guadagno's internal polling, she appears to have a narrow but real opening at gaining momentum in the race with her message to cut taxes and the cost of living.
When voters were given a favorable description of Guadagno's pledge to make the state affordable, compared with a description of Murphy as a "liberal Wall Street millionaire like Jon Corzine," voters preferred Guadagno 51 percent to 31 percent.
However, the poll did not ask a similar question describing Murphy more favorably than Guadagno, or associating her with Gov. Chris Christie and President Trump, as Murphy's campaign has tried to do.
Guadagno's poll did find that Christie and Trump were both deeply unpopular in New Jersey. Only 21 percent of voters had a favorable opinion of Christie, while 72 percent disapproved of him. One-third of New Jersey voters like Donald Trump, while 60 percent do not.
Opinions of the gubernatorial candidates were less complete. Thirty-three percent approved of Murphy, while 23 percent had a negative view. For Guadagno, 31 percent of voters had a positive opinion, and 28 percent had an unfavorable one.
"Even after spending $20 million of his own money to buy the Democrat nomination, Phil Murphy remains an extraordinarily weak and unknown candidate whose promise to raise taxes is wildly out of touch with New Jersey voters," said Geller, the Guadagno campaign pollster, in a statement. "Not only is this race much closer than the public polls suggest, there is a clear and wide-open path to victory for Kim Guadagno in 2017 because voters understand that this race is about pocketbook issues."
The poll included 600 likely voters from June 25 to 27 and had a margin of error of plus or minus 4 percent.
Geller polled for President Trump's 2016 campaign in some of the key Rust Belt states of Michigan, Wisconsin and Iowa that gave the president his unexpected victory. His firm, National Research Inc., received a B-plus grade by FiveThirtyEight in August 2016.