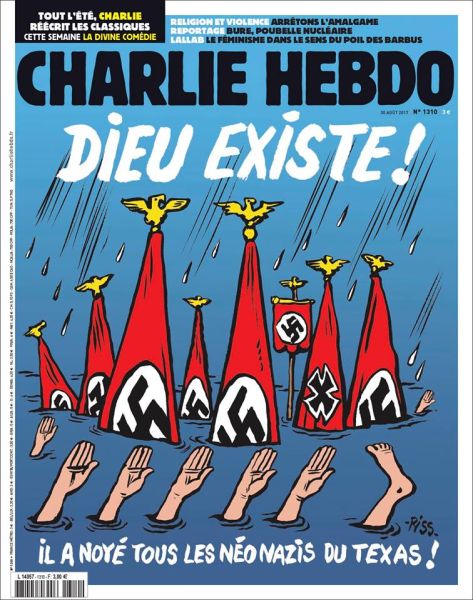 Charlie Hebdo is the most provocative, controversial voice in French media. But it may have finally gone too far with its latest cover.
The cover of this week's magazine features the headline "God Exists! He Drowned All the Neo-Nazis of Texas." It's accompanied by an illustration of flags with swastikas submerged in water and hands giving the Nazi salute.
This image is a not-so-veiled reference to Hurricane Harvey, which has killed 38 people and left thousands homeless.
There is no evidence that any of the storm's victims were neo-Nazis. The cover and caption are more likely framing the hurricane as punishment for the recent white supremacist violence in Charlottesivlle, Va. President Donald Trump has been criticized for not directly condemning the "Unite the Right" rally, even after one of the participants killed counter-protester Heather Heyer.
Another reason for the cover is that Trump won Texas in the 2016 election (though Harris County, where Houston is located, voted for Hillary Clinton).
The cover was widely condemned—even by the publication's fans. Several commenters on the magazine's Facebook page wrote that the cover was heartless.
"Always the same fucking joke," one person wrote. "It's a big bust."
"So laughing at everything means losing all compassion," another commenter added. "What about all those who are not neo-Nazis and have lost their homes?"
Charlie Hebdo is no stranger to controversy. The magazine is infamous for publishing cartoons that depict the prophet Muhammad—such images are taboo for Muslims. Its offices were firebombed in 2011 after one such cover.
And of course, Charlie Hebdo got international attention in January 2015, when two gunmen attacked the magazine's headquarters in Paris and killed 12 people, including the editor-in-chief, two police officers and several cartoonists. The attackers said their act was meant to punish Charlie Hebdo for its cartoons of Muhammad.
The terror attack led to worldwide support for the paper. The chant "Je suis Charlie" ("I am Charlie") became a rallying cry at protests.
While there was little goodwill for Charlie Hebdo following its latest cover, several journalists stood up for the paper's right to publish it—while at the same time vehemently disagreeing with its views.
The editors of Charlie Hebdo weren't the only people forced to eat crow after Hurricane Harvey. A professor at the University of Tampa was fired this week after tweeting that the storm was "instant karma" meant to show Texas that "the GOP doesn't care about them."