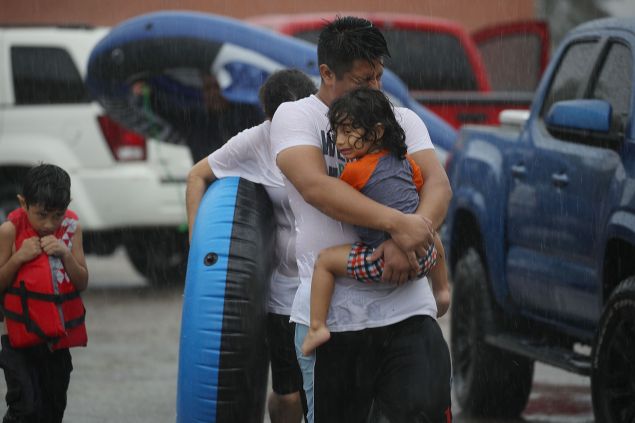 Wireless companies don't just watch out for their customers during viral events like the total solar eclipse—they also help out when they're in harm's way.
Hurricane Harvey made landfall in Texas this weekend, pummeling the state with over three feet of rain and wind gusts of 130 miles per hour, and the bad weather could continue for days. Since cities like Houston did not issue mandatory evacuation orders, many residents were trapped inside their flooded homes as they attempted to contact first responders.
But wireless networks along the Texas coast have been knocked out by the storm, leaving some counties with little or no cellphone service. About four percent of cell sites across the state are down. That may sound like a small amount, but it affects almost 150,000 people. Service has slowed across most of Texas as residents attempt to connect to the remaining towers.
Rockport, the city where Harvey made landfall, was the hardest hit—95 percent of cell sites there are unable to process phone calls or data requests, according to the Federal Communications Commission.
Most cell towers have backup batteries that can last up to eight hours, and fuel generators that last even longer. But if the site gets flooded or equipment blows away in the wind, customers are out of luck.
As such, the nation's leading wireless carriers are beefing up service to help their Texas customers. Verizon sent extra crews into the state, who topped off fuel in every tower's backup generator. The company is also offering free service to monthly subscribers in the affected area until September 8.
A Sprint spokesperson told The Wall Street Journal that "a relatively small number of cell sites" were impacted by the storm, but the network is holding up well overall. Sprint is offering free unlimited service until September 1.
About 50 towers in T-Mobile's Corpus Christi market (which includes Rockport) faced service issues, so the company rolled out new generators and equipment once the storm subsided. T-Mobile is also providing free calling and texting services to affected customers.
According to AT&T, the company's networks in South Texas are still performing well, and technicians plan to restore service to affected areas "as quickly and safely as conditions allow." A spokesperson told the Observer that the company will issue credits to impacted customers for additional data, voice and text charges through September 1.
All the wireless companies recommend that customers keep cellphones and backup batteries charged and communicate using text messages instead of voice calls to reduce network congestion.