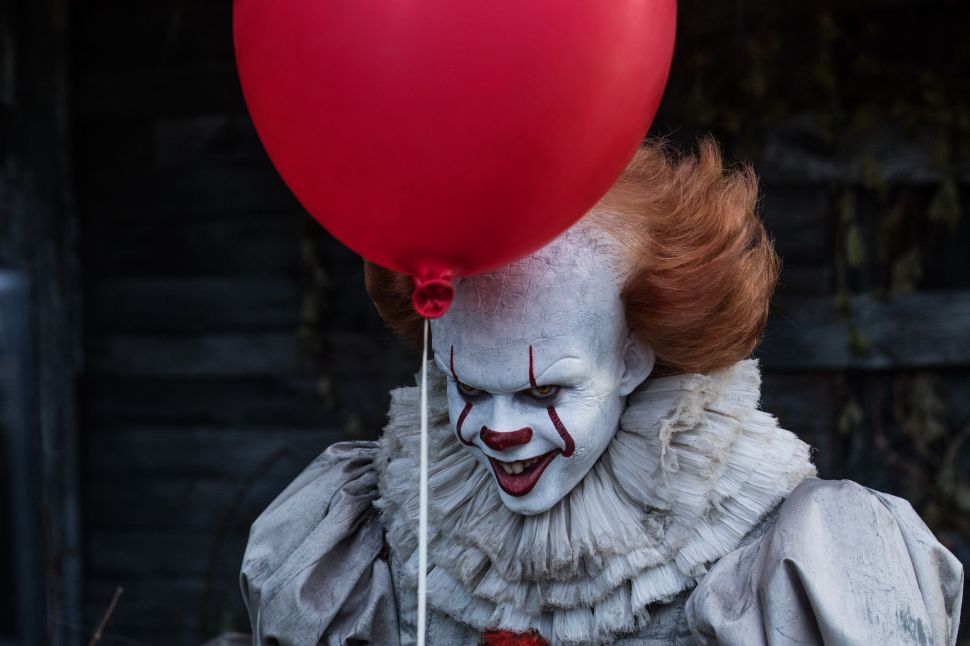 Though the summer box office is down upward of 12 percent and ticket sales have continued their steady decline, Hollywood could take some solace in the fact that New Line Cinema and Warner Bros.' upcoming horror feature It was tracking for a huge $50 million opening. But now it looks as if those initial projections were inaccurate.
New tracking numbers suggest the remake of Stephen King's classic novel could pull in as much as $60 million in its opening weekend, which would mark the biggest horror movie debut in history and the biggest September opening ever, according to The Wrap. The horror genre is the gift that just keeps on giving at the box office.
Ridley Scott's 2001 Hannibal still holds the horror movie opening weekend record with $58 million and is followed by 2011's Paranormal Activity 3, which took in $52.5 million. Hotel Transylvania 2 boasts the biggest September opening with $48.4 million back in 2015, according to Box Office Mojo.
Typically, R-rated horror films don't break out like this. Among the biggest opening weekends for R-rated films of all-time, the highest scare flick on the list is 2013's The Conjuring at No. 33 with $41.8 million. But It is the perfect combination of nostalgia and cross-generational appeal that has intrigued even the most casual of film fans. The movie's first trailer set the record for most views ever in 24 hours back in March. Clearly, there's a buzz about It that other movies just aren't generating this year.
But Warner Bros. isn't getting ahead of itself just yet. Studio sources told The Wrap that internal estimates are far more conservative at a still impressive $35 million-plus, which would put it on pace for roughly $260 million worldwide (off a fairly big budget of $35 million to $40 million). But if It lives up to its $60 million promise and play's like The Conjuring (3.2 domestic multiplier), it could be looking at a worldwide total somewhere around $450 million!
With Wonder Woman, Annabelle: Creation, It and Justice League, Warner Bros. will likely be toasting to a profitable 2017 come New Years.