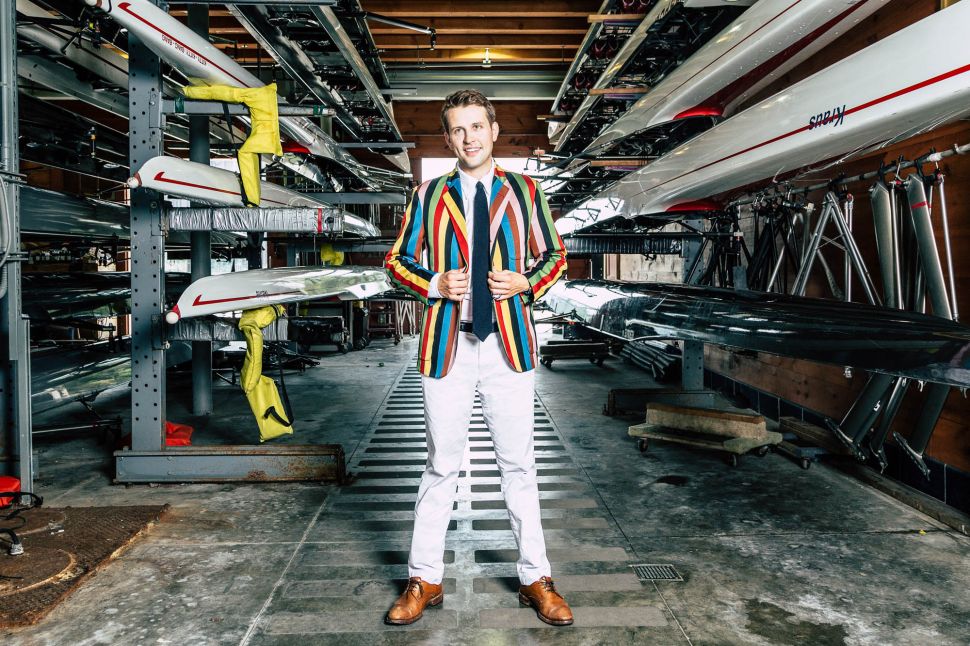 Anyone's first meeting with Jack Carlson is, well, a delight. He usually accessorizes his Oxford shirts with a beaming smile and an energy to match. At the age of 30, he has a whopping three degrees under his belt—one from Georgetown University, where he earned his Bachelor's degree in Chinese studies and classics, and two from Oxford University, where he earned a masters and a doctorate in archeology.
Now, the lifelong academic and athlete is challenging himself to learn something entirely new. It's not dead languages or unearthing relics, but the ins and outs of menswear—an industry he admired from afar and finally dove into when he embarked on the book project Rowing Blazers, which was released in 2014. The Vendome Press-published tome is half photo collection, half history book. It provides a candid look behind the rowing community and the history of their time-honored threads, namely the caps and blazers that stand out in a sporting age where traditional garments have largely been abandoned in favor of technologically advanced and enhanced gear. Now Carlson is diving head first into the menswear melee with a clothing brand inspired by the research he encountered during his literary foray, and titled to match: Rowing Blazers.
The brand's roots are pretty authentic, given Carlson's long love affair with the sport. It all began when he entered middle school at Buckingham Browne & Nichols in Cambridge, Massachusetts. In spite of his budding little league baseball career, he was convinced by a math teacher to try out for the crew team.
"He told me I was the perfect size, and the perfect temperament to be a coxswain," Carlson recalled when we sat down with him recently at the Peter Jay Sharp Boathouse in Harlem, where he volunteers for Row New York, an organization that introduces underprivileged children to rowing. "He basically meant I was really small and kind of had a big mouth." This eventually led Carlson to compete in the Henley Royal Regatta, the rowing event held every year on the River Thames in England, where he designed his first rowing blazer for his own high school team. Since then, his decorated rowing career has included a bronze medal earned as a coxswain at the 2015 World Rowing Championship, among many other renowned titles.
"I wasn't living in New York throughout most of my rowing career or when I was working on the book," he said of his first stumble into menswear. "I was living in Oxfordshire of all places, which is kind of funny to think about. I went from biking everywhere, and spending most of my time either in a boat or in medieval libraries reading about Roman or Han Dynasty archeology. Now I'm running all over the Garment District, New Jersey, and Brooklyn, puzzling together how we're going to make these very specific products with quirky details to them." The entirely American-made garments are quirky indeed. They include shirts with "busted" seams, Japanese wool ties with patches inspired by defunct Ivy League organizations like the Oxford University Bath Club, and, of course, a selection of ten blazers that tout hand-sewn Latin cri de guerre under the lapels.
Since launching the business last May with a presentation held at The Explorer's Club on Manhattan's Upper East Side, which came complete with sheet pizza and an appearance by fellow Olympic rowers Cameron & Tyler Winklevoss, Rowing Blazers' product offering has sold out on several occasions. It's a low-quantity, detail-oriented production. The brand's most loyal American customers come from two disparate groups—menswear clotheshorses and rowing enthusiasts. Japan is the brand's second largest market. "It's interesting, I've found that being able to say that our pieces are all made in America means more in Japan than it does in America," Carlson mused. Next, he plans to tackle new product categories including knitwear with German heritage manufacturer Merz B. Schwanen, and bags with a yet-to-be-named Japanese partner. "I only want to do a new product category if we can do it absolutely the right way," said Carlson of his strategic collaborators. "My way of thinking is that if there's someone out there that we know who is doing a piece really well, then why not work with them on it?"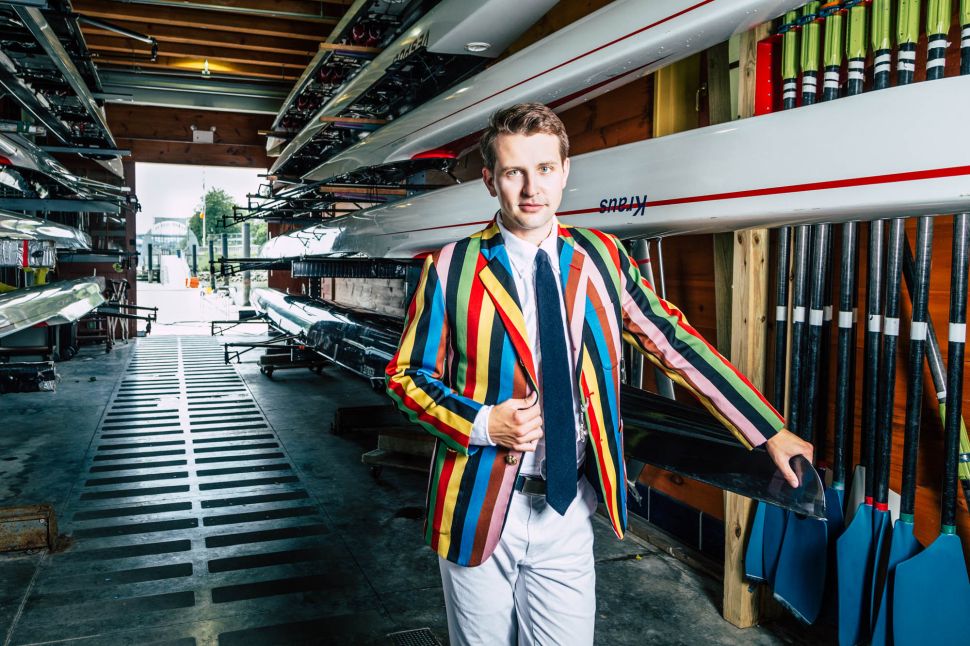 Like most career academics, Carlson's impetus for starting his apparel collection came to him in the library. It was there he re-discovered the history of the blazer. "I traced back to the first time the word blazer was ever used, that we know of anyway, to refer to a piece of clothing," he explained. "It comes from a rowing club in Cambridge, Lady Margaret Boat Club, where they started wearing these bright red flannel jackets with metal buttons. They were blazing red, and became known, for short, as blazers. So, I think it was through the process of researching for Rowing Blazers the book that I realized the bigger implications of what I was working on," he says. "It also made me realize that no one was making a proper blazer, certainly not a proper rowing blazer, anymore." To Carlson, that seemed like a real shame. That was where it all started for the dapper coat. He felt as though it had lost its roots.
Thus, Rowing Blazers isn't just an homage to rowing, but to a cornerstone garment, and while it may be easy to peg the wares as ready-made costuming for The Dead Poets Society, Carlson has purposely drawn inspiration from source material that goes well beyond the typical tropes of prep-wear. "We try to steer away from the p-word as far as we can," Carlson said. "I like teasing the idea that we are preppy, but we aren't. The idea is certainly not to recreate Vineyard Vines or Ralph Lauren, it's meant to have a lot more depth of meaning and authenticity, and I know that's a way-overused word these days, but I really mean it." After all, as he points out, "I spent my life traveling all over the world, researching the blazer to some degree, and obsessing over it. I literally wrote the book about it."