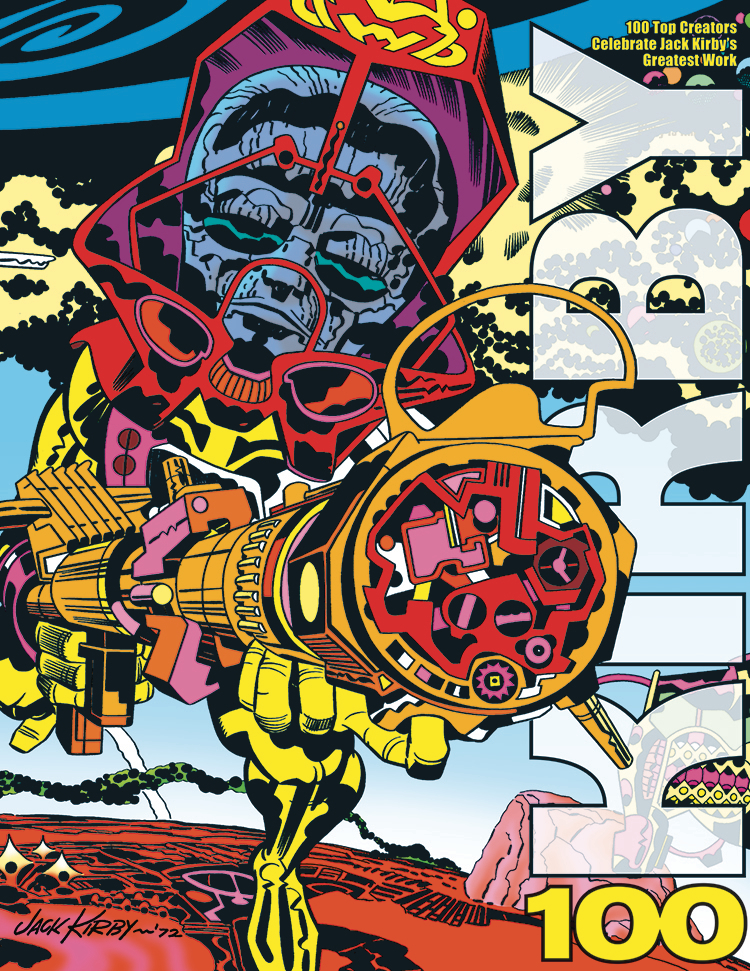 Near Mint, is our weekly comics column where we discuss all the KAPOW! that's fit to print. This week: celebrating the 100th birthday of crackling comics god, Jack Kirby
There is only one real king of superhero comics, Jack Kirby. Compared to his kinetic American hieroglyphs, the battling heroes in films like the Avengers look like little more than plastic toy soldiers. He's the artist behind numerous Marvel titles including Fantastic Four, X-Men, and also New Gods at DC. To name all of the characters he had a hand in creating would take the length of this article. Kirby, whose career spanned nearly 60 years of comics, died on February 6th, 1994. But this Monday, August 28th, marks his 100th birthday, and Kirby crazed comics fans are gearing up to celebrate his legacy.
Jack is survived by his extended family, including his granddaughter Jillian Kirby, who raises money for comics professionals in need of financial and medical aid in an often fickle industry.  Her project, Kirby4heroes, is perhaps most known for their event, Wake Up and Draw, in which artists create and auction off work on Kirby's birthday.  "I wanted to do something to honor my grandfather's legacy," Jillian commented on the Women of Marvel podcast. This Monday, artist Brent Schoonover will be drawing 100 Kirby inspired artworks at The Source comics and games store in Roseville, Minnesota. Artist Phil Hester has also pledged to draw 100 Kirby's on Monday, all of which have already sold. The Kirby Collector, a long-running magazine, will be publishing a special edition, Kirby100, featuring tribute art from 100 comic pros including Jim Lee, Wendy Pini and Alex Ross. Other tributes include a panel at Comic-Con last month, and a campaign for a Kirby google doodle.
Kirby's influence has been so profound that there is even a Jack Kirby Museum & Research Center, which will be hosting a series of parties and talks at One Art Space in New York throughout next week. To get to know Jack better, I spoke to Rand Hoppe, a founding trustee of the Kirby Museum. Rand revealed how Jack's life experiences influenced his work.
"His Kirby tech—his way of drawing technology—was inspired by visits to the sweatshops where his parents worked on the lower east side," says Hoppe. "He saw these looms and the steam generators when he was a little kid. He was awestruck by their largeness and complexity, and it ended up in his artwork." A dark origin for such a colorful artist, but Kirby's youth was less than picture perfect. Perhaps he was trying to find beauty in the industrial bleakness of the early 20th century?  "He was a kid from the tough streets of the lower east side" Rand acknowledged. "He also had some brutal WWII experiences which informed his work."
During his time in the service, Kirby's commanding officer assigned him the role of a scout who would go behind enemy lines to draw tank locations; a spy of sorts.  According to Rand, there may be a connection between Jack Kirby's time as a scout and the character the Silver Surfer, who reluctantly scouts planets for the world eating space god, Galactus. By the time he served in WWII, Kirby had already created Captain America with Joe Simon. Cap was seen punching Hitler on the cover of Captain America #1 in the December of 1940, a full year before Pearl Harbor and U.S. involvement in the war. Kirby was insistent that he pencil the first issue.
While it has been many decades since Jack's work first hit newsstands, he remains something of a soothsayer. Today we see superheroes as our modern mythology, but according to Rand that was always Jack's vision. "At the first San Diego Comic-Con [in 1970] he was like, 'yeah, Hollywood is gonna come to this convention to look for ideas,' and everyone looked at him like he was nuts!" Rand laughs. " but he was right!" Unfortunately, some of Jack's visions have been a bit darker. At the Daily Beast, writer Elana Levin posits that Kirby predicted Trump with the Glorious Godfrey, a posturing blonde supervillain who drives the masses to fascism and gives them special hats.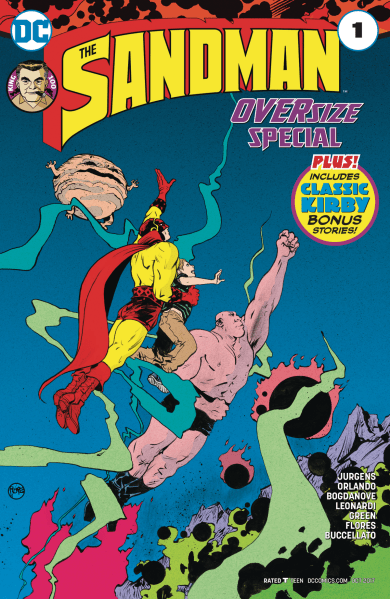 Perhaps the most visible celebration of Kirby's 100th is a series of specials from DC, which venerate some of Jack's more obscure work. The strongest effort thus far has been the Manhunter and Sandman one shots. Sandman's pages pull on the heartstrings by bringing Jack Kirby himself into the comic as a character. It's an expected ploy, but an effective one. The Manhunter story, with layouts by Keith Giffen and art by Mark Buckingham, captures Kirby's penchant for acrobatic choreography. A Mister Miracle/Black Racer comic, written by former BET president Reginald Hudlin, is set to come out next week. Yet the real star of all these mags is the Jack Kirby shorts that crackle in the back of each issue.
In a dozen or so creator interviews posted recently on Marvel.com, artists and writers like Mike Allred and Brandon Montclare talk about Jack's influence. Almost every single one of them regards Jack as a huge influence on their work. From the X-Men to Devil Dinosaur, these writers still refer to Jack's source material when crafting projects with the characters he created. As for this comic zealot, the Kirby story which means the most to me is "This Man… This Monster!" printed in #54 of Fantastic Four, where a mad scientist jealous of Reed Richard's success infiltrates the Fantastic Four disguised as the Thing. Instead of getting revenge, the man finds friendship amongst the Fantastic Four, and ends up giving his life to save Reed. It's a tearjerker, and an oddity of a superhero comic; There are no fight scenes and the collage in the middle of the issue is perhaps my favorite work of art.
Enough from me, the best way to remember Kirby is in his own words. Let's end these musings with a message from Jack, taken from the 1987 documentary The Masters Of Comic Book Art. Here's hoping that his legacy can remain in the DNA of comics for many years to come.