"Tanning is about products that are easy at home, no hassle—not scary tanning, but someone using it and feeling confident with what they're doing," James Read told us, spray gun in hand. The Observer spoke to the London-based tanning expert, who became famous for his tantouring technique, where he emphasizes collar bones and décolletage, creating a natural glow that won't turn orange under camera lights.
Read has been working in tanning for 15 years. Since his start, he's become the go-to guy to the stars, including Lady Gaga, Ellie Goulding, Rosie Huntington-Whiteley, Jessie J, Naomi Campbell and Mariah Carey.
Read is one reason the Lindsay Lohan's orange look fell out of favor in the early aughts. "I helped change people's perception of tanning," he told us from his room at the Gramercy Hotel, which had more than enough room for a tanning tent. "A lot of celebrities I tanned from the beginning, like Gaga and Rosie Huntington-Whitely, started to strip back from orange looking tans at award ceremonies to natural looking glows. It was all about working with your whole look, not overpowering it."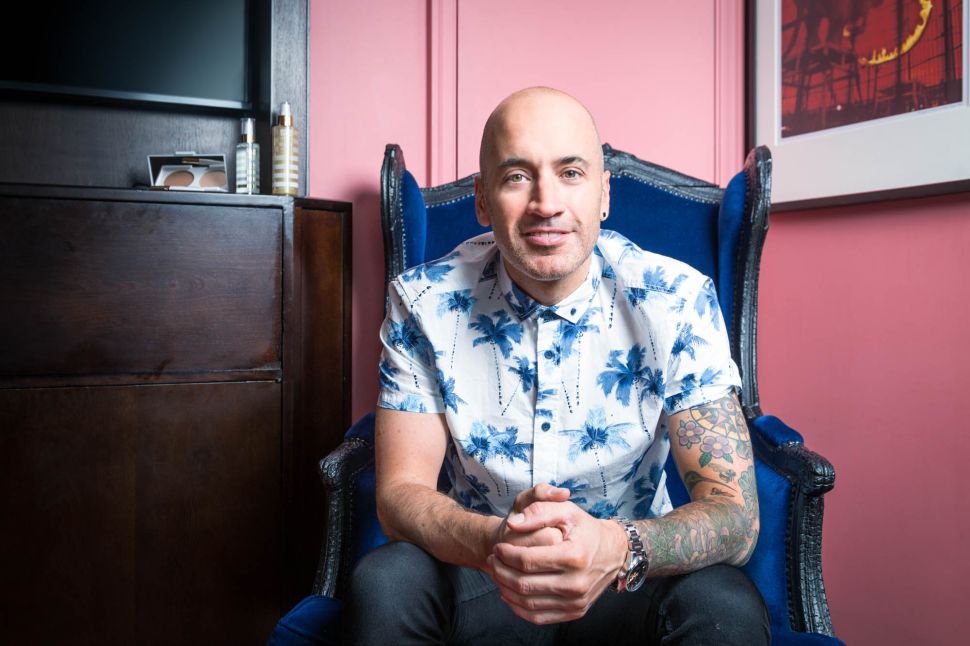 Of course, some tan fans still go for the darkest hue. "The younger market is jumping back on the dark tans again," Read revealed. "Whereas people in their 30s are more into the natural glow. Eighteen to 25 are into full on dark tans in UK and Australia." He's even launching a super dark tanning product in Australia to embrace the aesthetic.
He launched his brand seven years ago, as a way to combine tanning and skincare. His products include everything from an overnight mask to a tantour kit. "I was giving all the products to Rosie [Huntington-Whitely] and Ellie Goulding, and they were testing it. Rosie was obsessed with the sleep mask and giving it to her friends. Cara Delevingne bought it on a British Airways flight, which was quite cool."
For those who would rather tan at home than strip down to their skivvies in front of a stranger, it's easy to get the same glow. Read's tips are to moisturize, never apply too much, wait three to four days to re-apply and to moisturize daily. "As the old tan breaks, it takes the new tan with it, and that's how the tans look patchy. Then you look orange, you get the dodgy angles, or the hands and the wrists," he said.
For special events, Read suggests photographing yourself to make sure it's not too dark. "Do a tan selfie and you'll be able to see what the tan looks like. You see differently through a camera lens, it shows how people will actually be seeing you." And if you want the same tan as your favorite celebrity, Read suggests his tantouring technique. "Tantouring is about using the tan to contour certain areas of the body, so you look fit. Tan the day before, wash the tan off, then stand in front of the mirror and spray the tops of the legs, the front of the shoulders, the décolletage, down the sides. Leave it on for an hour then wash it off and it will highlight the areas."
But women aren't the only ones aiming for a golden glow. "Men now have jumped on the whole tanning thing," Read told us. "Ryan Reynolds uses the bronzing mist and the sleep mask because he's filming Deadpool 2 and requested all the stuff to be sent so he can tan himself while filming." The popularity has led to Read creating a new product specifically for men to use after they shave.
If you can't make it to visit Read personally, at his central London spray tanning suite, there's still the opportunity to tantour in the comfort of your own home. His products have been sold since 2014 on Net-a-Porter, and they're now at Blue Mercury and Sephora.