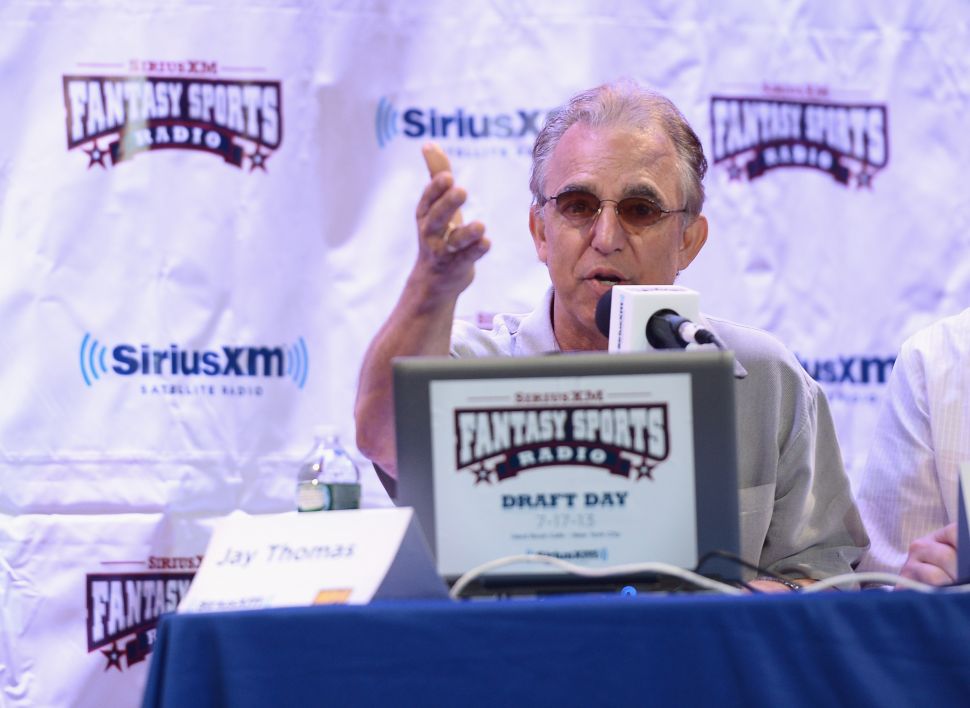 Sitcom veteran Jay Thomas, best known for his roles on Cheers and Murphy Brown, passed away on Thursday. He was 69.
Thomas died after a battle with cancer, his friend and longtime agent Don Buchwald confirmed to the New York Daily News.
"Jay was one of a kind, never at a loss for words and filled with so much fun and wonderfully whacky thoughts and behavior," wrote Buchwald.
Thomas' best known roles were Remo DaVinci on ABC's Mork & Mindy, Eddie LeBec on NBC's Cheers and Jerry Gold on NBC's Murphy Brown, where he earned two Emmys. Thomas also had small but memorable parts in films such as Mr. Holland's Opus and the latter two Santa Clause movies. Most recently, he appeared in the Showtime series Ray Donovan.
Thomas began his career in entertainment as a radio DJ before trying his hand at stand-up comedy and acting. However, he never strayed to far from the airwaves as he launched the daily "Jay Thomas Show" on Sirius XM in 2005 and even served as a frequent substitute for Howard Stern.
As a comedian and a person, Thomas was always unfiltered, hilarious and unafraid to cross the line, which explains how he got himself written off of Cheers. Here's how show writer Ken Levine tells it, per his blog:
"He was terrific in the episodes, he and Rhea made a very cute couple and so he was brought back periodically as her boyfriend. It also gave us a story arc for Carla. Finally we decided to marry them. A few episodes of recurring bliss and then one day on Jay's radio show a caller asked him what it was like to be on Cheers? He said something to the effect of 'It's brutal. I have to kiss Rhea Perlman.'

Well, guess who happened to be listening. Jay Thomas was never seen on Cheers again. To explain his departure we decided to just kill him, which led to one of my favorite episodes that David and I wrote, 'Death Takes a Holiday on Ice'. First off, we needed a funny demise. Eddie, by then, was working as a penguin in an ice show so we arrived at a Zamboni machine accident. (We were worried that we wouldn't be able to use the name Zamboni but the company loved it.)

Then we needed (a) some comic spin for the story, and (b) something to discredit Eddie so the audience would ultimately be glad he was out of Carla's life. The answer was at the funeral Carla learned that he was a polygamist, and had a second wife (who looked just like Carla)."
The actor was also known as an annual guest on The Late Show With David Letterman where he came on during the holiday season to help out with Christmas.
He is survived by his wife Sally and sons Sam, Jake and J.T.