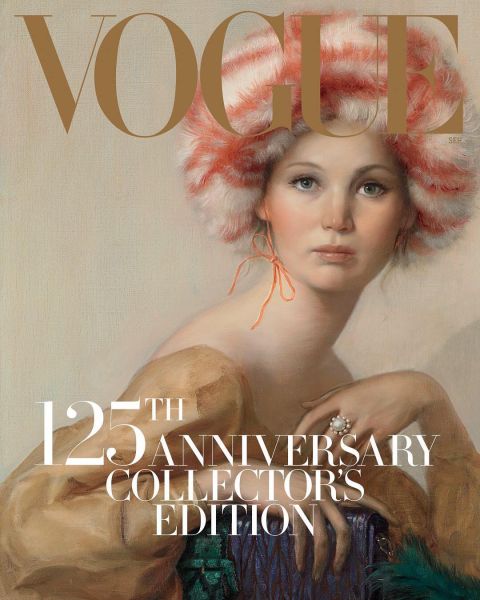 Jennifer Lawrence's face is among the most recognizable in the world, thanks to her 2012 Oscar win for Best Actress, and starring roles in the The Hunger Games, X-Men films and the upcoming thriller mother!, written and directed by Darren Aronofsky. But come September, when Lawrence's fans and fashion enthusiasts pick up the hotly anticipated September issue of Vogue magazine—which this year marks the publication's 125th anniversary—the actress' face will look a little different on one of its four specially commissioned covers, thanks to the brushwork of one of America's leading artists, reports the New York Times.
The venerable style bible has tapped painter John Currin to capture the actress' likeness for the occasion, in stark contrast with more traditional photo covers commissioned by photographers Bruce Webber, Annie Leibovitz and Inez and Vinoodh.
New York-based Currin, who is represented in the U.S. by mega dealer Gagosian gallery, is best known for his classically-influenced oil paintings, often featuring female figures. Critic Andrian Searle described Currin's work in his 2016 Guardian review of the artist's show at London's Sadie Coles gallery, saying, "His art is about flesh, manners, types, relationships and, most of all, the question of representation."
Currin's portrait of Lawrence could, perhaps, be summed up in kind. His painting features the actress donning a red and white, puffy Miu Miu hat tied with a ribbon, wearing a soft gold-colored chemise and holding a green clutch. Lawrence stares intently at the viewer, leaning forward in somewhat unnatural hunch which elongates her neck; she is neither smiling nor pouting, but her distinctively full lips and bright eyes are instantly familiar.
Writer Dodie Kazanjian told the Times, "One of the reasons I thought John would be good for the cover was that fashion was a huge influence on his work early on."
While Currin told to the Times that in accepting to do the cover, "I do worry about decorum," he explained that the magazine format provided the opportunity to challenge the conventions of oil painting. "I was interested mostly in seeing my work in a completely different way," he said.
In Vogue's video featurette on the making of the four covers, Kazanjian spoke with Currin by phone, asking, "What were the problems of working with a celebrity?"
"Not knowing how to get it to look like her," the artist said. "And the other problem is everybody knows what she looks like, so millions of people will see any mistakes you make."
For the magazine's cover story, Lawrence described her experience working with Currin to writer Jason Gay by saying, "He took photos, and posed me like one of those French girls."
This is Vogue's first fine art cover since Andy Warhol's 1983 image of Caroline of Monaco for its French edition, according to the Times. Other artists who have produced covers in the magazine's now 125-year history include Salvador Dali and Giorgio de Chirico.
To see all four covers and read Vogue's full profile on Jennifer Lawrence, see Vogue.com.