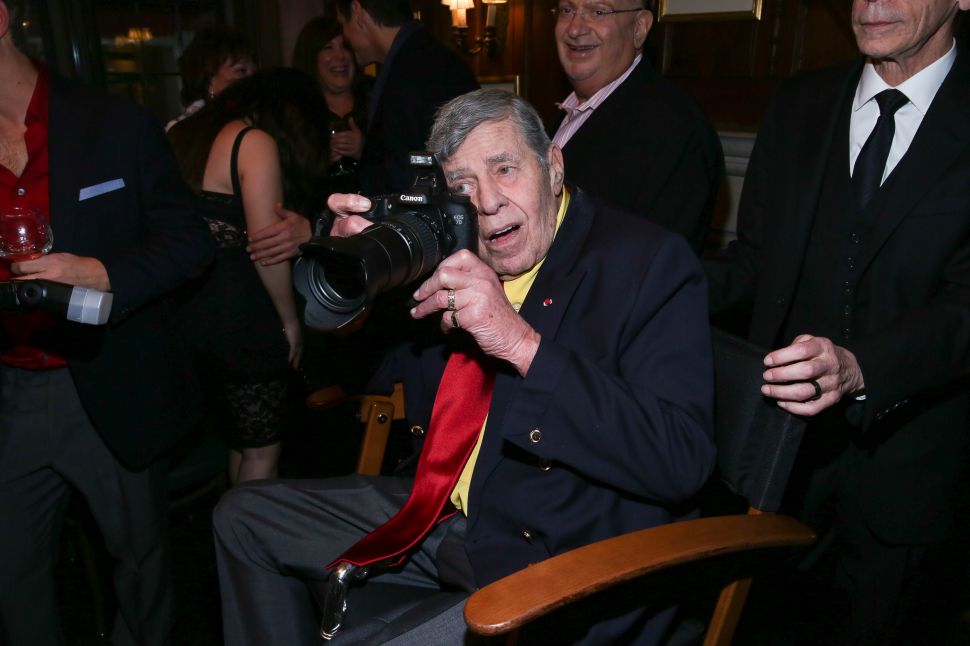 Legendary performer Jerry Lewis died Sunday morning in Las Vegas, according to his publicist Candi Cazau. He was 91. Lewis reportedly died of heart disease and was surrounded by his family at the time of his passing.
The comedy icon was best known for his slapstick routines and for his industry-defining partnership with Dean Martin.
"He was the top comedy star of his generation," the film critic and historian Leonard Maltin said (via The LA Times) Sunday. "First in tandem with his partner Dean Martin and then on his own in the mid-1950s."
Martin and Lewis first teamed up on stage in 1946 in Atlantic City and immediately began to generate buzz as a singing-comedy duo with a routine unlike anything that had ever come before. Lewis was a renowned improviser while Martin was the good-looking and suave singer who knew his way around a joke.
"I have been in the business 55 years, and I have never to this day seen an act get more laughs than Martin and Lewis," comedian Alan King once recalled in the New Yorker, decades after seeing the team perform at New York City's fabled Copacabana nightclub in 1948. "They didn't get laughs — it was pandemonium."
The two were a hit, but Lewis would go on to extend that success to other avenues of his career. A true cinema lover, Lewis set about learning every thing there was to know about filmmaking before starring, directing and co-writing several of his own movies.
"He had complete autonomy over his movies," Maltin said. "He was such a big box office star that Paramount gave him carte blanche and he delivered the goods for them. He was also a great student of comedy who befriended Stan Laurel of Laurel and Hardy, and got to spend time with Charlie Chaplin, so he knew comedy inside out."
Though ABC's The Jerry Lewis Show would go on to become one of the most infamous busts in Hollywood in the early 1960s, Lewis enjoyed a decades-spanning career of industry-topping success in both comedy and drama. But perhaps is true masterpiece in life was his charity work.
Lewis hosted the annual Muscular Dystrophy Assn. telethon charity event for 44 years. Over the years, he raised hundreds of millions of dollars for the cause and poured considerable energy and resources into philanthropic work. In fact, younger generations known him more for these efforts than anything he did on screen.
To us, that marks the life of a very successful man.
RIP, Jerry Lewis.