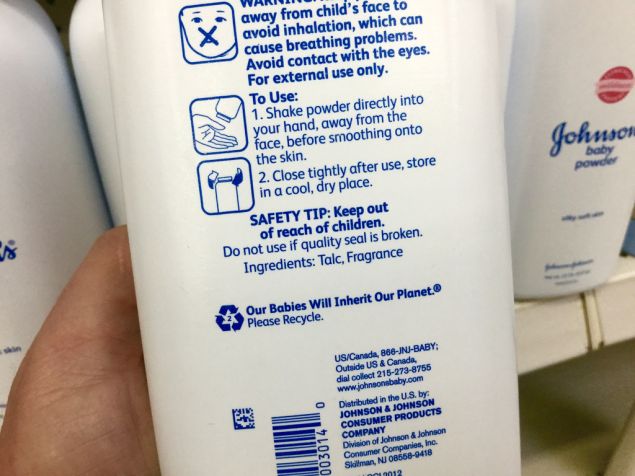 A Los Angeles jury has ordered Johnson & Johnson to pay $417 million in damages to a woman who developed ovarian cancer after using the company's trademark baby powder for over 50 years. According to The New York Times, the plaintiff, 63-year-old Eva Echeverria, was diagnosed with the disease in 2007. She is now near death and was unable to attend the trial, though she did submit a video deposition.
In her testimony, Echeverria said she had applied Johnson's Baby Powder to her genitals as part of her daily hygiene regimen since she was 11 years old. But she stopped last year when she saw a news story about a woman with ovarian cancer who had also used the product.
There is no advisory on Johnson's talcum powder warning of a link to ovarian cancer—Echeverria said she would have stopped using the powder if there had been. She developed ovarian cancer as a "proximate result of the unreasonably dangerous and defective nature of talcum powder," the lawsuit stated.
The jury's award included $70 million in compensatory damages and $347 million in punitive damages.
Johnson & Johnson, which reported profits of $16.5 billion last year, vowed to fight the verdict.
"Ovarian cancer is a devastating diagnosis and we deeply sympathize with the women and families impacted by this disease," Carol Goodrich, director of corporate media relations for the pharmaceutical giant, said in a statement. "We will appeal today's verdict because we are guided by the science, which supports the safety of Johnson's Baby Powder."
During the month-long trial, the company's lawyers presented various scientific studies in an attempt to prove their product was not carcinogenic. This research included a 2000 Harvard University/Nurses' Health Study survey of over 78,000 women who used talcum powder every day. Only 307 of them developed ovarian cancer, which led researchers to conclude there was "no overall association" between the two factors.
There was one exception, however—talcum powder users were at increased risk for invasive serous ovarian cancer, the type Echeverria was diagnosed with.
Echeverria's attorneys presented their own research, including decades-old studies which showed a link between Johnson's talcum powder and cancer. Harvard University epidemiologist Dr. Daniel Cramer conducted two separate studies, one in 1982 and another in 2016, which both showed that women who used talcum powder to their thighs, genitals, perineal region or sanitary products were at an increased risk of ovarian cancer.
The amount of risk ranged from 33 percent to 92 percent depending on individual factors. Because of this, Cramer strongly advised Johnson & Johnson to put a warning label on its product. It was to no avail.
There is no legal obligation for the company to post such a warning, since talcum powder is considered a cosmetic and thus not reviewed by the Food and Drug Administration. But the FDA notes that any cosmetic product "must be safe for use by consumers under labeled or customary conditions of use."
The American Cancer Society has no clear stance on the matter—its website states that "studies suggest a very slight increase in risk of ovarian cancer in women who used talc on the genital area."  The site also notes that until the 1970s talcum powder often contained asbestos, a known cancer causing mineral, but it does not clarify if any other associations exist.
"Proving the safety of these newer products will require follow-up studies of women who have used them for many years," the organization says.
There would be plenty of subjects for these studies: almost 5,000 women have filed claims against Johnson & Johnson, all with complaints similar to Echeverria's. Only a few of these cases have gone to trial, but of the ones that have, most of the verdicts have been against the company.
Since last year, Johnson & Johnson has lost four separate lawsuits in Missouri alone, for which the company paid out over $300 million in damages. Other suits in New Jersey and Tennessee were dismissed.