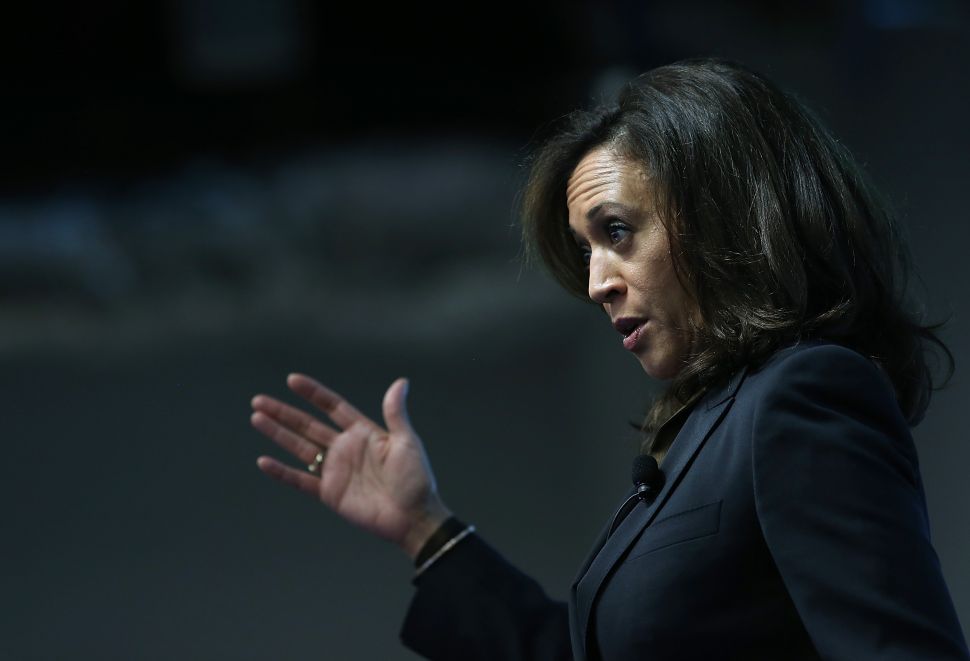 Lavish, closed-door parties in the Hamptons with wealthy donors should set off red flags for any voter, but they certainly don't for Hillary Clinton's surrogates who rally behind Sen. Kamala Harris while progressives raise concerns over the way in which Harris is being anointed as the 2020 Democratic presidential nominee. On July 31, Mic published an article in which several prominent Bernie Sanders supporters expressed their concerns with Harris. Clinton surrogates Peter Daou, Tom Watson, and Center for American Progress President Neera Tanden complained on Twitter about Sanders' supporters not supporting Harris.
"Chasing so-called 'Bernie wing' will never, ever help a Democrat," tweeted Watson. Daou, a Shareblue writer and unhinged former Clinton staffer added, "Democrats have an exciting field developing, a new generation of leaders coming forward in the Trump era. Bernie is NOT one of them." Tanden interjected, "So odd, no, that these folks have if in for Kamala Harris and Cory Booker…. hhhhmmm." Tanden bringing up Cory Booker is a common identity politics tactic used by the Clinton wing to propagate the Bernie Bros narrative to try to whitewash progressives and reduce their policy related criticisms. However, the Bernie Bros narrative fails to acknowledge that progressives support people of color and progressives such as Congresswoman Tulsi Gabbard and former Ohio State Senator Nina Turner. Clinton's Press Secretary Brian Fallon claimed, "If you are attacking Harris right now, the problem is you, not her."
Harris' vetting for a potential presidential run has consisted of meeting wealthy Clinton donors in elite vacation spots, instead of engaging or meeting with voters in their communities. If Harris is going to be taken seriously as a candidate, she needs to prioritize voters. She also needs to address the valid concerns people have with her history, such as her ties to Trump's Treasury Secretary Steve Mnuchin. As California attorney general, Harris failed to prosecute Mnuchin's bank despite over 1,000 foreclosure violations found by her office. His bank, OneWest, and his wife donated a combined $15,000 to her 2011 campaign for attorney general. In 2016, Mnuchin's only donation to a Democrat was to Harris.
In April 2017, Harris criticized progressives in an interview with the Los Angeles Times. "We can't afford to be purists," she said. "What do we have to do in this movement to be pragmatic?" Additionally, in response to being asked if she supports single payer health care, she said, "As a concept, I'm completely in support of single payer." In practicality, she doesn't support the policy, but she says she does in interviews to reap the political benefits.
In early July 2017, Harris introduced a bail reform bill with Sen. Rand Paul in an effort to start padding her resume and purge some of the criticisms likely to be invoked from her tenure as California attorney general. In 2014, the Los Angeles Times reported, "Lawyers for Attorney General Kamala Harris had argued in court that if forced to release these inmates early, prisons would lose an important labor pool." Harris claimed to be shocked over the report, but it's unlikely that her office argued in court in favor of prison labor without her knowledge. The Ella Baker Center for Human Rights noted that California's high incarceration rates under Harris were solely due to the cheap prison labor the system provided. Her office also defended a state prosecutor falsifying the transcript of a defendant's confession in 2015 that enabled a longer sentencing. In 2011, she fought a bill that would minimize civil asset forfeiture, and in 2015, she sponsored a bill to expand prosecutors' ability to seize assets. In 2015, she sought to block a ruling in favor of gender reassignment surgeries for trans inmates in 2015. As San Francisco's district attorney, she was accused by the city's public defender of withholding the names of police officers with histories of misconduct and arrest records. In May 2017, she mischaracterized the war on drugs by claiming it is in the past. In 2015, the most recent data available, the war on drugs in the United States resulted in 640,000 arrests for marijuana alone. Throughout her prosecutorial career, Kamala Harris chose to cover for power instead of demand accountability—the antithesis of what progressives stand for.