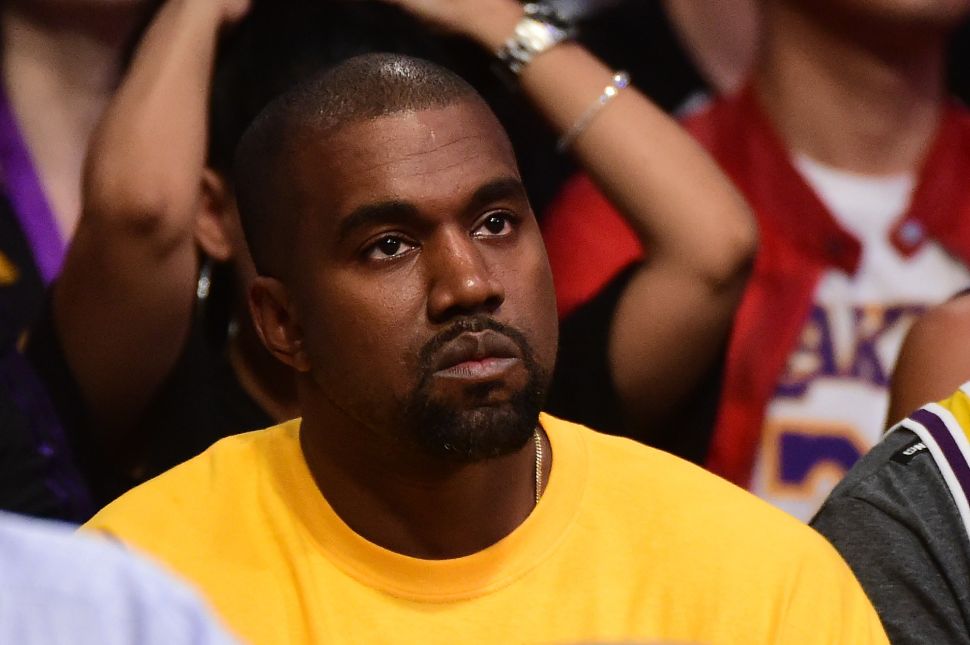 Kanye West, always a subject of public scrutiny, found himself squarely under the microscope late last year following a cancelled concert and some off-center behavior. Soon after, he was hospitalized at the UCLA Neuropsychiatric Hospital Center for what was reported to be a mental breakdown.
Now, the hip-hop mogul is filing a $10 million lawsuit, according to THR.
As the outlet reports, West's suit targets several different branches of insurance company Lloyd's of London and claims they are withholding payments from a canceled tour. Just two days after West checked himself into the psychiatric center in late 2016, he and his company Very Good Touring, Inc. filed a loss claim but have still not been paid eight months later, THR reports.
"Nor have they provided anything approaching a coherent explanation about why they have not paid, or any indication if they will ever pay or even make a coverage decision, implying that Kanye's use of marijuana may provide them with a basis to deny the claim and retain the hundreds of thousands of dollars in insurance premiums paid by Very Good," states a complaint filed Tuesday in California federal court. "The stalling is emblematic of a broader modus operandi of the insurers of never-ending post-claim underwriting where the insurers hunt for some contrived excuse not to pay."
West's Saint Pablo Tour was originally meant to consist of 38 events spanning August 12 to November 2 of last year, THR notes, but he was forced to cancel two concert dates after his wife, Kim Kardashian, was robbed by armed intruders on October 2. However, the success of the tour led to an extended schedule afterwards. Around this time, West's behavior began raising eyebrows as he made several controversial public remarks that took aim at fellow celebrities, including one-time mentor and friend JAY-Z, during these shows.
According to THR, West's lawsuit does acknowledge his "strained, confused and erratic" behavior at a particular Sacramento performance. The next day the remainder of the tour was cancelled. His camp provided Lloyd's of London with written testimony from his primary physician that West had suffered a "debilitating medical condition" that merited the cancellation of the tour. However, the insurance company reportedly responded by quickly preparing to withhold payment.
"Almost immediately after the claim was submitted, Defendants selected legal counsel to oversee the adjustment of the claim, instead of the more normal approach of retaining a non-lawyer insurance adjuster," states West's complaint. "Immediately turning to legal counsel made it clear that Defendants' goal was to hunt for any ostensible excuse, no matter how fanciful, to deny coverage or to maneuver themselves into a position of trying to negotiate a discount on the loss payment."
West's lawyer, Howard King, detailed their position more clearly in a statement via THR:
"Performing artists who pay handsomely to insurance companies within the Lloyd's of London marketplace to obtain show tour 'non-appearance or cancellation' insurance should take note of the lesson to be learned from this lawsuit: Lloyd's companies enjoy collecting bounteous premiums; they don't enjoy paying claims, no matter how legitimate. Their business model thrives on conducting unending 'investigations,' of bona fide coverage requests, stalling interminably, running up their insured's costs, and avoiding coverage decisions based on flimsy excuses. The artists think they they're buying peace of mind. The insurers know they're just selling a ticket to the courthouse."