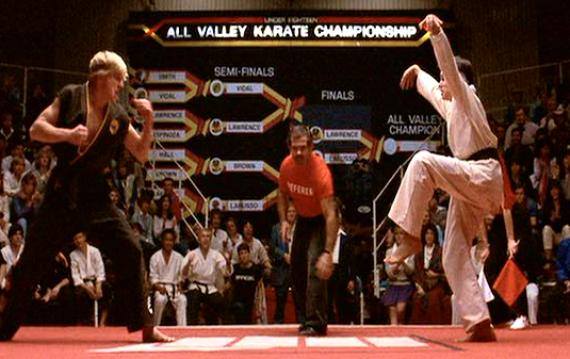 There's a great exchange in the original 1984 The Karate Kid between Daniel LaRusso (Ralph Macchio) and Mr. Miyagi (Pat Morita) about the nature of his karate training.
Daniel: So, karate's fighting. You train to fight.

Miyagi: That what you think?

Daniel: [pondering] No.

Miyagi: Then why train?

Daniel: [thinks] So I won't have to fight.

Miyagi: [laughs] Miyagi have hope for you.
Perfect dialogue for a perfect early '80s movie. But just because Daniel-son doesn't have to fight, doesn't mean he can't train others to do so.
THR is reporting that YouTube Red is set to step further into the original content world with a sequel to The Karate Kid films featuring original stars Macchio and William Zabka as Johnny Lawrence. The 10-episode series, titled Cobra Kai, is set to debut in 2018 and takes place 30 years after the events of the first film.
According to the outlet, the series "revolves around a down and out Johnny who, seeking redemption, reopens the infamous Cobra Kai dojo. It reignites his rivalry with a now-successful Daniel, who has been struggling to maintain balance in his life without the guidance of his mentor, Mr. Miyagi (the late Pat Morita). The half-hour comedy follows the duo addressing demons from their past and present frustrations—through (what else?) karate."
Josh Heald (Hot Tub Time Machine) and writing duo Jon Hurwitz and Hayden Schlossberg (Harold and Kumar) will pen the script with the latter two directing several of the episodes. As fully grown adults, we are only slightly embarrassed at how excited we are for this.
"Like everyone who grew up in the 1980s, the three of us are enormous fans of The Karate Kid​," Heald, Hurwitz and Schlossberg said in a joint statement. "Cobra Kai​ will be a true continuation of the original films — packed with comedy, heart and thrilling fight scenes. We can't wait to reignite the LaRusso-Lawrence rivalry, and we're thankful to our partners at YouTube Red, Sony Pictures Television and Overbrook for their shared enthusiasm in making our dream project a reality."
Beyond the overwhelming nostalgia, this project is interesting for its meaning to the streaming industry. YouTube Red scored the rights to the show after a competitive bidding process that sources told THR included Netflix, Amazon, Hulu and AMC. Given that Red is low on the totem pole in streaming demand, this marks an important victory for the service. It also signifies a shift in target audience, as YouTube global head of originals Susanne Daniels admitted their hoping it ups Red's demographic from 18-34 to the more advertiser-friendly 18-49 range. "It had all the elements you look for in a strong show," she said via THR. "It had heart, it had laughs, it had drama, it had characters with strong points of view. All of it was there in the pitch."
Hollywood loves mining old material for sequels and reboots these days, but you can see why The Karate Kid made particular sense. The original movie led to two sequels, a 1994 addition with Hilary Swank and a 2010 reboot starring Jackie Chan and Jaden Smith. That reboot grossed $359 million worldwide off a $40 million budget, according to Box Office Mojo, and the franchise has grossed upwards of $619 million worldwide overall.
"Continuing the story of The Karate Kid has been a passion project for all of us, and when Ralph and Billy said yes, we knew it had become real," Glenn Adilman, exec vp comedy development at SPTS, said via THR. "We are thrilled that YouTube Red felt the same thing the minute they heard the pitch and then stepped up with this series commitment."