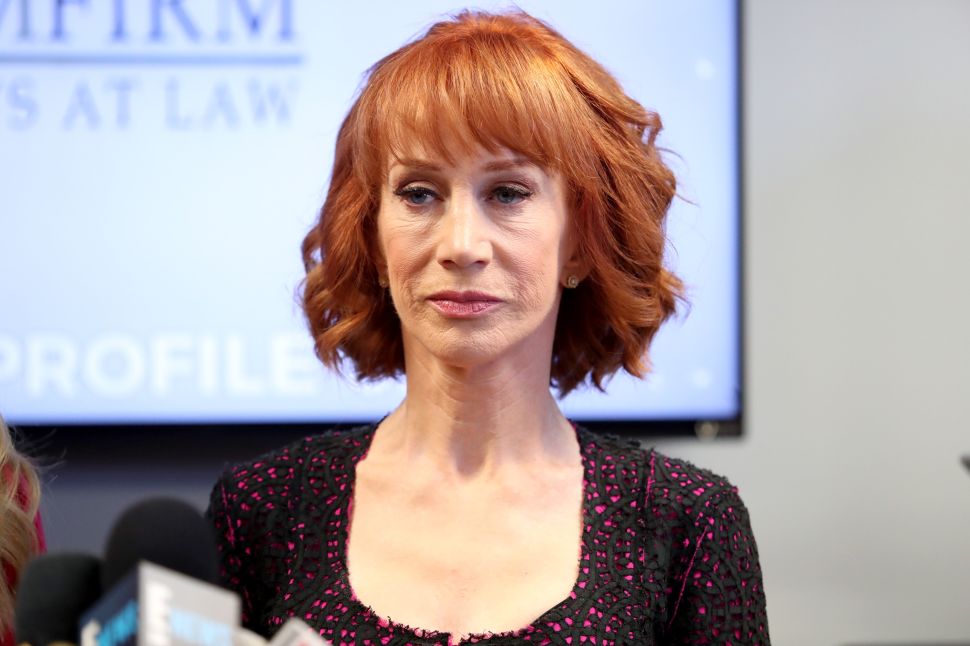 Despite the significant blowback Kathy Griffin faced after making a video featuring her holding a fake bloody Donald Trump head, the comedian is still speaking her mind on the president. According to her, demands for a second apology for her ill-advised act will not be met anytime soon.
"President Trump just pardoned Joe Arpaio, who was essentially running a concentration camp in the Arizona desert," Griffin said in an interview with The Cut. "He said there are some good Nazis, and he's kicking out young adults who were brought here as kids by their parents, and I'm the one who has to continue to apologize?"
Her headless Trump gag was met with immediate backlash and prompted an apology from Griffin.
"It wasn't funny, I get it," she said in a video announcing that she would remove the images. "I beg for your forgiveness, I went too far, I made a mistake, and I was wrong."
https://www.youtube.com/watch?v=FEpkZ3krTFY
Soon after, CNN fired Griffin from the New Year's Eve broadcast, which she had co-hosted with Anderson Cooper for 10 years. The video also resulted in a Secret Service investigation, countless death threats and the cancellation of several of her live shows.
Griffin, who has said she's "obsessed with politics," believes that her job as a comedian requires controversial takes.
"I would be abandoning my principles as a comic and a human being if I backed off President Trump or any public person," she said in the interview. "Comics by their nature are anti-Establishment. They are charged with the often unenviable task of going after people in power. I will never abdicate that responsibility."
However, she did say that she knows when she's gone too far and own those mistakes, whereas Trump "has to take responsibility for the power he holds with his Twitter account."
Griffin is currently on her Laugh Your Head Off tour in Europe, Australia and New Zealand.