After repeated security issues, Kendall Jenner reportedly found a buyer for her home. Scroll through to see inside.
Compass
The model bought the home from Emily Blunt and John Krasinski just over a year ago.
Compass
A stalker made it through the private gated entrance of the home.
Compass
And then in March, the home was allegedly robbed, with the burglar stealing $200,000 worth of jewelry.
Compass
Kris Jenner reportedly never liked this house.
Compass
Jenner previously resided in an apartment in Westwood.
Compass
She apparently isn't as fond of Calabasas as the rest of the Kardashian clan.
Compass
She paid $6.5 million for the West Hollywood house.
Compass
One of the six bedrooms.
Compass
The closets surely were a plus for the model.
Compass
It's a midcentury style home.
Compass
She'll be saying goodbye to neighbors like Dakota Johnson and Jimmy Kimmel.
Compass
It's not yet clear how much Jenner is selling the house for.
Compass
The home spans three stories.
Compass
There are 4.5 bathrooms in the house.
Compass
Kendall Jenner has finally had enough of her West Hollywood house.
The model and reality star has faced issues since nearly the moment she purchased the 4,800-square-foot house for $6.5 million, from Emily Blunt and John Krasinski, just over a year ago. By August 2016, she was the victim of a stalking incident at the gated home, when a man was arrested after following Jenner onto the property and harassing her. As if that weren't enough, the home was allegedly burglarized in March this year, with $200,000 worth of her jewelry stolen—the model believed it was an inside job because there were no signs of a break-in, and she fired a security guard over the debacle.
It's understandable she'd want to move, we suppose—and now, she's reportedly found a buyer for the six-bedroom, 4.5-bath abode, which sits above the Sunset Strip.
Aside from the obvious issues Jenner faced with the three-story house, it's actually quite lovely. There are high ceilings throughout, and a gourmet kitchen that opens up into the great room. There's a full bar, a media room and a gym, as well as a luxe master suite.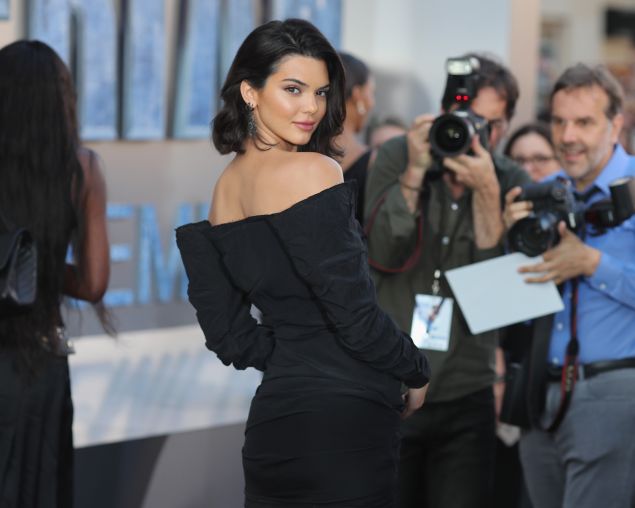 Outside, there's a pool as well as an outdoor fireplace and a rooftop deck. It's not clear how much the home sold for, nor who the interested buyers are.
Apparently, Kris Jenner was against her daughter's purchase of the home from the very start—she didn't like that it wasn't in a gated community, nor that it was so close to the Sunset Strip, where so many people are out at night.
The model strayed away from the Calabasas area so beloved by the Kardashian clan from the very start, though—she previously lived in a sleek Westwood condo, but parted ways with that apartment, because there wasn't enough closet space. But the need for a rolling rack surely pales in comparison with the safety concerns regarding the house she moved on to.
She'll be leaving behind neighbors Dakota Johnson and Jimmy Kimmel, but she's said to be checking out even pricier properties, though none are located in Calabasas. Instead, she's checking out houses in the $15 million range, in Bel Air and Beverly Hills. Hopefully, her momager approves of these ones before Jenner makes any big purchases this time around.
Jenner isn't the only model who has had to deal with a moving situation due to a stalker. Her pal Gigi Hadid also had an unfortunate stalking incident at her apartment in New York, when a man made it past the doorman of her Bowery condo. Hadid subsequently sold that apartment and decamped to 21 Bond.
Perhaps Jenner should chat with Gigi's sister, Bella—after all, the younger Hadid sister wants to make a change after paparazzi took photos of the model in her apartment.