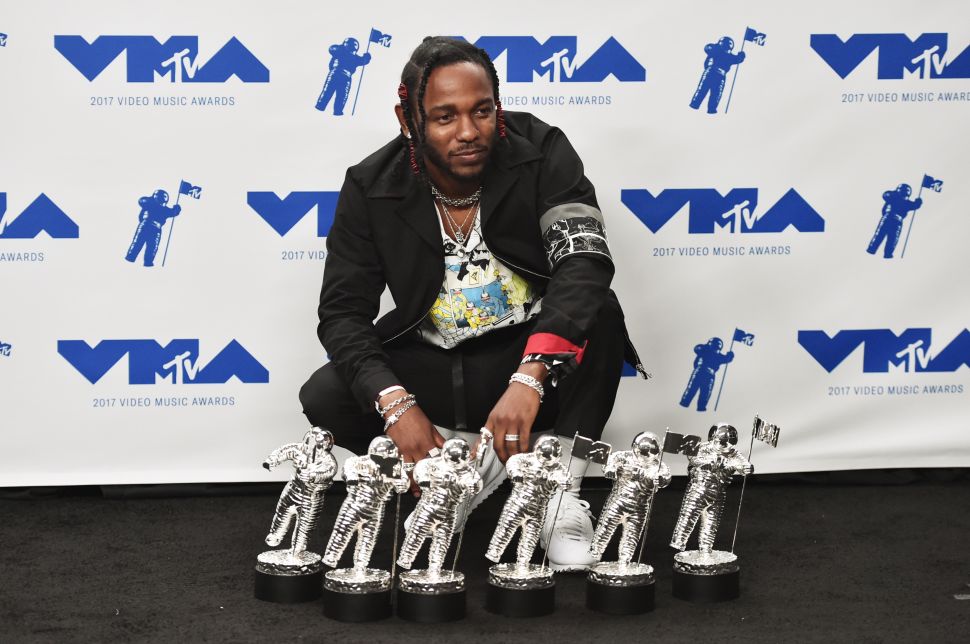 At last night's MTV Video Music Awards, Kendrick Lamar emerged as the biggest winner of the evening, taking home statues for Video of the Year, Best Hip Hop, Best Cinematography, Best Direction, Best Art Direction and Best Visual Effects for "Humble." He also opened the show with a stunning production, a politically charged performance during which both a man and a wall were lit on fire. He essentially set the tone for the evening, not only with a medley of two of the hottest songs of the summer, "DNA" and "Humble," but also with his onstage outfit.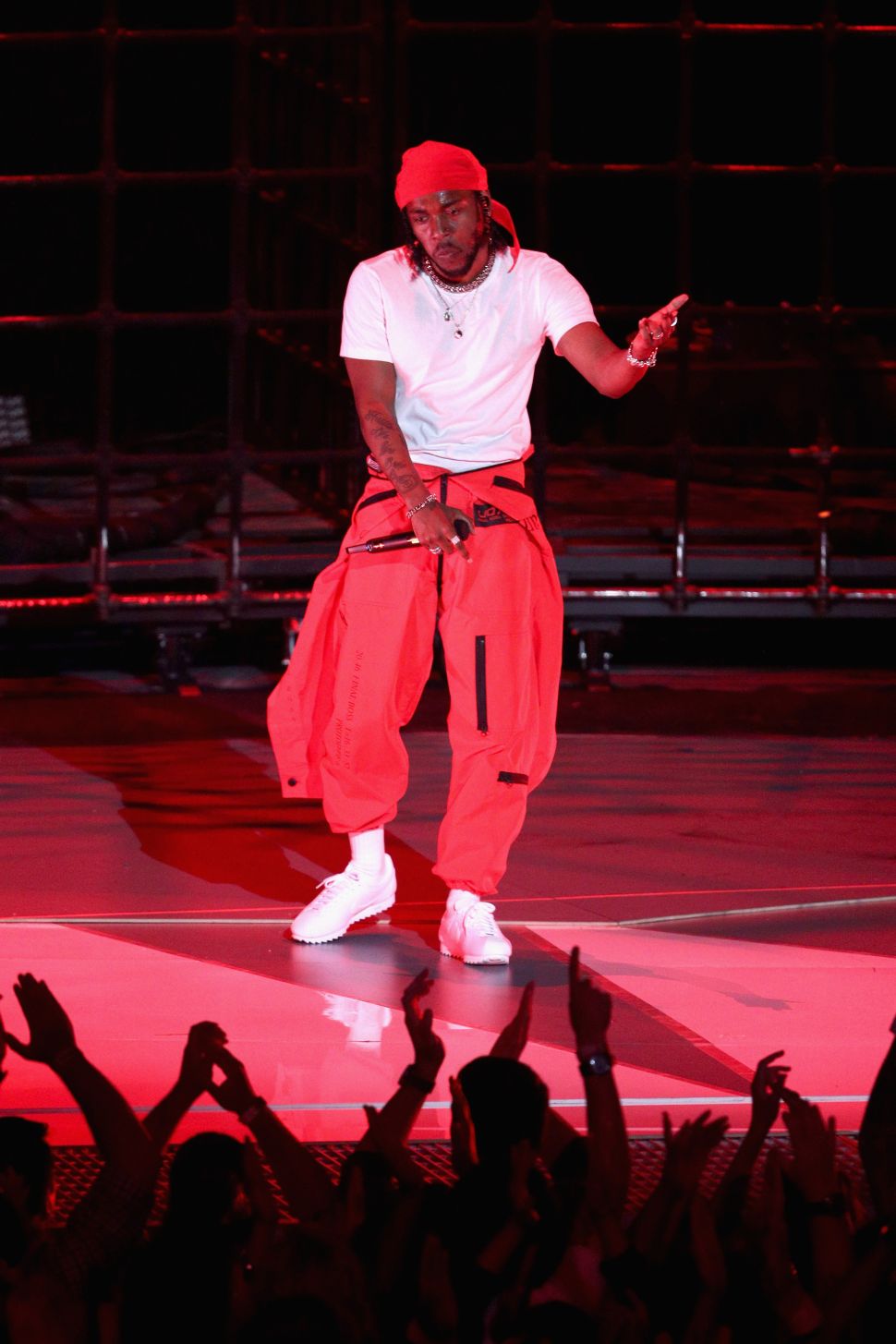 To start off the performance, he wore that Balenciaga puffer in red, which he shed just a minute in, revealing a white t-shirt and red boiler suit from Korean womenswear designer Hyein Seo, zipped down to his waist and worn as a pair of pants. Lamar matched the suit to his red doo-rag and wore a stack of chains on his wrist from Chrome Hearts and Jason of Beverly Hills, plus diamond earrings from Lynn Ban; the final look was decidedly simple, but striking enough to stick out as iconic. Sure, it might not be as memorable as Britney and Justin clad in denim-on-denim or as racy as Lil' Kim's purple pasty, but the crisp silhouette helped Lamar prove a point.
The entire Humble album was a political statement, taking shots at Fox newscasters, President Donald Trump and discussing racism and gun violence. So, naturally, Lamar wasn't just rapping when he hit the VMAs stage, he was conveying all of the aforementioned hot topics to the teens and kids tuning in. What better way to punctuate those declarations than with a memorable and bold outfit in fiery red? It is, after all, a color that often signifies anger and danger, but also happens to be the color of blood.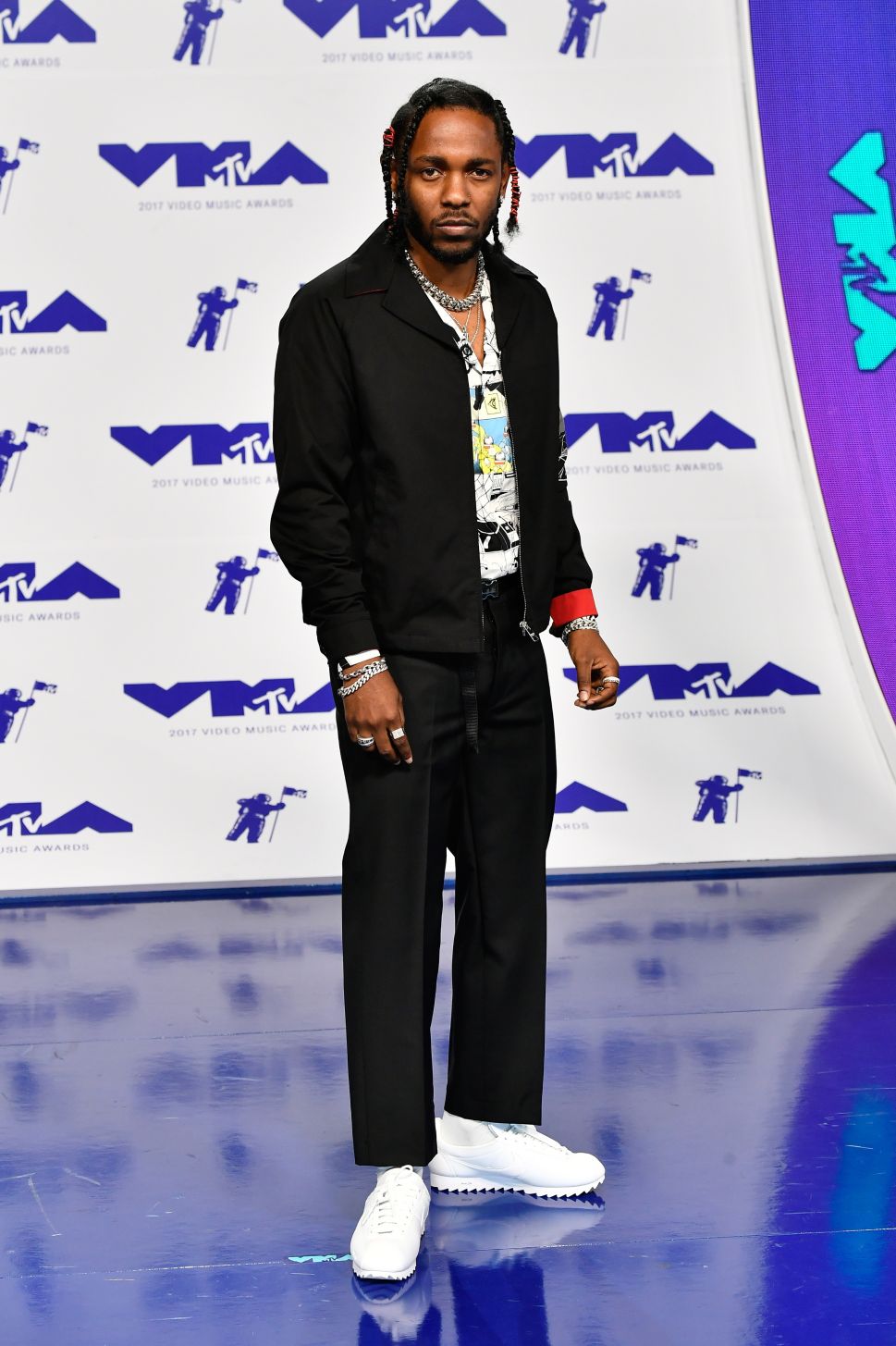 On a less controversial note, Lamar arrived at the show earlier in the evening wearing a full Prada outfit. But despite being a black jacket and trousers, this was not a suit. Instead, it was a retro-inspired zip front jacket and a pair of sharply pleated pants, accented with a shiny silver belt buckle. He paired it with a comic print shirt from Prada's Spring 2018 line and a pristine pair of white Nike Cortez sneakers.
But what's so special about this look? Well, the rapper is one of the few who didn't look awkward in his formal garb (ahem, Calvin Harris) or like he was heading to the gym (we're looking at you, DJ Khaled). Instead, Lamar is polished, wearing clothing that fits impeccably, but isn't overdressed for the event at hand.
The VMAs is no place for a tuxedo, but it's also an event that calls for something more elevated than a simple t-shirt. To rise to the occasion, with likely quite a bit of guidance from his stylist Dianne Garcia, Lamar deserves one more Moon Person statue: Best Dressed.