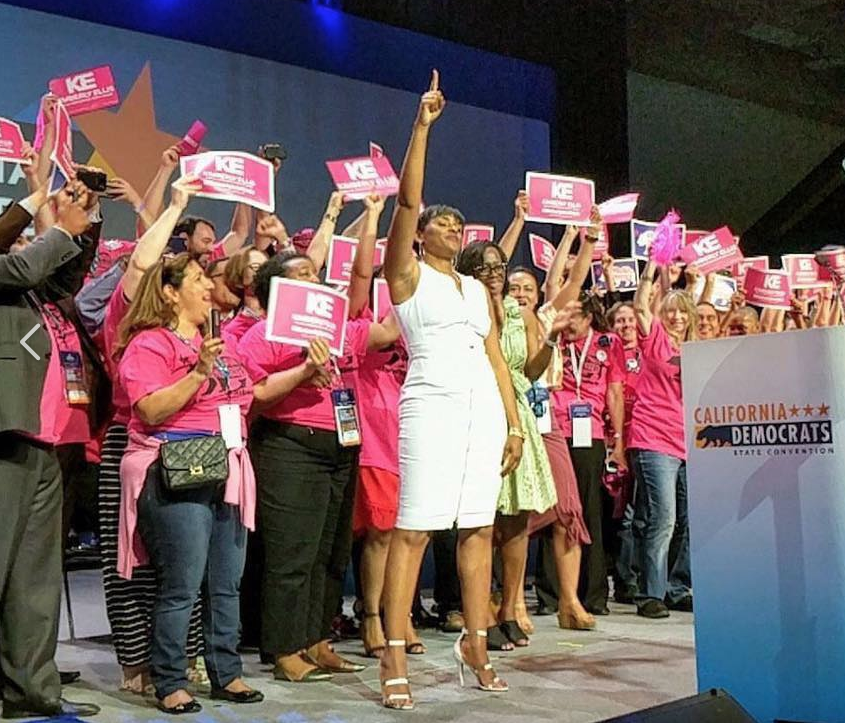 The California Democratic Party is continuing to stonewall California Democratic Party chair candidate Kimberly Ellis' efforts to review the chair election to ensure its fairness. Establishment Democrats threatened Ellis, who supported Hillary Clinton but received an endorsement from Our Revolution, before the election saying, "Politically speaking, you will be murdered and we will personally take part in murdering you," according to Ellis. Over 3,000 California Democratic Party insiders participated in the initial election. Ellis lost by 62 votes, but the California Democratic Party Compliance Review Commission found 223 problematic votes. Recently, the commission reviewed ballots and invalidated 47 of them. The establishment candidate, Los Angeles County Democratic Party Chair Eric Bauman, has a reputation for harassment and bullying. During a DNC Resistance Summer event in Los Angeles a few weeks ago, activists walked out before Bauman spoke in protest to the race.
On August 8, Ellis issued a press release announcing her request for an arbitration to avoid a legal battle with the California Democratic Party. Ellis said in the press release, "If what they're really saying is 'give it up' and 'go away,' then we are truly at an impasse. In the past, we've offered to pay for an independent forensic audit and were rebuffed. We asked for an impartial or balanced review commission and were told no. If their goal is to avoid a legal battle, here it is. The ball is in their court."
As a rebuttal, a spokesperson for the California Democratic Party told the Los Angeles Times, "Ms. Ellis is now deep in her own end zone and throwing a desperate Hail Mary pass in hopes of changing the outcome of an election that she lost fair and square." The LA Times added, "Ellis, a progressive Bay Area organizer, narrowly lost the race to long-time party activist Eric Bauman during an election held during the state party's annual convention in May in Sacramento. She never conceded the race, and her campaign has repeatedly and unsuccessfully contested the results, alleging ballot stuffing, bias and corruption on the part of the California Democratic Party."
The California Democratic Party has insisted that Ellis' efforts are broadening the rift within the Democratic Party but has refused to acknowledge their role in causing that rift. Further, their excuses do not hold much weight because Democrats in California hold the governorship, a supermajority in the state legislature, and have been comfortably out fundraising the California Republican Party—with the help of corporate and wealthy donors who have blocked progressive policies.
California has become a microcosm that shows the Democratic establishment's corruption and why the "vote blue no matter who" argument only serves the status quo. It is not enough to just have politicians with a "D" next to their name in elected office, as California continues to demonstrate. Yet, the Democratic establishment has no problem subverting democracy to preserve their own political power.