Lara Mead spoke with the Observer about her new home and what's next for Varley.
Courtesy Lara Mead
Mead's favorite space in the home is her soothing bedroom.
Courtesy Lara Mead
Mead's favorite room, with her Restoration Hardware bed.
Courtesy Lara Mead
They live here with their son.
Courtesy Lara Mead
Soft blush pinks and blues are used as accent colors.
Courtesy Lara Mead
They previously lived in a Santa Monica penthouse.
Courtesy Lara Mead
The Meads moved full time to LA from London about a year ago.
Courtesy Lara Mead
She founded the brand with her husband, Ben, after a vacation they took to Los Angeles.
Courtesy Lara Mead
Lara Mead and her husband, Ben, were inspired to create their luxury lifestyle and wellness brand, Varley, after returning from a vacation in California. The relaxed Los Angeles lifestyle was appealing to the couple, as at the time, both were employed in highly stressful careers in London—Lara was working as a talent manager and Ben was working in finance.
The couple was subsequently inspired to design a line of activewear, and so in 2012, Varley was born. The brand has since amassed a celeb following that counts names like Joan Smalls, Alessandra Ambrosio, Lily Collins and quite a few members of the Kardashian-Jenner clan as fans.
While the Meads keep a London headquarters and full-time team there, they relocated to Los Angeles full-time exactly one year ago, in August 2016. After a short period of time living in a Santa Monica penthouse, they recently moved to a single-story home in Pacific Palisades, where they reside with their son, Wilfred, who turns two this September.
Mead spoke with the Observer about what's next for Varley, her family's permanent move to the West Coast and her home inspiration.
What's your favorite room in your home? 
My favorite room in the house is our bedroom. It's such a peaceful haven. And my favorite part of the bedroom is my beautiful upholstered Restoration Hardware king size bed; I look forward to getting into bed every night because of it.
Tell us about your art collection.
We own a few Harland Miller prints that we shipped over from London when we moved. I love them all, but my absolute favorite is 'Love Conquers all.' which is a great mantra for every day.
How did you decide on this house?
We've lived in Los Angeles for a year now. At first we moved to a penthouse in an apartment on Ocean Avenue [in Santa Monica]. It had the most perfect view of the ocean! The problem was that I underestimated how quickly my little boy, Wilfred, would grow up, and how his needs would change—we quickly needed way more space. We moved to this house in April this year and I fell in love with the open plan, single story living. It flows so beautifully and works so well with a toddler. The swimming pool was also a big pull with the whole family.
Was the process of designing and decorating this home a collaborative one?  
Absolutely, very much like Varley! Luckily, my husband Ben and I have very similar ideas and tastes.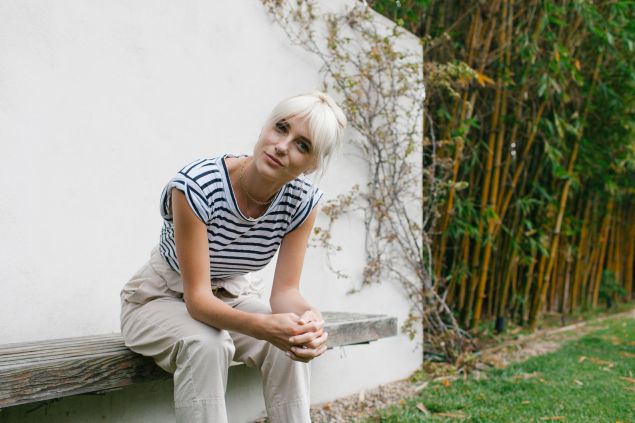 What inspired you to launch Varley?
As a young adult, I ran competitively and was in activewear every day, but there was very little on the market at the time, except for Adidas and Nike. Ben and I visited Los Angeles on our first vacation together, and the thought of going back to our high pressure jobs filled us both with dread. We really loved California and were hugely inspired by the laidback, luxe lifestyle. We spotted a niche in the market for beautiful, but high performing activewear, and also thought about how much women's lives were evolving from 10 years ago. We wanted to design and create a lifestyle brand that gave options for the modern woman.
What can we expect to see next from the brand? 
We are currently working on one very exciting project which is due to launch in November. That's all I can really say at this point, but it is a very exciting time for the company!
How did your work influence the design of your home and vice versa?
Ben and I are both very busy. I'm constantly juggling motherhood with work, and we needed our home to be organized, clean, functional and child-friendly. But, we also want it to be homey and very relaxing. Varley is known for its tonal, delicate color palette and our home mirrors that. We use white, beige and grays as base colors, and then add soft blush pinks and blues.
What inspires your creative process at work and at home? 
I'm constantly inspired by my surroundings, and visiting different cities around the world. I spend a lot of time in the outdoors hiking, running, surfing et cetera, and this is often where I come to my best ideas.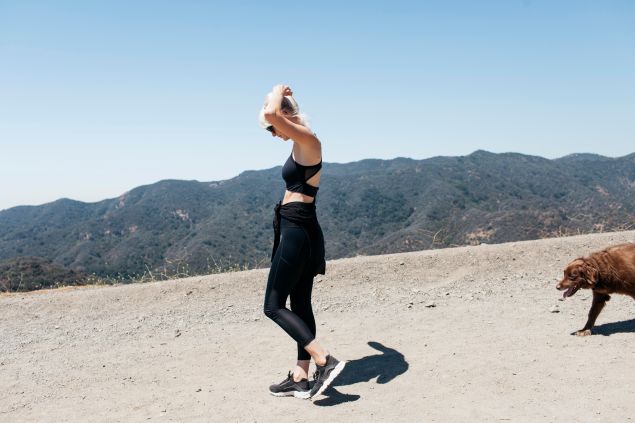 What's your biggest piece of décor advice? 
Everything goes with beige, white and gray, as boring as it is! So use those as your base colors and then you can add pops of color on top. Also, since moving to LA, I've discovered flea markets and have found some of my favorite pieces there, including an amazing mid-century lounge chair. And be consistent, a house has to show merchandise a lot like a collection!