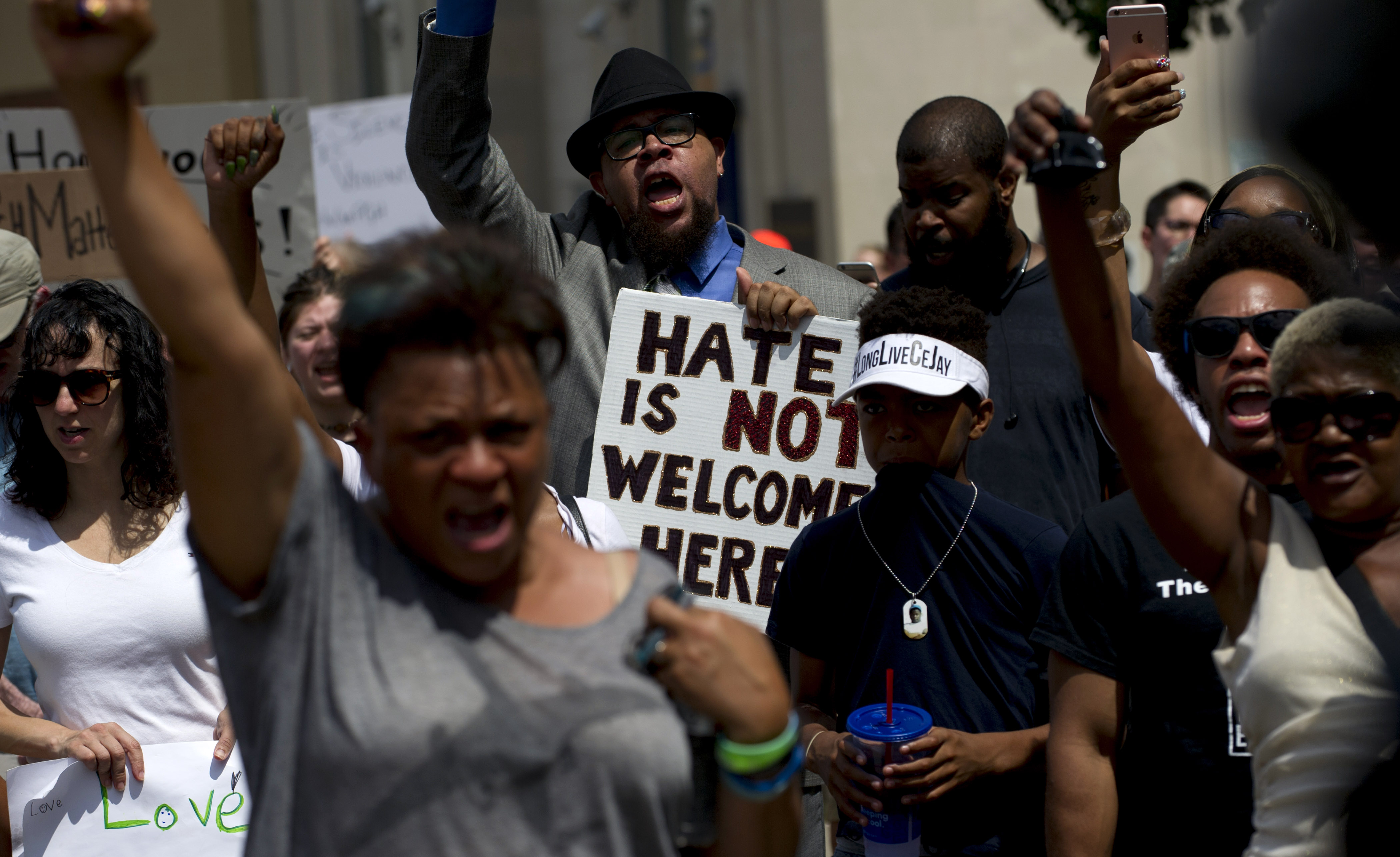 Heading into its 19th season, NBC's Law & Order: SVU is set to borrow from real-life events. The crime procedural will base an upcoming episode on the ongoing riots and rallies in Charlottesville, Virginia, showrunner Michael Chernuchin told THR.
On August 11, a "Unite the Right" rally began composed of white supremacists, white nationalists and neo-Nazis. These rallies prompted gatherings of counter-protesters and clashes between the groups soon began breaking out throughout Charlottesville. On August 12, a man with white supremacists affiliations drove his car into a group of counter-protesters, killing one and injuring 14.
When asked what about the riots would translate to SVU, Chernuchin told the outlet: "Conflict. It's just the state of the world today with everybody. Everybody's political now and everything is political now and we want to deal with that."
SVU has previously attempted to mirror true-life events, but to mixed results. Last season, the show cast Veep's Gary Cole as a Donald Trump-like political figure whose campaign is sunk after multiple accusations against him from several women go public. Originally scheduled to air well before the 2016 election, the episode was moved to November 16 before being scrapped from the season all together. It has still never aired.
"Sometimes the facts go against you in a way you can't imagine and all of a sudden what you wrote two months ago feels different than what you might have wrote in the present because the facts have changed, and I think there was a bit of that," then-SVU showrunner Rick Eid told THR about the episode in February.
However, that bump in the road has not made Chernuchin hesitant to tackle potentially divisive political material.
"Because I'm not going to a choose a side. I won't choose a side. I'm going to present both political views and let the audience decide which one is right. My goal, and I told the writers on this on the first day of our writers' room, is at the end of every episode, I want half the audience to throw their shoes at the television and the other half to stand up and cheer."
SVU, which comes from uber-producer Dick Wolf, averaged 5.8 million live plus same day viewers in season 18, according to TV Series Finale, making it one of NBC's top-rated shows. More importantly, it averaged a rock solid 1.34 rating in the advertiser-friendly 18-49 demo. Will tackling real-life polarizing political stories attract more viewers or turn some away? Will the network get cold feet when it comes time to air the episode?
Law & Order: SVU will return on September 27.