Everyone loves to hate "Pharma Bro" Martin Shkreli. As CEO of Turing Pharmaceuticals, he raised the price of the life-saving drug Daraprim from $13.50 to $750 per pill. As if that wasn't enough, he then bought the only available copy of the Wu-Tang Clan's latest album, Once Upon a Time in Shaolin, for $2 million.
But this month, justice was served—at least a little bit. Two weeks ago, Shkreli was found guilty on three of eight counts in a New York fraud case. Prosecutors proved that he lied in order to get investors' money and to cover up massive losses after he made a bad bet on the stock market. Shkreli now faces 20 years in prison.
According to courtroom transcripts published by Harper's, however, it's a miracle the court was able to find a jury at all—many potential jurors proved they couldn't be impartial about Shkreli when questioned by a judge. Even though the case had nothing to do with Shkreli's pharmaceutical fraud, most people couldn't get past their disgust about it.
Many of the most brutal comments were offhand remarks from potential jurors.
Juror No. 1: "I'm aware of the defendant and I hate him. I think he's a greedy little man."
Juror No. 47: "He's the most hated man in America. In my opinion, he equates with Bernie Madoff."
Juror No. 70: "I have total disdain for the man. I can be fair to one side but not the other."
Juror No. 77: "I believe the defendant is the face of corporate greed in America. You'd have to convince me he was innocent rather than guilty."
Juror No. 155: "I have read a lot of articles about the case. I think he is as guilty as they come."
Juror No. 10: "The only thing I'd be impartial about is what prison this guy goes to."
Juror No. 41: "I was looking yesterday in the newspaper and I saw the defendant. There was something about him. I can't be fair. There was something that didn't look right."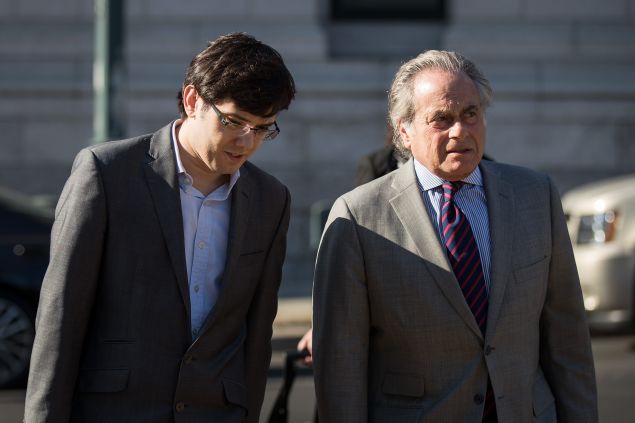 At certain moments Shkreli's lawyer Benjamin Brafman had to get involved, as during this exchange.
Juror No. 52: "When I walked in here today I looked at him, and in my head, that's a snake—not knowing who he was. I just walked in and looked right at him and that's a snake."
Brafman: "So much for the presumption of innocence."
Other noteworthy comments came courtesy of Judge Kiyo Matsumoto (who is identified as "the court" in the transcripts).
The Court: "The question is, have you heard anything that would affect your ability to decide this case with an open mind. Can you do that?"
Juror No. 144: "I don't think I can because he kind of looks like a dick."
One wannabe juror (whose testimony fittingly ends the Harper's article) got the last laugh after being cross examined by Matsumoto.
Juror No. 59: "Your Honor, totally he is guilty and in no way can I let him slide out of anything because—"
The Court: "OK. Is that your attitude toward anyone charged with a crime who has not been proven guilty?"
Juror No. 59: "It's my attitude toward his entire demeanor, what he has done to people."
The Court: "All right. We are going to excuse you, sir."
Juror No. 59: "And he disrespected the Wu-Tang Clan."
For his part, Shkreli isn't letting these comments (or the threat of two decades in jail) get him down. Last night in a wild Facebook rant, Shkreli actually predicted that he'd be president someday. His cabinet would include Milo Yiannopoulos, Edward Snowden, Julian Assange, Kanye West and Kim Kardashian.
The post has gotten over 4,000 likes and almost 1,000 shares.