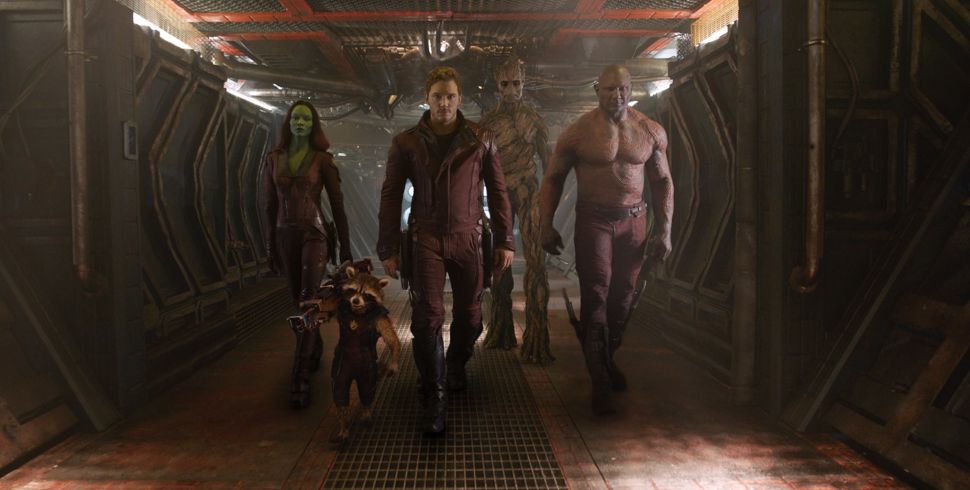 The Marvel Cinematic Universe is on the verge of some very major changes in the near future. It's quite possible, even likely, that your favorite heroes (Iron Man, Captain America, et al.) will no longer be part of the MCU following the fourth Avengers film. Thankfully, the Guardians of the Galaxy franchise has one more installment to go post-Avengers, so we won't be too shellshocked by all the new faces. But when can fans expect to see Vol. 3?
Speaking with Collider, writer/director James Gunn said he's hard at work on the script and that it will be "a little more than a year" before the movie begins filming. While an official release date has yet to be announced, he knows "when the basic time is."
Based on that information, we can try to piece together a rough schedule. Both Guardians movies received summer release dates (July and May, respectively) with Vol. 2 starting to shoot in February 2016 for a May 2017 release. Assuming Vol. 3 also receives a summer release date, we can safely say that it will arrive in theaters in summer 2020.
Here are all of the confirmed announced upcoming MCU films:
Thor: Ragnarok – November 3, 2017
Black Panther – February 16, 2018
Avengers: Infinity War – May 4, 2018
Ant-Man and the Wasp – July 6, 2018
Captain Marvel – March 8, 2019
Avengers 4 – May 3, 2019
Untitled Spider-Man: Homecoming sequel – July 5, 2019
Now that the MCU has become all-powerful in cinema, the studio has settled into a tri-annual release schedule usually with one early film (February/March), one summer season picture (April-August) and one fall entry (November). Obviously, this schedule depends on production efficiency and competition, but this is the general strategy Marvel Studios seems to be employing these days. Following that thinking, we can guess that Doctor Strange 2 and maybe the third Ant-Man film will join Guardians of the Galaxy Vol. 3 in 2020.