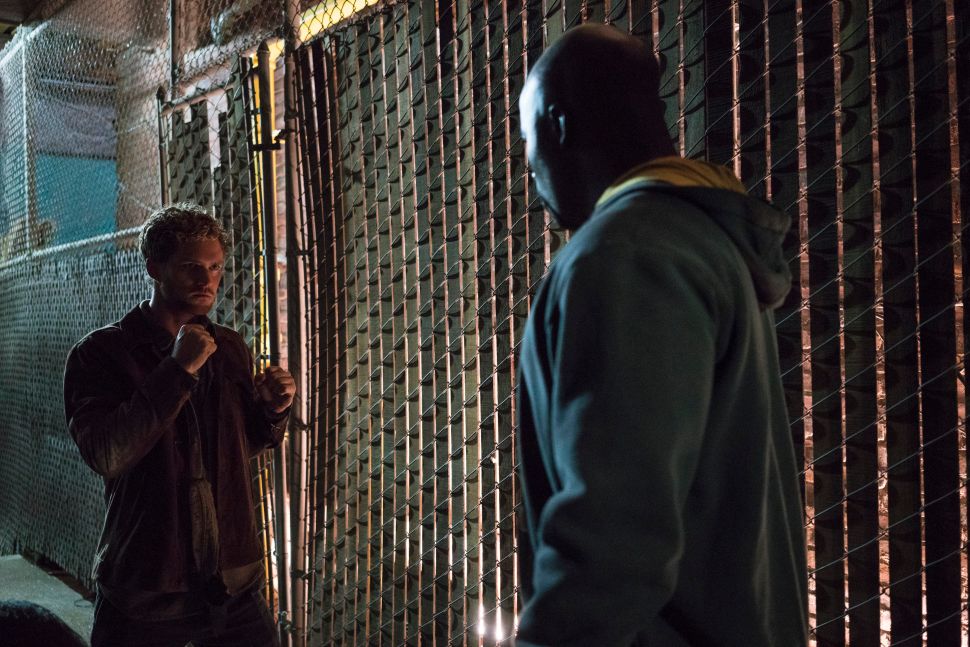 While watching Netflix's show about the super strong private detective out to break the hold of her mind-controlling ex-boyfriend, Marvel's Jessica Jones, I wanted one thing to take my experience from exceptional to unforgettable: after one of the many scenes in which Jessica (Krysten Ritter) announces that she needs a lawyer, I wanted Foggy Nelson (Elden Henson) or Matt Murdock (Charlie Cox) to show up and offer to help.
It could have been nothing. It could have been a throwaway scene. She could have blown them off. One cameo was all I asked.
Every scene that called for a lawyer led to the very dull Jeryn Hogarth (Carrie-Ann Moss). It was the worst kind of tease.
With Marvel's new show, The Defenders, the four characters that the comic book company has slowly introduced since Daredevil premiered in April 2015 have all finally come together, teaming up. They will take on the one organization that has served as a connecting thread through all five of the shows so far, the clan of magic ninjas known as The Hand.
Unlike the five seasons that have come before it, The Defenders only has eight episodes. It spends the first three episode giving all four characters a reason to show up in the same corporate tower at the same time, to punch their way through a bunch of ninjas in business suits.
If you're reading this, there's a good chance that you don't consider yourself a comic book fan, but you've liked the Marvel Netflix shows (enjoy them while they last). This one teases viewers with a familiar trope of superhero narratives: the reluctance to save the day. Much like hip hop stars, "retirement" of various forms is one shortcut writers of these tales use to amp up the drama. Heroes hang out the cape. They put the cowl in a trunk. They quit. We sigh, even though we never really believe it.
Daredevil, the first character revealed by Marvel and probably the most popular character in this chunk of the Marvel Cinematic Universe, is retired at the start of the show. We are meant to wonder what could possibly ever bring him back to the fight?
As if there's any real suspense on this point. Yet, the first season of Daredevil was able to use another obvious inevitability to great effect. Matt Murdock never really becomes Daredevil until the very last episode of the first season. It's a long build. He's finding himself. He doesn't know what he's doing means. And it is (in my opinion) some of the greatest television that's ever been filmed.
This time, though, using the inevitable to unpack the interesting doesn't seem as artful.
Which makes the slow opening more frustrating since all of these characters know people in common that it's hard to believe that they wouldn't come together instantaneously after an earthquake rocks New York City (no, New York is not in an especially earthquake prone part of the country). That should have been enough for Claire Temple (Rosario Dawson) to start calling all of her unusual friends and figure out what was going on.
Instead, Netflix spends the first three episodes doing narrative contortions in order to find a way to bring the heroes together "organically."
All so they can all announce in the next episode (as we know from the trailer) that they don't want to be together at all.
What do you think's going to happen?
Still, at least when Matt does meet Jessica for the first time, he does it in exactly the way I hoped he would through the whole first season of Jones' show: by interrupting an interrogation and announcing that he's her lawyer. It's so good.
And the characters' reluctance to work as a team reflects a tradition from the same loose team from 1970s comic books. The Defenders was a comic book that brought together ragtag groups to solve specific problems. The only mainstay of that comic to appear on this show is Luke Cage, but the spirit is roughly the same (including the use of a shadowy mystical character to nudge the team to count on each other).
In case anyone is unclear on this, The Defenders exist in the same universe as the team The Avengers, from the movies. That group has a building, members get paid and they hold press conferences. The Defenders are street level, all volunteer and more improvisational.
I just wish the show had gotten started faster. On the big screen, Marvel had a character similar to Claire Temple in Clark Gregg's Phil Coulson. Coulson had met all the big guns in the first ensemble film previously, so they were able to use his connections to bring them all together quickly and devote more of the film to unfolding Loki's scheme.
It's too bad Marvel didn't do that here, but at least now you know it's dragging its feet in a way that honors one of several longstanding superhero traditions.