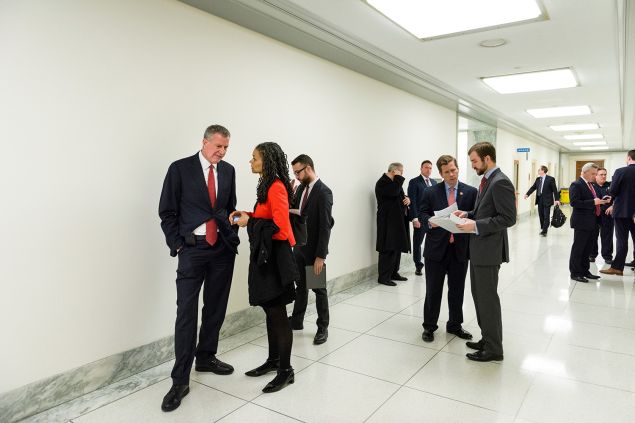 Maya Wiley, chairwoman of the city's Civilian Complaint Review Board, the city's independent police oversight entity, is stepping down from the position.
Wiley, whom Mayor Bill de Blasio appointed to the position in July 2016, is leaving the post to focus on her position as professor of urban policy and management and senior vice president for social justice at the New School, according to the Wall Street Journal, which first reported news of her departure. Her departure is effective today, according to the CCRB.
Deborah Archer, visiting professor of clinical law at the NYU School of Law and professor of and director of the Racial Justice Project at New York Law School, will serve as acting chairwoman.
Wiley, a civil rights activist, previously served as counsel to the mayor and director of the city's minority- and women-owned business enterprise program. She also worked for the NAACP Legal Defense and Education Fund, the American Civil Liberties Union and the Open Society Institute.
She also founded the Center for Social Inclusion, which advocates for ideas, strategies and leadership to revamp the relationship between policies and institutions to bring about racism equity.
"I leave because the necessary time commitment is one I can no longer make in light of my responsibilities as Senior Vice President of Social Justice at The New School; that role is critical," Wiley said in a statement. "I make way for a Chair who can devote the time to this position that the Board, CCRB staff, and all New Yorkers deserve."
The CCRB — the largest of its kind in the United States — said that Wiley used public meetings to facilitate conversations between leaders in the NYPD and residents for the first time and helped staff members come up with processes to assess trends in police conduct and pinpoint officers' retraining needs. The board also said that she made crucial investments in public education, intergovernmental affairs and outreach.
"Under Maya Wiley's steady, effective leadership, the CCRB has entered a new era of openness and engagement, bringing police, communities and advocates together in pursuit of justice for every New Yorker," de Blasio said in a statement. "Maya has been an important partner as we continue to strengthen the bonds between police and those they protect."
Monifa Bandele, a spokeswoman for Communities United for Police Reform, thanked Wiley for her service and praised the CCRB for releasing policy reports on continuing NYPD abuses and narrowing the time it takes to close some cases. But she called for some reforms.
"During this period of leadership transition, the CCRB must also begin using independent counsel, rejecting the conflict-of-interest representation from Corporation Counsel (that defends the NYPD in lawsuits), so that it can end its complicity in the NYPD's always-expanding misuse of 50-a to conceal police misconduct and can serve as a credible voice to increase NYPD transparency and accountability," she said in a statement.