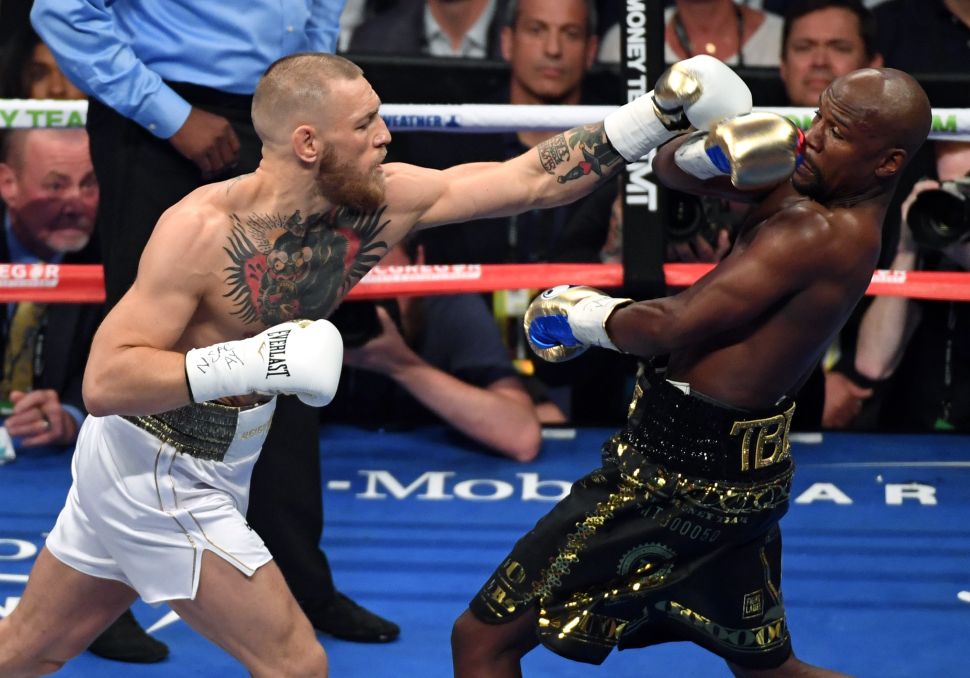 Estimates for the Conor McGregor-Floyd Mayweather fight on Saturday suggested the pay-per-view event could set records with  $700 million to $1 billion in revenue. While the final numbers have yet to be tallied, we do know that a big chunk of viewers managed to snag the highly anticipated fight for free.
Variety reported the bout was illegally live-streamed on 239 rebroadcasts across the internet, reaching an estimated total of 2.93 million viewers worldwide. Sites such as Facebook, YouTube, Periscope and Twitch were all used to illegally broadcast the fight by online pirates. Showtime Networks charged $99.95 for the event, and it's unclear how damaging the illegal live streams will be to the lofty expectations sets by industry insiders in terms of revenue.
We do know that the fight, which received a theatrical distribution across 534 theaters, earned an impressive $2.6 million at the box office, according to Variety. Will it be enough to offset losses elsewhere?
On top of the illegal live streams, roughly 445,000 people downloaded video of the fight after it finished, according to Tecxipio. Though Showtime and the UFC have been combating potential piracy in the days leading up to the fight by submitting requests to Google to remove countless URLs advertising free Mayweather-McGregor access, millions of viewers still obtained the fight illegally.
"Live sports are a cornerstone of global piracy, with thousands of sites providing illegal content attracting millions of viewers," Rory O'Connor, SVP of Irdeto's cybersecurity services, told Variety. "When combating live sports piracy, speed in disrupting piracy is essential."
Mayweather earned a 10th round victory via TKO in a surprisingly competitive bout to extend his professional record to 50-0. Despite the loss, McGregor is now more popular than ever and holds considerable leverage over the UFC in terms of negotiating his next payday.
While TV piracy remains an ongoing issue for the industry, it's clear that the biggest events will still draw legions of viewers.