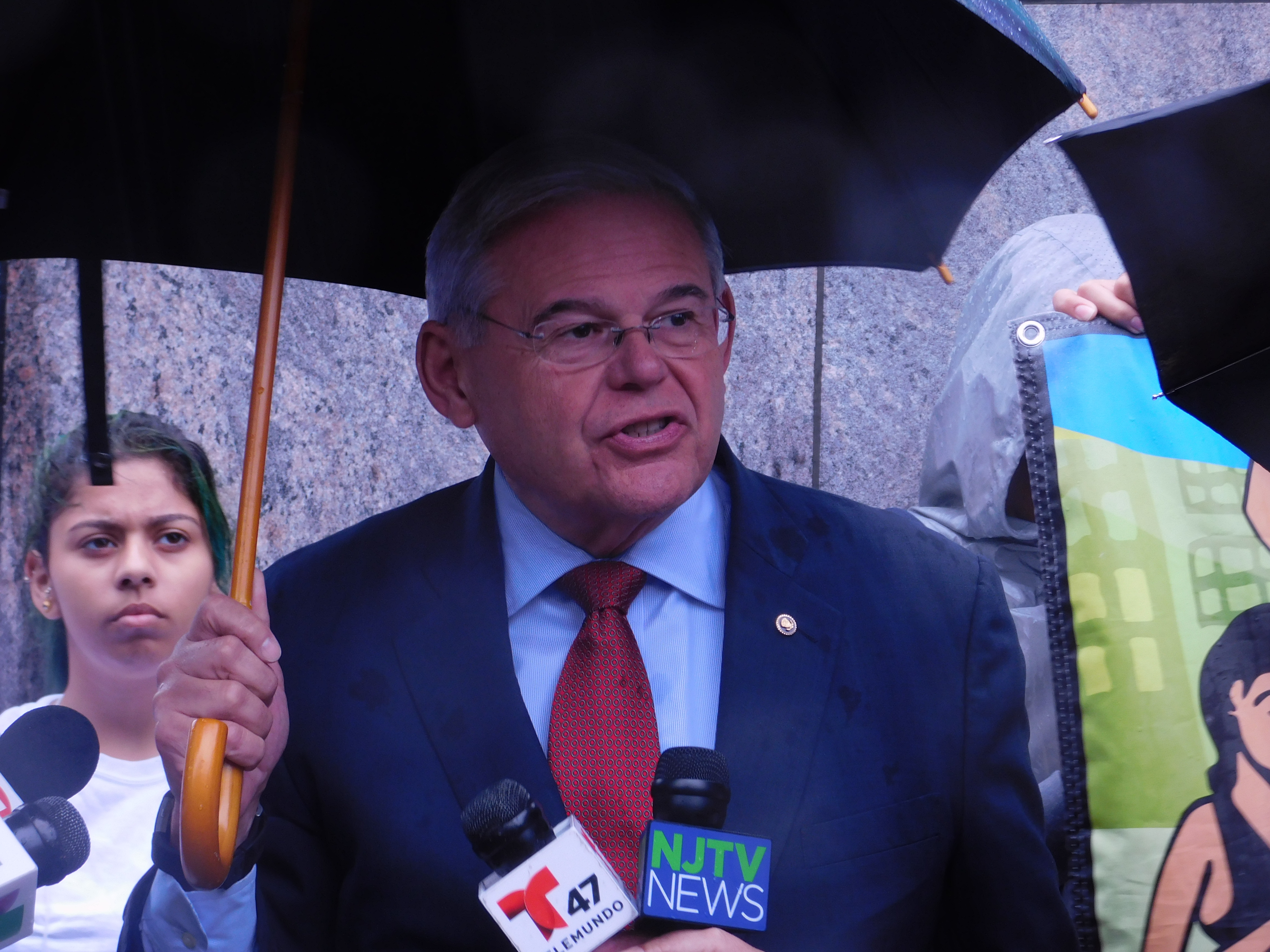 NEWARK — U.S. Sen. Bob Menendez  on Tuesday defended a motion filed last week by his attorneys to pause his upcoming federal corruption trial on the days when "critical" votes are taking place in the Senate.
Standing just steps away from the Newark federal courthouse where his trial will commence on Sept. 6, Menendez said that, if approved by Judge William H. Walls, the motion would not be special treatment, as prosecutors argue. Menendez said he has two constitutional rights at play, one to be present at his trial and another to cast votes as a senator.
"There is a clash of constitutional rights here," Menendez said. "There is a constitutional right for me to be at the trial every step of the way and help in proving my innocence. There is also a constitutional right for me to cast votes in the United States Senate on behalf of the people of New Jersey."
Menendez said that if the motion is denied, he would have to forfeit his right to attend parts of the trial in Newark in order to cast votes in Washington, D.C. He said that the motion is seeking limited delays that he and his attorneys do not estimate would prolong the court proceedings significantly. The court already plans to recess on other days, including holidays, he said.
"In essence, I am giving up one of my constitutional rights in order to accommodate being able to go to the Senate if trial is going to be held and I am going to have to absent myself," Menendez said. "You can't cast a vote in the Senate chambers if you're not on the Senate floor."
The Department of Justice opposed Menendez's motion, arguing that he was trying to get special treatment from the court that no other defendant could request and was trying "to hide behind the very office he corrupted to avoid accountability to the public for his actions."
"A critical aspect of our criminal justice system is that every defendant should be treated equally and no defendant should receive special treatment based on power, position or privilege," Wyn Hornbuckle, a Justice Department spokesman, said last week.
Potential critical votes include raising the federal borrowing limit to avoid default and approving a spending plan to avert a government shutdown. There is also the possibility that an effort to repeal and replace Obamacare could get put up for a vote if Republicans in the Senate try again after failing to pass a bill last month. In July, that measure failed by one vote when three Republicans voted no with Democrats. All 48 members of the Democratic caucus voted against the bill.
"In the health care debate, one vote made a difference and so not having that one vote there could mean millions of … Americans and tens of thousands of New Jerseyans potentially losing their health care if the Republican majority wants to go ahead and go back and take that vote again," Menendez said.
Menendez said he has yet to hear of a ruling on the motion. He has pleaded not guilty to charges that he accepted bribes from his top donor, Florida eye doctor Salomon Melgen. On Tuesday, Menendez maintained his innocence and said he is confident that jurors will rule in his favor.
While his trial is scheduled to start next week and last about two months, Menendez is still pursuing a legislative agenda. His Tuesday comments were made following an appearance with advocates pushing for continued protections for immigrants with "temporary protected status," a program established in 1990 that protects illegal immigrants from deportation and allows them to obtain legal work if their home countries are deemed unsafe.