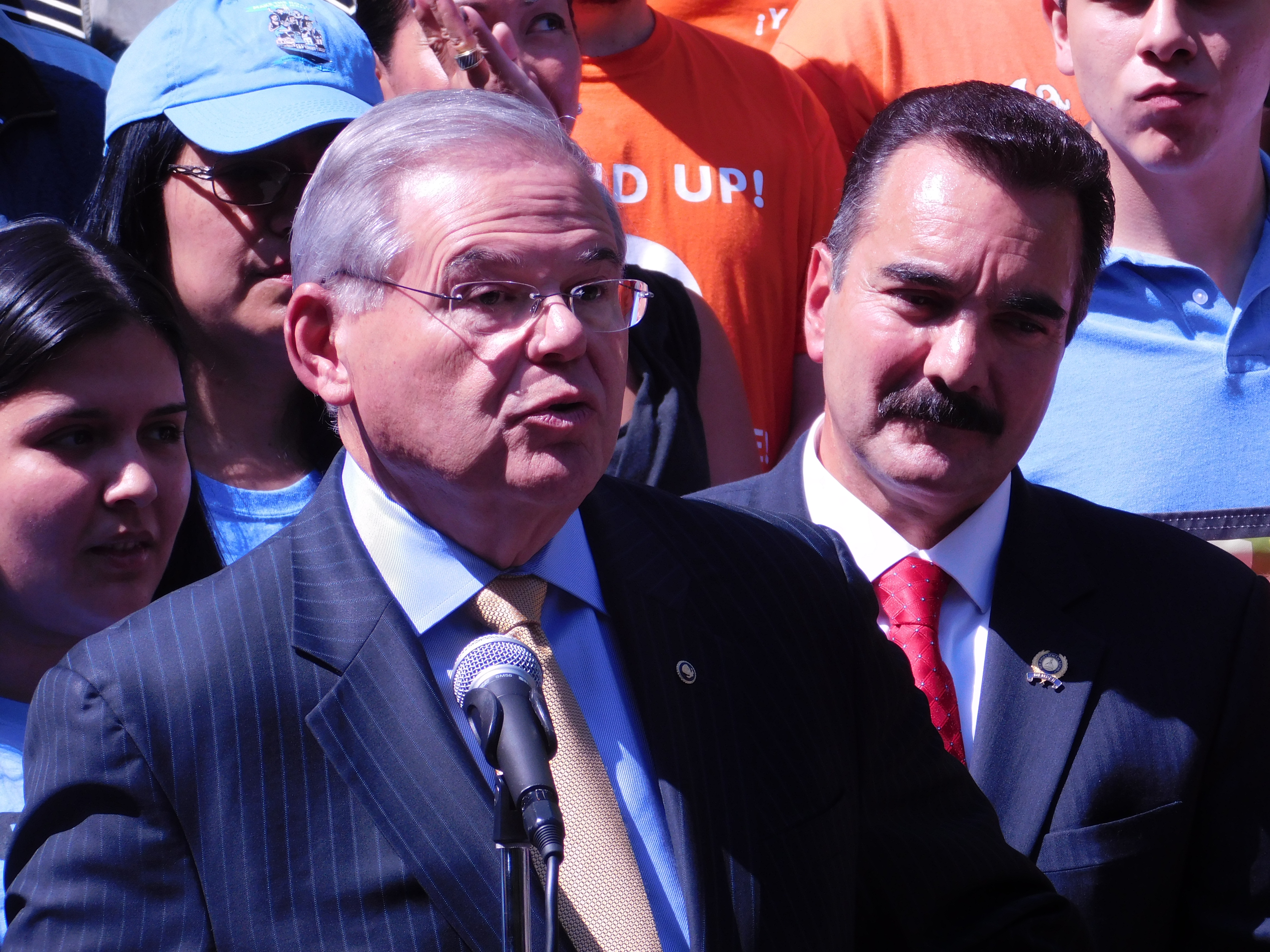 JERSEY CITY — New Jersey's top Hispanic elected officials joined with activists and supporters Wednesday to urge President Trump to keep two programs designed to help undocumented immigrants stay in the United States legally — the Deferred Action for Childhood Arrivals program, or DACA, and Temporary Protected Status.
The challenge to DACA has been spearheaded by Texas Attorney General Ken Paxton and other Republicans. They are threatening legal action against Trump if the program is not ended by next week. DACA was put in place by President Barack Obama.
"I cannot believe that the president has not engaged in a conversation with those state attorneys general to say, 'Listen, this is not the right fight, it is not a just fight and, in fact, give us time to find a workable solution,'" Menendez said from the campus of New Jersey City University. "The president has the power, as we believe President Obama did, to ultimately pursue DACA and to preserve it."
The senator has long been an advocate for a pathway to citizenship and was a member of the bipartisan "Gang of Eight" who wrote a comprehensive immigration reform bill in 2013 that passed the Senate but failed in the House.
Trump promised on the campaign trail to end DACA, but advisers say he "remains conflicted" because of the disruption it would cause for nearly 800,000 people, according to Politico.
Assembly Speaker Vincent Prieto (D-Hudson) was also on hand at Wednesday's event to advocate for DACA program participants who attend college, often called DREAMers. Prieto, who is an immigrant from Cuba, noted that Gov. Chris Christie, a Republican, signed a measure to benefit DREAMers in New Jersey.
"We need to make sure DACA doesn't go away," Prieto said. "In New Jersey in 2013 we made sure that children would be able to go to state universities and pay in-state tuition. … We need to make sure there is a path to be permanent residents and a path to citizenship because it is the right thing. This country was made of immigrants and we cannot forget that."
Wednesday's event is the second in two days that Menedez has attended to advocate for undocumented immigrants and a pathway for legal residency. On Tuesday, Menendez attended a rally in support of TPS, a program created in 1990 to help illegal residents obtain legal status and avoid deportation if their countries have been deemed unsafe.
Activists included Kevin Brown, the New Jersey State Director of 32BJ SEIU, and representatives from groups including American Friends Service Committee, Centro Comunitario CEUS, Wind of the Spirit, and Make the Road New Jersey.
"Recipients of TPS and DACA have made the United States their home as leaders, neighbors, students and coworkers," said Dina Mansour of the New Jersey  Alliance for Immigrant Justice. "They have earned the right to pursue the American dream as have generations of immigrants before them."
Although Menendez and Prieto are the highest-ranking Hispanics from New Jersey in state or federal government, they are both facing the prospect of losing their jobs. Menendez is on trial on corruption charges and Assembly Democrats have rounded up the votes to oust Prieto in January when the next legislative session begins.