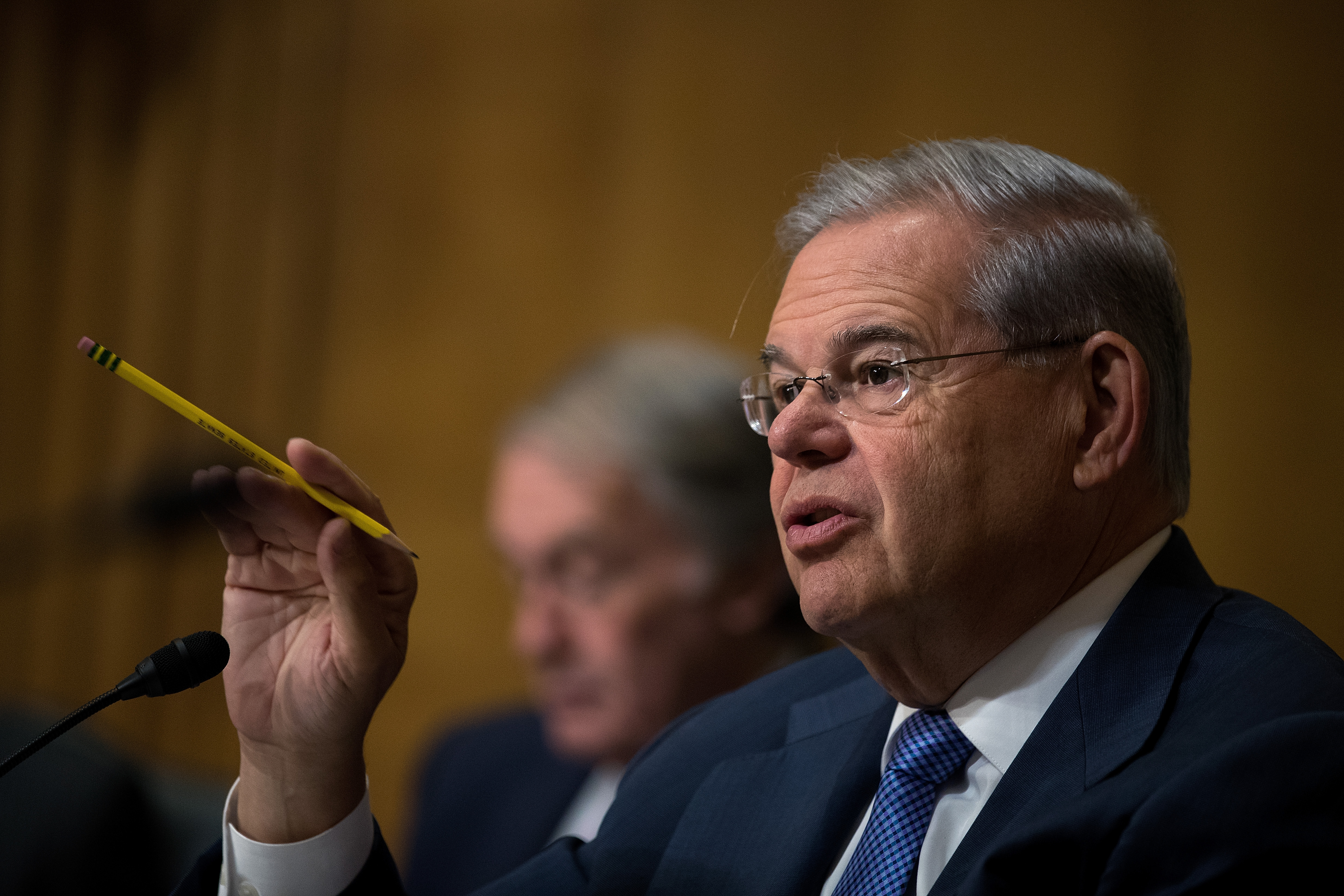 Sen. Bob Menendez's attorneys are asking to pause his corruption trial at certain points over the coming months so that the senator can travel to Washington, D.C., and vote on several high-profile bills.
Menendez attorney Abbe Lowell filed a motion to alter the court schedule on Thursday. The trial is currently scheduled to start Sept. 6 and is expected to last into November, a timeline that could prevent the senator from voting on issues such as health care, raising the federal borrowing limit to avoid default and approving a spending plan to avert a government shutdown.
A single vote can have a big impact in the closely divided Senate, where Republicans hold 52 seats and Democrats 48. Menendez's legal team said that if the senator were absent for his trial, the jury could infer he does not care enough about the case.
"As to members of Congress especially … they have a constitutional right to be an active part of every minute of their trial, but they also have constitutional obligations to serve the people who elected them," Menendez's attorneys wrote. "If a non-public official chooses not to attend his or her trial, the jury may draw whatever inference it wants, including that the defendant did not care enough about his or her case. However, this is not a proper or accurate inference here, and the court can and should take appropriate steps to prevent the prejudice that might come with such an incorrect inference."
The Department of Justice opposed Menendez's motion in a filing late on Thursday night, arguing that he was trying to get special treatment from the court that no other defendant could request and was trying "to hide behind the very office he corrupted to avoid accountability to the public for his actions."
"A critical aspect of our criminal justice system is that every defendant should be treated equally and no defendant should receive special treatment based on power, position or privilege," said Wyn Hornbuckle, a Justice Department spokesman. "The department is fully prepared to proceed to trial on September 6."
In a response to that filing, Menendez's attorneys said conflicts would only crop up occasionally and would at most affect a few days of the trial.
"The senator is not seeking special treatment for himself, and cutting a few days of trial short so he can return to Washington for key votes would not benefit him in any personal way," the response said. "Adding an occasional day or half day for a critical vote would not be difficult. For the prosecutors to object to even a brief delay, after they took over two years to bring this case and all the time spent on important judicial review of their charges, is a weak point to make."
U.S. District Judge William H. Walls has not ruled on Menendez's motion. If Menendez were convicted and resigned, Gov. Chris Christie, a Republican, would be able to fill his seat. Christie's term ends in mid-January.
Menendez is currently facing charges that he accepted bribes from wealthy donor Salomon Melgen, who has been convicted in a separate case of defrauding Medicare and is now a co-defendant in the senator's trial.