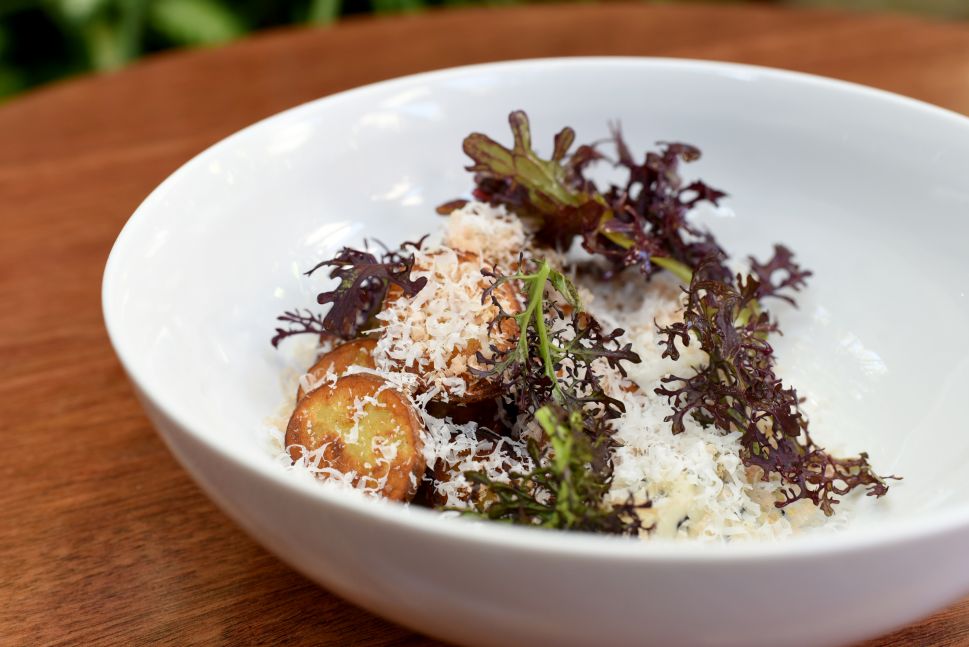 Michael's Santa Monica is a restaurant with a glorious past, but it also clearly has a vision for the future. The menu at the pioneering California-cuisine destination is now in the hands of 29-year-old chef Miles Thompson, who favors big multicultural flavors. Thompson layers umami over umami over umami when he makes potatoes a la plancha topped with Parmigiano-Reggiano, bonito flakes and furikake aioli. If you want pasta, he's got pici with dry-aged lamb ragu and candied Fresno peppers. Other creative combinations on his summer menu include a stone-fruit salad with black-olive honey; hamachi collar with baba ghanoush; and swordfin squid with coriander tapioca, smoked avocado and kaffir lime.
Thompson is a fitting choice for Michael's, which Michael McCarty opened in 1979 and has been a place where many of the country's most influential chefs cut their teeth. You can see and taste for yourself on Friday, August 25, when Thompson hosts an insane reunion lunch with Jonathan Waxman, Nancy Silverton, Sang Yoon and "Top Chef" champ Brooke Williamson. The event, which promises to be a celebration of seasonal cooking by OG farm-to-table superstars, is part of the always star-studded Los Angeles Food & Wine Festival's "power lunch" series.
Other festival lunches on the same day include 2017 James Beard Award winner Sarah Grueneberg (from Monteverde in Chicago) cooking alongside Denis Crutchfield and Shannon Swindle at Craft. If you've never tried pounding a spaghetti shooter with caviar, this is your chance.
The L.A. Food & Wine Festival, which also features walk-around tastings hosted by Curtis Stone (August 24) and Tyler Florence (August 26, with a performance from Wyclef Jean), is a big part of what will be several even-more-delicious-than-usual weeks of culinary events around L.A.
Other reasons to mark your calendar:
August 20: Smorgasburg L.A.'s BBQ Day
Special guests Bludso's Bar & Que, Moo's Craft Barbecue, Craft Republic, and Ol' Skool BBQ will join regular Smorgasburg vendors Black Sugar Rib Co., Stoked California BBQ and Ugly Drum at a downtown extravaganza designed to give you the meat sweats. RBTA, the new Highland Park izakaya from the Sticky Rice crew, will serve Thai-style BBQ skewers in the beer garden. Cheezus will collaborate with Horse Thief BBQ on a grilled-cheese sandwich. And you can expect other Smorgasburg vendors to have BBQ-themed specials.
If you need to cool off at any point, Smorgasburg's Ice Cream Alley has 10 vendors including Jeni's Splendid Ice Creams, Wanderlust Creamery and Nancy Silverton's Nancy's Fancy.
September 13: Visiting Chef Series at Hotel Bel-Air
The most over-the-top open-fire cooking event in L.A. is back, with Wolfgang Puck hosting an al fresco dinner featuring guest chefs Francis Mallman (the Argentine fire-starter you might remember from "Chef's Table" on Netflix), Eric Werner (Hartwood Tulum), Nancy Silverton (yes, she's everywhere in the next month) and Dave Pynt (Singapore's Burnt Ends). By the way, April Bloomfield (who's getting ready to open her first L.A. restaurant this fall) was part of Mallman's cooking crew last year. This is a glam event where you should expect some surprises alongside the whole-roasted animals and beautiful society crowd.
September 22 to 23: Terranea Resort's Celebration of Food & Wine
The ultra-luxe oceanfront Terranea Resort in Rancho Palos Verdes offers a gorgeous setting for a weekend of over-the-top eating and drinking. From the Taste at Twilight bartending competition to a breakfast picnic to tasting-menu lunches to a family-style dinner (featuring spit-roasted lamb) to a dessert-packed after-party, this will be a weekend where it's totally fine to not worry about your beach body.