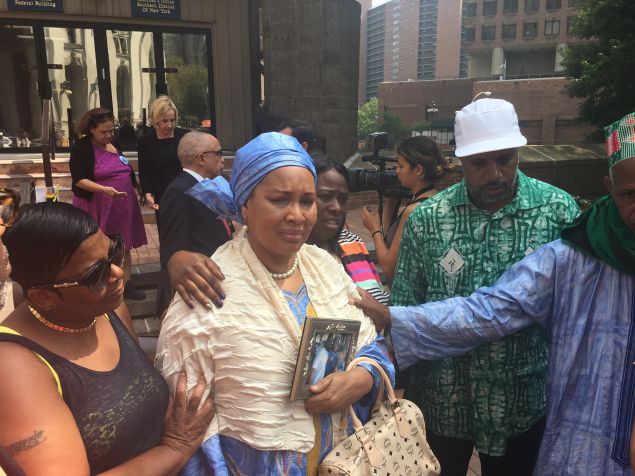 After acting U.S. Attorney Joon Kim said that he would not move forward with the case of a 28-year-old Guinean immigrant killed by police officers in 2012, his mother said she will "fight all the way to the end" despite feeling heartbroken over the news.
On Sept. 25, 2012, Mohamed Bah, an honors community college student and taxi driver, was killed by NYPD Emergency Services Unit officers after his mother, Hawa Bah, called 911 for an ambulance because she thought her son was in physical and emotional distress, according to the Justice Committee, a New York City-based grassroots group that assists families of individuals killed at the hands of police officers.
Hawa Bah said that the officers forced their way into her son's apartment against NYPD protocol and without a warrant and shot Mohamed eight times despite the fact that she implored them not to do so. The police say that he charged at them with a knife but she says that there is evidence indicating that the last shot was fired at close range as Mohamed was lying on the ground.
In 2013, a Manhattan grand jury voted not to indict the officers, and the case had been in the hands of the U.S. Attorney's Office for the Southern District of New York. Hawa Bah has been calling on the U.S. Department of Justice to carry out an investigation into her son's death.
"My heart is broken," she said after the meeting. "My body is falling. My life is crushing into pieces. There is no criminal charges when NYPD kills individuals in America."
She said that her son did not commit any crime and that they "cannot live like this."
"It's not fair to me," she continued. "It's not fair to no one."
After the rally concluded, faith leaders, advocates, imams and Kadiatou Diallo, mother of Amadou Diallo, were seen comforting Bah as she cried over the outcome of the meeting. She proclaimed that the fight would continue for justice. Bah, Diallo and the mother of Anthony Baez, a security guard killed by a police officer in the Bronx in 1994, were all sitting on a bench near the U.S. Attorney's office together.
"This is the beginning," she said. "The fight will never end. Mohamed will be a hero."
Deborah Cohen, attorney for the Bah family, said that the next step they will pursue is a civil trial. The Bah family also filed a $70 million lawsuit against the city.
"I can only say to Mrs. Bah and her family that we only have one arena left and that's the courtroom in a civil trial," Cohen said. "We may not be able to put police officers in jail but we can force them to sit in a witness box in public and tell their stories and a jury sitting in its box will now be the ultimate judge whether or not they are telling the truth and whether or not they were justified in taking Mrs. Bah's son from her."
Yul-san Liem, co-director of the Justice Committee, noted similarities between Bay's death and Dwayne Jeune, a 32-year-old man fatally shot by police in his East Flatbush apartment earlier this month.
"Just days ago, Dwayne Jeune was killed in a manner eerily similar to the killing of Mohamed Bah," Liem said. "Every day, people who are in emotional distress need help, are patronized and brutalized by NYPD and we don't hear about it because we made it here in some of the extreme cases."
About 60 rally participants held posters outlining the facts of the case and read each of them aloud as Hawa Bah was meeting with Kim.
As they waited, they sang slogans such as "We remember all the people the police killed. We can feel their spirits, they're with us still," and "Rest in peace, Mohamed Bah. Justice for him is justice for all."