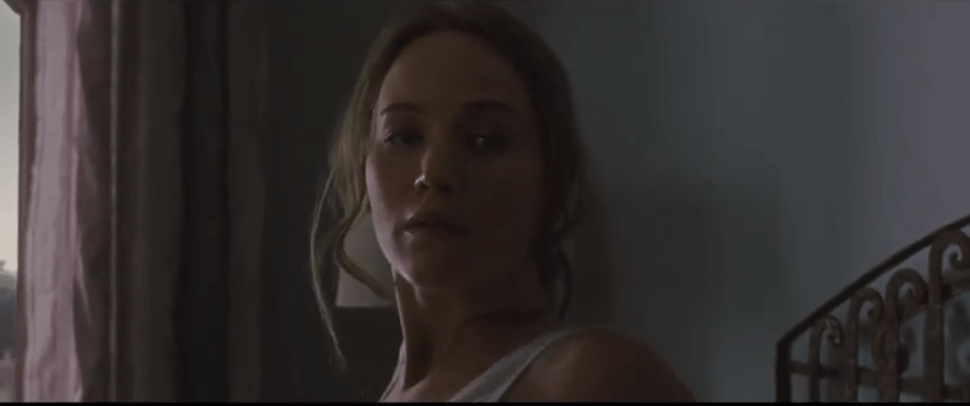 It's always interesting to see actors and filmmakers branch out into previously unexplored genres. Tackling new material is like an experiment that fans get to watch unfold in real time. That's why moviegoers should be so intrigued with Darren Aronofsky's upcoming horror film mother! starring Jennifer Lawrence and distributed by Paramount Pictures. Both star and director will be entering the horror genre—which has quietly become the most consistent box office weapon for Hollywood studios—for the first time. Here's the film's first full length trailer:
And here's the film's purposely vague official synopsis: "A couple's relationship is tested when uninvited guests arrive at their home, disrupting their tranquil existence." That combo is a sufficiently creepy kickoff to this promotional campaign.
"They've come to see me," Javier Bardem's character coos in the trailer. Is this a classic case of "my husband is not who I thought he was?" It's hard to tell as the trailer is intentionally mysterious. Clearly, there are going to me some questions that need a thorough unpacking as J-Law does battle with her sinister house guests.
Aronofsky has always been one of cinema's most unique directors and it looks like he's drawing on several inspirations while putting his own touch on things in mother! Will this be a groundbreaking new hit for him after the relative disappointment of 2014's Noah? And will this get Lawrence back in the win column? Quietly, Lawrence hasn't enjoyed a real hit in a few years as The Hunger Games franchise limped to the finish line and Joy, X-Men: Apocalypse and Passengers all underperformed.
mother! also stars Michelle Pfeiffer, Domhnall Gleeson, Ed Harris and Kristen Wiig. The film will hit theaters on September 15 and compete with It and Stranger Things for the Halloween season headlines.