At one point this week I was madly going through my Gmail deleting old stuff because I have finally run up against my maximum account size across Google services. It's amazing how much space email can take up over time, especially with piles of ancient attachments that accumulate over the years. Do I need this PDF reporting on broadband speeds in Europe from 2011 and before? No.
Most of the time, when you send someone a file, they just need to download it once. It's just wasting space sitting in your inbox for eternity.
Mozilla has dropped a new tool onto the internet that can really help. It's called Send. It's a website that lets you upload a file, copy the link and send that link to someone. Your recipient can only download it once, and then Mozilla will wipe the file from its servers. Even better, Mozilla encrypts the file as it's sitting on their server.
We just tried it here in the Observer office. It was super fast and smooth. After my coworker downloaded an old photo I sent, I went back to my workstation and tried to download it again. This is what I saw: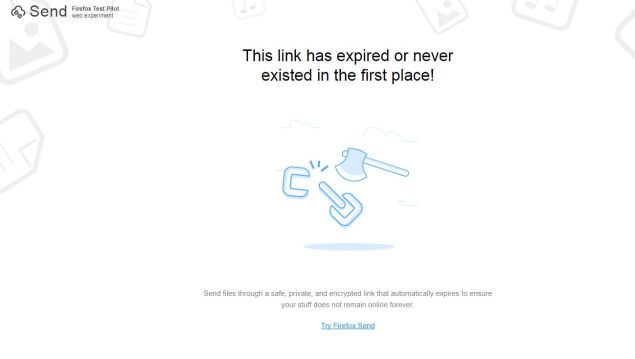 Which is great.
One caveat: your correspondent needs to download it within 24 hours, because it will also wipe the file if it's up for more than a day. It's got good data hygiene built in.
Send is an easy way to get a larger file to someone, but its 1 GB max should prevent it from becoming a way to distribute pirated movies.
It would be interesting to see what would happen if an internet celebrity posted a link. If lots of people tried to download something at once, would more than one person be able to do it?
There's a bit of friction because you have to remember that the site is there and you have to bounce between windows and click and copy to make it work. It would be great if email service providers integrated something like Send directly into webmail. It does seem like it would be a better way of sharing certain kinds of documents.
Send is a project of Firefox Test Pilot, its testbed for new products that might make the internet a little better. One feature that Firefox has all over Google's Chrome is its private browsing mode. You think you're protecting yourself with "Incognito Mode?" You are protecting nothing.