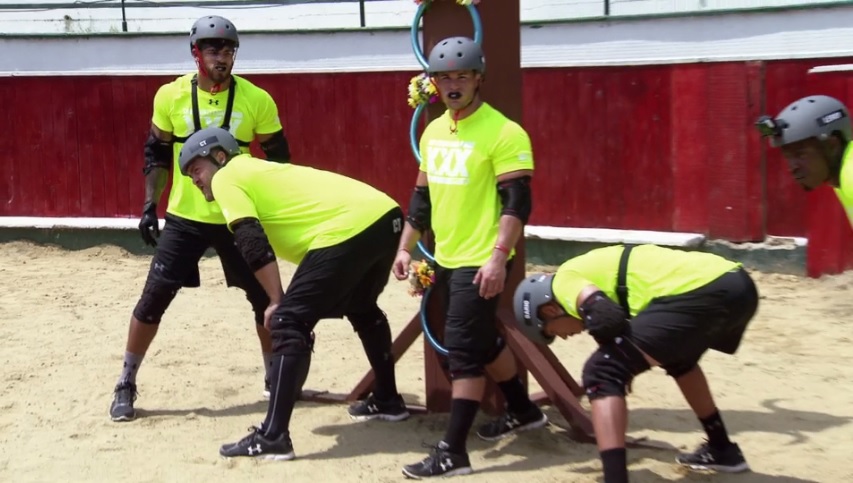 This is the dirtiest season of the Challenge ever. We know this because the host and cast members have said the word "dirty" more times than my "All Dirty" playlist, which includes Dirrty by Christina Aguilera, Let's Get Dirty by Redman, Talk Dirty by Jason Derulo, and Dirty Diana by Michael Jackson. Plus the entire Dirty Dancing soundtrack, but only because I add that onto to every mix I've ever made. For sure, we have seen that things are kind of dirty. But what does an elimination look like in this Pigpen of a season? Welcome to the Presidio.
If you're like you, you may know that a presidio is a fortified structure used as a fort or jail. If you're like me, Presidio Med was a show that lasted one season and really wanted to be ER, but wasn't. The elimination round for Dirty Thirty is in the Presidio—and you do not want to go in there. Last week, Cory and Briana were voted in by the winners of the challenge. Camila burned her vote on Hunter, which upset the rest of her vet crew, CT, Derrick K, and Johnny Bananas.
But who are Cory and Briana going to face in this elimination? All of the eligible players had to pack their bags and head to the Presidio. TJ introduced The Double Cross—a beautiful bit of gameplay that immediately created more divisiveness among the cast. Each player gets a chance to pick an "X" block. If they pull a single "X", the next person goes. If they pull a double "X", they are safe from elimination and have to choose who goes in from the remaining people. This week, Leroy picked first, and got a single "X". Then Dario went and got the double cross. He put in Derrick H. even though they are both Are You the One? vets. Derrick's girlfriend, Tori, was not happy that her man got chosen to go in. On the women's side, Veronica went first and pulled the double cross right away. She chose Britni over Jenna and Jemmeye.
I love this twist so much because it creates new rivals. Cory beat Derrick H. and Tori swore to destroy Dario as revenge for her man. Camila came over to console her and she was like, "I don't want to be touched right now." Britni beat Briana and now only wants to come for Veronica. None of these people had any beef before this. It's great game making!
Derrick H. and Britni got taken to the Redemption House where they learned the game isn't over for them yet. The rest of the regular housemates got some pool time where Ammo decided to finally teach Leroy how to swim. Hopefully, as repayment, Leroy will bring Ammo on as a bartender for Britney Spears when he's back in Vegas. Nicole did a metallic face mask with Johnny Bananas, which made them look like a combination of Ax from Demolition and Hawk from Legion of Doom. We got these Ammo and Nicole mini-segments about members of the house thinking they can't compete, which meant that they were going to somehow end up not competing.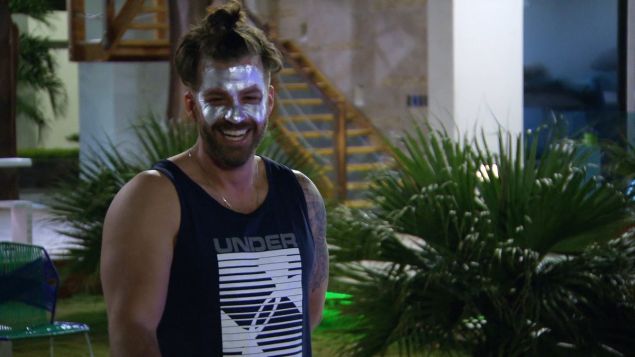 Cut to the next day's challenge. The Battle Royale is a Challenge classic that involves people running at each other very fast and colliding like the best scene in Michael when John Travolta randomly charges a bull and it knocks them both out. For this challenge, they bottle-neck the two sides into one-another to ensure maximum impact. It's a team game and they need captains so TJ randomly pulls Dario and Kailah's names out of a hat. Somehow, Kailah doesn't pick CT first, which is breaking every rule and established point of order for this show. Kailah's strategy is to pick smaller, faster players. Dario picks a wall of destruction. There is no reason CT, Hunter, Cory, and Leroy should've been on the same side. It comes down to the last picks, Tony goes over Ammo and Veronica gets chosen over Nicole. They are both automatically in the Presidio.
Dario's Brute Squad handily takes out Kailah's guys, Johnny, Derrick, Tony, Jordan, and Nelson. CT at one point has Tony riding his back like Luke Perry in 8 Seconds. The girls come down to six-one hundredths of a second. Aneesa put a body block on Jenna that could've knocked her back to her cousin's dad's bakery. Veronica was able to out-sprint Britni to get the final ring on her hook for the win. There are a lot of heavy-duty players vulnerable to go into the elimination now. It should be an interesting vote. I hope it gets extra dirty.