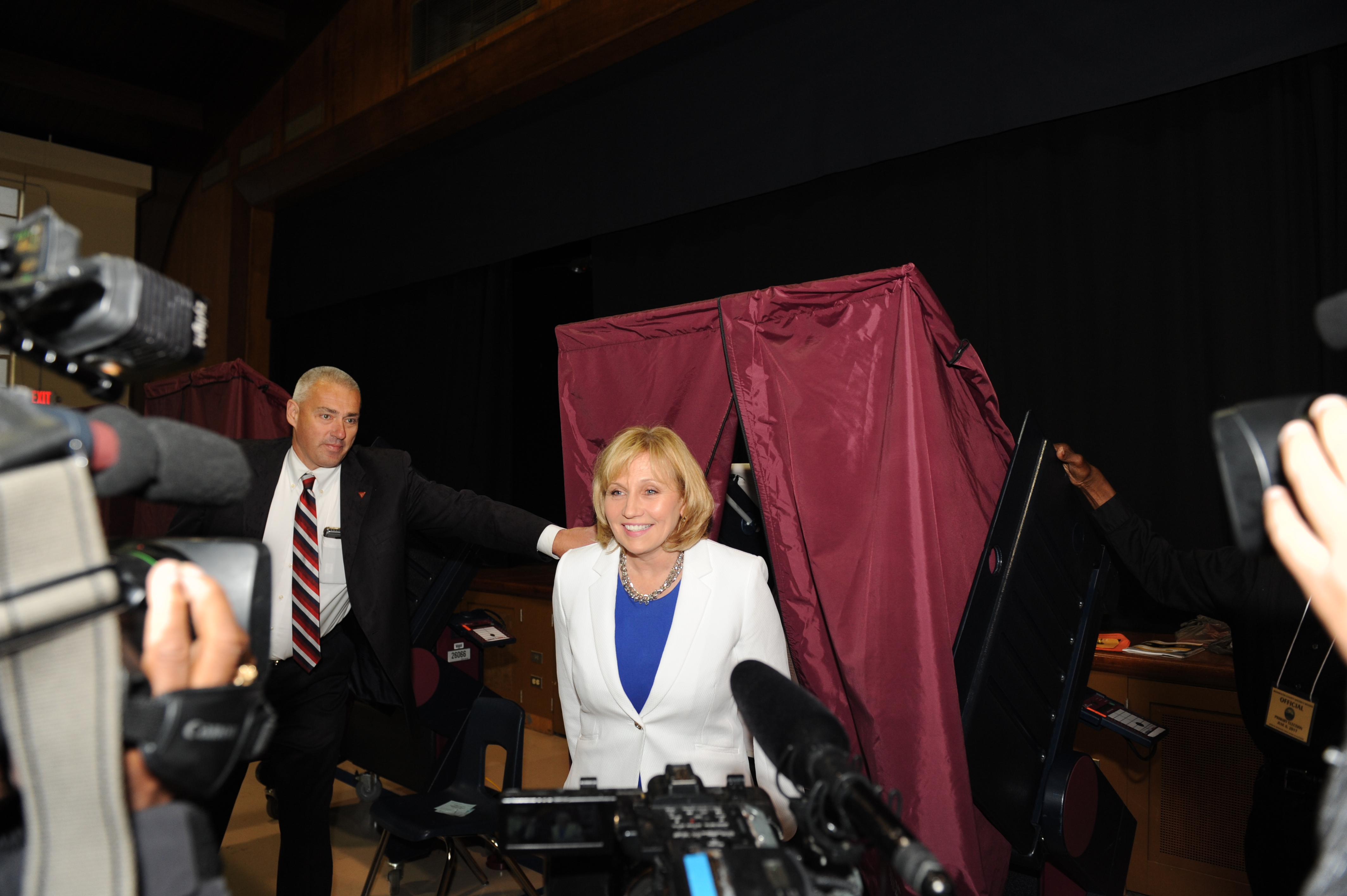 Democrat Phil Murphy on Friday attacked his Republican rival in the governor's race, Lt. Gov. Kim Guadagno, for sitting on the sidelines as state officials send reams of data about New Jersey voters to a controversial commission President Trump appointed to investigate claims of voter fraud.
Guadagno, who also serves as New Jersey's secretary of state and oversees the agency that keeps voter records as part of that job, has stopped involving herself in election-related matters because her name appears on the ballot this year, according to a Jan. 25 recusal letter.
As first reported by Observer on Thursday, the New Jersey Division of Elections is supplying a trove of voter data this week to the Presidential Advisory Commission on Election Integrity, although the state is not turning over all of the information Trump's group requested.
The voter information at issue includes names, addresses, phone numbers, party affiliation, and a list of the elections in which they cast ballots.
Murphy and others around the country have criticized Trump's commission as a partisan vehicle to suppress Democratic votes. The panel's vice chairman, Kris Kobach, the Kansas secretary of state, was dubbed "a Republican titan of voter suppression" by the Washington Post editorial board. Documented instances of voter fraud are exceedingly rare, according to the Brennan Center for Justice and other experts. And the 2016 election's integrity has come under larger questions in a different area: the Justice Department is currently investigating whether Russia colluded with the Trump campaign to help them win.
"Kim Guadagno selectively refused to exercise her constitutional and statutory authority to protect the information and privacy of more than 5.7 million New Jerseyans from an administration panel that is openly hostile to voting rights and voter protection," Murphy said in a statement. "If she won't step in on behalf of residents now, how can she be trusted to do so next year? It begs the question of what New Jerseyans are getting for her $141,000 salary."
The Murphy campaign noted that Guadagno's recusal letter from January only covers "all matters involving the 2017 primary and general elections" — not the Trump commission's request. Guadagno has said she is recused from anything to do with the Trump commission as well, but Murphy's campaign said that claim "rings hollow."
"On behalf of my fellow commissioners, I also want to acknowledge your important leadership role in administering the elections within your state and the importance of state-level authority in our federalist system," Kobach wrote in a June 28 letter addressed to Guadagno. "It is crucial for the commission to consider your input as it collects data and identifies areas of opportunity to increase the integrity of our election systems."
Guadagno did not respond or communicate with Kobach or the commission, according to documents sent by the Division of Elections in response to a records request Observer filed this week. Instead, other state officials have handled all inquiries from the Trump panel.
"Protecting the integrity of elections is a top priority, and it has been the policy of the Division of Elections to protect private personal information and only provide publicly available data to those who file a proper open public records request," Guadagno wrote in a Facebook post July 2. "However, since I am recused from matters regarding the Division of Elections because I am also running for governor, I am not involved with handling the federal government's request for voter information."
Guadagno spokesman Ricky Diaz did not respond to questions Friday about Guadagno's views about Trump's commission or about the claims that voter fraud marred the 2016 election. Diaz did say that Murphy's attack on Guadagno over the issue was an attempt to divert attention from his plan to levy $1.3 billion in additional taxes on the state's wealthy residents and marijuana users.
"Phil Murphy is clearly trying to change the subject from all the taxes he wants to raise if he's elected governor and how he's already backing off his promises to fund pensions and education," Diaz wrote in an email. "It is entirely appropriate for the lieutenant governor to recuse herself from matters regarding the Division of Elections during the campaign for governor, and questions about this request should be directed to the Division of Elections."
State officials declined to provide the last four digits of voters' Social Security numbers to Trump's commission, noting that that information is protected from disclosure under the state's Open Public Records Act. Division of Elections Director Robert Giles wrote to the commission that public information about voters is generally limited to "registrant's name, address, date of birth, political party affiliation, and voting history."