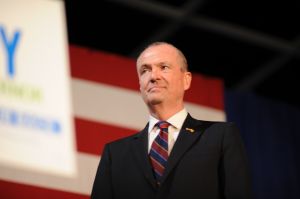 Phil Murphy, the Democratic nominee for New Jersey governor, attacked President Trump on Wednesday for his two-day delay in condemning white supremacist groups after racial violence in Virginia and warned of a political environment in the United States similar to the one that led to the rise of Nazi Germany.
Speaking at a Chamber of Commerce Southern New Jersey event in Mount Laurel, Murphy said the white nationalist rallies in Charlottesville, Va., hit home as a former U.S. ambassador to Germany. After the event, he told reporters that Germany's slide into fascism didn't happen overnight and said people should be concerned about the Trump administration.
"It's a slippery slope. People think all of the sudden these things — there was a quantum moment, and it wasn't," Murphy said of Nazi Germany. "It was economic, societal chaos and it grew over time and people didn't see it coming and then when they finally figured it out they couldn't catch the train. And we should all be very concerned about that in our leadership right now."
Trump initially gave an equivocal response Saturday to the racial violence in Virginia — where one woman as killed and scores were injured — casting blame on "many sides." On Monday, Trump called the rallies "repugnant" and condemned the KKK and neo-Nazi groups by name.
That was two days too late for Murphy, who said the litmus test of the moment is "moral authority."
"Which side of history are you on? Do you understand this? It's black and white. It's a yes or no question," Murphy said. "You get it or you don't get it, and that's what we need in our leadership."
Lt. Gov. Kim Guadagno, the Republican nominee for governor, also addressed business leaders at the event and later told reporters that racial violence and any hate crime is "simply unacceptable." Asked about Trump's delayed condemnation of the hate groups, Guadagno said, "I'm glad he finally reacted."
"It sounds like Phil Murphy is running for president," she said when told of Murphy's earlier remarks. "I'm running for governor of the state of New Jersey and I want to talk about the differences between Phil and myself, and that's what I'm going to be talking about. His characterization of any elected public official on a national basis is his, not mine."
Trump caused controversy again Tuesday when he shared, then deleted, a picture of a train running over a reporter on Twitter.
"Have you no shame @realDonaldTrump?" former Gov. Christie Whitman, a Republican, wrote on Twitter, using the president's Twitter handle. "Retweeting a Trump train running over a reporter isn't even acting like an adult, much less a president."