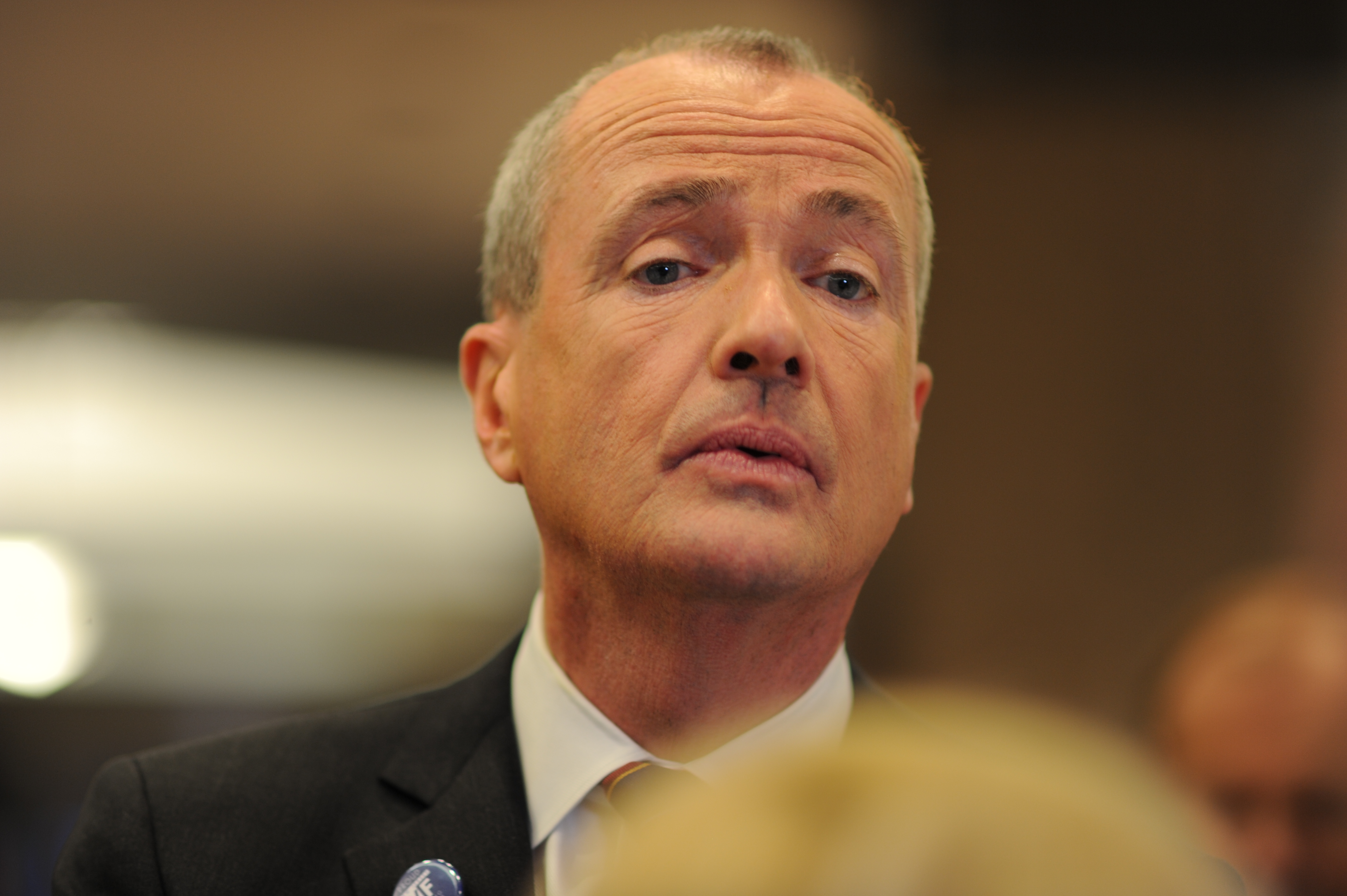 Phil Murphy, the Democratic nominee for governor, said he would approach New Jersey's neighboring states to create a coordinated effort to increase gun control if elected in November.
Murphy likened the idea to the Regional Greenhouse Gas Initiative, a cap-and-trade program for several northeastern states that New Jersey withdrew from under Gov. Chris Christie.
The comments came Thursday as Murphy picked up an endorsement from Americans for Responsible Solutions, a political action committee that fights for tougher gun laws and was co-founded by former U.S. Rep. Gabby Giffords, an Arizona Democrat who survived a gunshot to the head in 2011.
The group announced its endorsement during a press call with Murphy and retired NASA astronaut and U.S. Navy Captain Mark Kelly, who is Giffords's husband. Kelly declined to say how much money the group would spend on New Jersey's race. Murphy is facing Republican Lt. Gov. Kim Guadagno in the Nov. 7 general election.
Murphy reiterated his pledge to sign several gun control bills vetoed by Christie, including measures aimed at reducing access to guns for gang members, reducing the size of gun magazines and banning the sale of .50-caliber rifles. (Christie called for this last bill to be passed after the Sandy Hook massacre, only to veto it later when it landed on his desk.)
Despite Christie's vetoes, New Jersey has some of the toughest gun laws in the country.
But Murphy said an estimated 80 percent of guns involved in crimes in New Jersey come from out of state. The Democrat said that, if elected, he would sit down with governors and attorneys general in neighboring states to have a "meaningful discussion" on coordinating strategies to prevent gun violence.
He referenced RGGI, a regional cap-and-trade program to reduce greenhouse gas emissions that includes nine states. Credits from one state can be applied in other member states, increasing the program's reach.
It's not clear how that idea would work in terms of gun regulation.
"You could have stronger gun laws in New Jersey, but you can also develop a consortium with your neighboring states to have standards that are higher," Murphy said.
Murphy also supports mandating gun safety training for anyone who buys firearms, requiring gun retailers to carry "smart guns" — which are designed to fire only in the hands of their owners — and taxing gun sales to fund law enforcement, drug treatment and mental health services.
"New Jersey's next governor will have an important role in combating gun violence and advancing solutions to make communities safer and we believe Phil is best qualified to take on that important challenge," Kelly said.