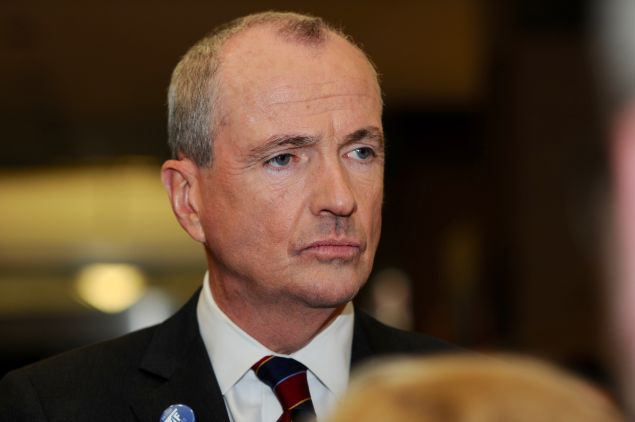 George Norcross and Democratic gubernatorial nominee Phil Murphy will be teaming up for a fundraiser next month for the Democratic Governors Association, which is expected to play a prominent role in this year's race for New Jersey governor.
Norcross, the South Jersey Democratic powerbroker, and his brothers Phil Norcross, a prominent lobbyist, and U.S. Rep. Donald Norcross (D-1) will all be at a $2,500 per person fundraiser Sept. 25 at the Caffe Aldo Lamberti in Cherry Hill, a favorite Democratic haunt, according to a copy of the invitation obtained by Observer.
Under state law, Murphy can receive donations of up to $4,300 from individuals and cannot spend more than $13.8 million in total on the general election because his campaign is receiving public matching funds. (He did not face limits in the primary and spent more than $16 million of his money on that race.)
The invitation from Norcross notes that the DGA can raise unlimited amounts from U.S. donors. Murphy, an ex-Goldman Sachs executive and former U.S. ambassador to Germany, is listed as the honored guest. One of his top advisers, Julie Roginsky, recently left his campaign to take a senior role at the DGA handling New Jersey's race.
Murphy has a 3-to-1 fundraising lead over his Republican rival in the governor's race, Lt. Gov. Kim Guadagno. In adition, a newly-formed super PAC — the Committee to Build the Economy — has already raised $1 million from three unions to aid Murphy, according to Politico.
Guadagno, who trails Murphy by wide margins in public polls, got some fundraising assistance last month when Republican National Committee co-chair Bob Paduchik came to Ocean County for a fundraiser and rally. Guadagno raised $250,000 from the event, a campaign spokesman said.
Murphy was on hand earlier this year at a record-setting fundraiser Norcross held with Alec Baldwin for General Majority PAC, which has become one of the dominant forces supporting Democrats in state legislative races. The event raised $5.1 million.