Cyndi Ramirez, the style blogger behind downtown hot spot Chillhouse, is expanding her cafe slash manicure zone to include Moon Juice-inspired lattes and new nail art. Hopefully no one will tell Father John Misty…
Everything about Chillhouse is decidedly chill, from the cool girl clients in off-the-shoulder Reformation dresses to the minimalist, pastel nail art suggested in the booklets lying on the marbled tables. And now, there will be themed lattes to Instagram your newly polished paws against. Unlike Vanity Projects or Valley Nails, the options for tiny masterpieces are carefully curated, with only a few different nail art ideas to choose from, packaged in pre-priced tiers.
Right now, Chillhouse is partnering with Dinnertable, the reverse speakeasy restaurant co-owned by Ramirez's husband, Adam Fulton. They're offering parfaits by the Dinnertable pastry chef that are far more complex than typical spa fare, alongside colorful toasts and vegan baked goods. "Eventually we'll take some things in-house," Ramirez promised. But until then, expect the usual matcha lattes with almond milk, accompanied by dishes like smoked mackerel toast with dehydrated corn.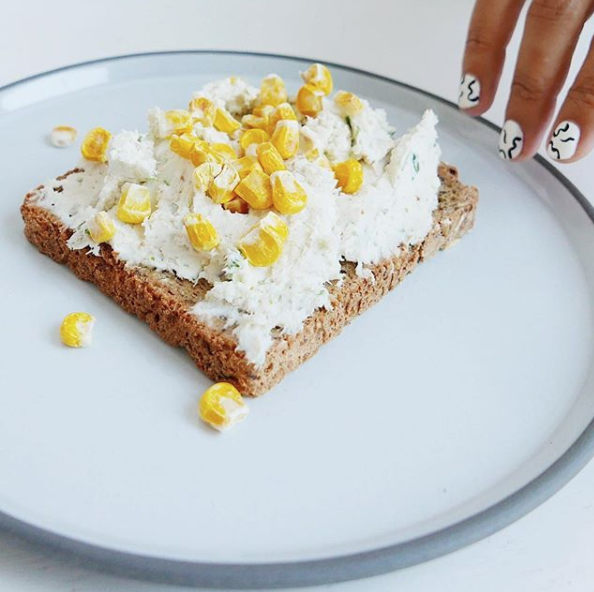 "The new direction of the cafe are these results driven lattes, kind of like how Moon Juice has Power and Sex," Ramirez told the Observer from the millennial pink cafe, which does have its own custom neon signage, for peak social media opportunities. The dusts, created in-house, will launch next month, and folks will even be able to take scoops home and make their own. Ramirez hinted that the powders would be called "Spirit" and "Power."
"We're calling them different names than Moon Juice, but it's a similar thing—Beauty, Glow, Relaxation and a couple of others." They're planning on releasing around six different types of lattes once they're finalized.
Luckily, you won't be expected to eat your parfait and drink your latte directly next to cuticle dust, as there's a fresh, clear wall separating both areas. "We like to keep it separate," Ramirez told us about the walled cafe, which was more or less inspired by the New York State Department of Health. The change led to more freedom in both areas. "We can get more creative in here and get a little rowdy if we need to, have a party in back and relax in front."
Ramirez worked with Brooklyn nail artist Lady Fancy Nails on the new designs, and they'll be launching nine new nail looks in September. "She has a really good aesthetic and a really good eye; she's an artist first and foremost," she said about their collaborative effort. The new nail art will come with its own IRL Pinterest board, describing the type of girl wearing it, from blogger to editor-in-chief, making for a totally chill experience.
Ramirez wants the café to be more than a place to quickly stop by for a manicure. She's been hosting "Matcha Mornings," where she chats with "a big industry leader in wellness, beauty or fashion." So far, the line-up has included fitness blogger Hannah Bronfman, designer Norma Kamali and Michelle Lee, the editor-in-chief of Allure. "We want to keep getting a little more into the self-care conversation, because so much of what we're trying to preach here is that it doesn't have to be so unattainable. It doesn't have to be a spa day. We want to dispel that myth," she said about the purpose behind the morning meet-ups.