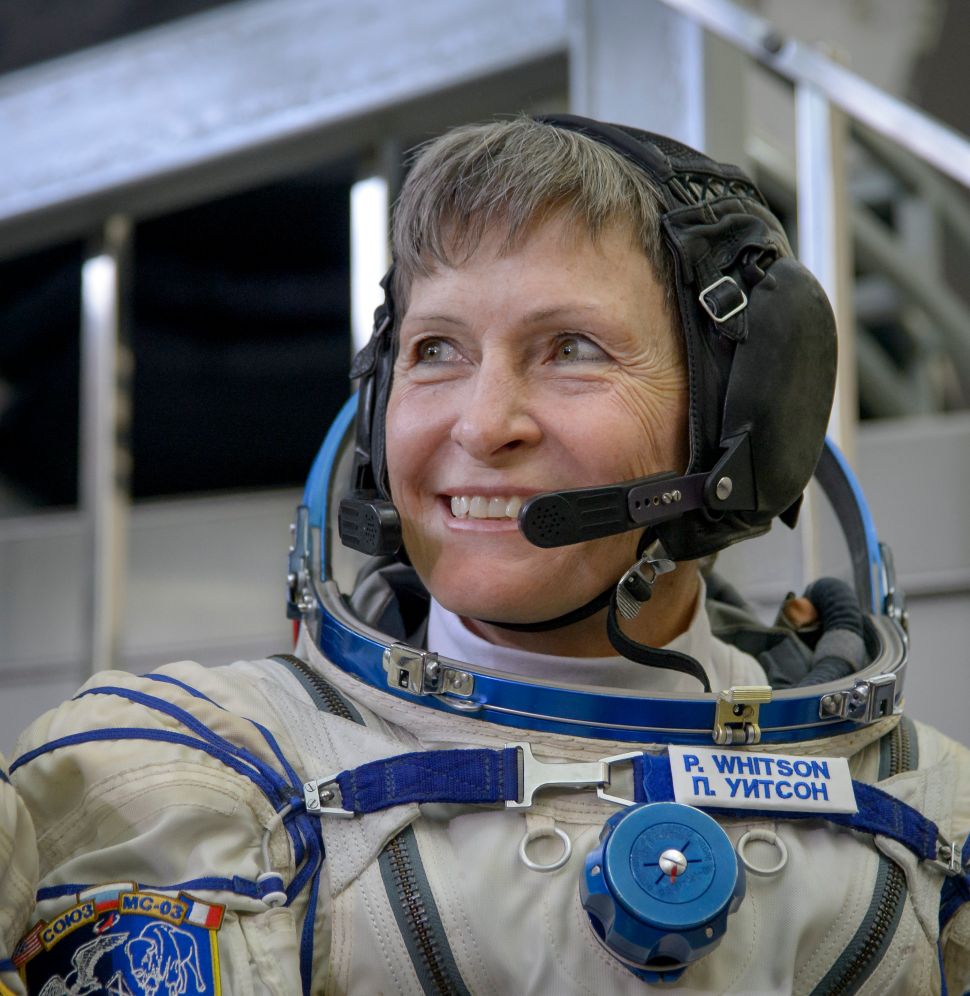 On September 2, NASA Astronaut Peggy Whitson will return to Earth from the International Space Station, bringing her total time spent in space to 665 days—accumulated over three separate missions. Upon landing, Whitson will break the United States record for most time spent in space. The World record belongs to Russian Astronaut Gennady Padalka, who spent 879 cumulative days in space. He broke the record in 2013, surpassing Russian Astronaut Sergei Krikalev, who has spent just over 803 days in space over the span of six missions.
On November 17, 2016, Whiston launched to the International Space Station from the Baikonur Cosmodrome in Kazakhstan. She will land back in Kazakhstan at 9:22 p.m. EST (7:22 a.m. Kazakhstan time on Sept. 3).
Whitson already holds the record as the woman who has spent the longest time in orbit during a single flight. That mission clocked in at 288 days. She is also the record holder for the most spacewalks and the most time accrued spacewalking for a female astronaut. She was the second woman to command the International Space Station, and the first to command it on two different missions. Of these milestones, however, she told CBS earlier this year, "it'll be a real mark when we don't have to talk about it."
An interesting aspect of Whitson's extensive time in space is that she has also essentially time traveled briefly, due to a phenomenon called time dilation. In 2013, Universe Today reported: "Thanks to time dilation and Einstein's theory of relativity, we know that time travel can and actually does happen, albeit only in extremely tiny increments at the speeds and distances we can travel in space. If you add up the accumulated speed cosmonaut Sergei Krivalev has traveled in space—the most of any human with a total time spent in orbit of 803 days 9 hours and 39 minutes—he has actually time-traveled into his own future by 0.02 seconds." In comparison to Krivalev, Whitson's time travel is roughly 0.018 seconds into her own future.
Whitson's career embodies the American dream. Born on a rural Iowa farm in a town with a population of 20 people, she raised and sold chickens to afford her private pilot's license, eventually graduating from Rice University in Texas with a Master's in Biochemistry. She continued on at Rice as a post-doctoral fellow until she was offered a research residency at NASA's Johnson Space Center in Houston in 1989. In 1996 she was selected as an astronaut candidate. Her time at the International Space Station has been used to gauge the physiological limitations of humans in space, in anticipation of a mission to Mars sometime in the future.
Whitson has said she is unsure whether this most recent space mission will be her last, or if she will be given an opportunity to break the world record for most time spent in space. NASA initially scheduled a press conference on August 30 with Whitson, to precede her return to Earth, but it will have to be rescheduled to a later date, after she returns, due to the impacts of Hurricane Harvey in Houston, where NASA Mission Control is located.