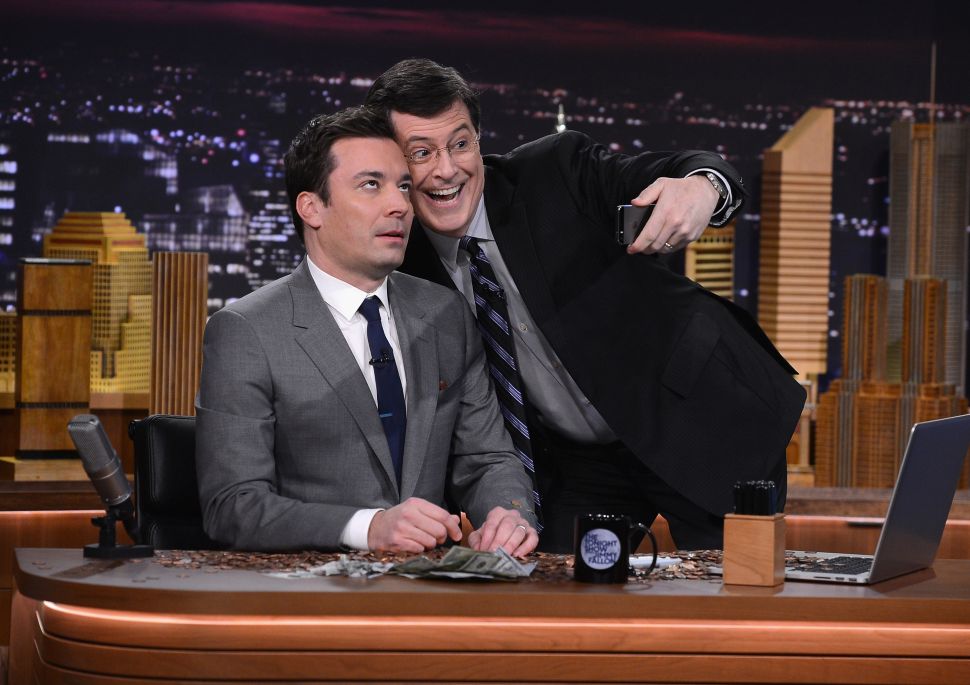 Stephen Colbert's Late Show tenure got off to a rocky start when he took over for David Letterman in 2015. Some viewers tuned in expecting to see his schtick from The Colbert Report and promptly left disappointed. Others didn't tune in at all. The Late Show's early ratings were…forgettable. It was hard not to compare Colbert's flat start to Jimmy Fallon's victorious liftoff one year prior with The Tonight Show. Fallon had the ratings, the viral videos and the celebrity hookups. He had transformed The Tonight Show into a YouTube content factory aimed at millennials.
But with the 2016 presidential election raging on everything started to change. Back in familiar political territory, Colbert's socially relevant takes began attracting more attention while Fallon's puppy dog persona petered out. Fast forward to today and it is Colbert that stands atop the Late Night mountain while Fallon's ratings and popularity have waned.
But NBC claims it isn't worried.
"I have no concern about it whatsoever," network entertainment chairman Robert Greenblatt told reporters at the Television Critics Association's summer press tour on Thursday (via TheWrap). "I think that will even itself out, I say laughingly," he said when asked about The Tonight Show's decline during President Trump's early months in office.
Fans have grown increasingly weary of Fallon's interview style and lack of bite, but Greenblatt insists that the former SNL star isn't afraid to wade into Trump territory. "Jimmy has his own way of doing it," Greenblatt said.
"Once things even themselves out, you'll see those household ratings even out a little. All the late night talents approach the news cycle in their own way."
But will things even themselves out? The Tonight Show has enjoyed a minor bounce back in recent weeks, according to TV By the Numbers, but The Late Show thoroughly dominated November 2016 to June 2017.  With new attention-grabbing political stories hitting the presses everyday, Colbert has enjoyed feasting on a consistent supply of material. It will be interesting to see if Fallon changes tactics should Colbert's ratings hold steady.