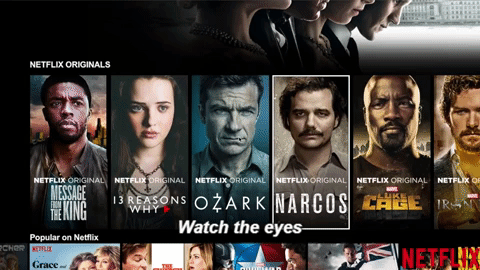 Watch the eyes in the GIF above.
It's subtle, but you can see the eyes moving if you watch.
It's especially pronounced on Katherine Langford's face in the promo for 13 Reasons Why.
Netflix staffers Kate Pflueger, Juha Turunen and Asim Khan built the application, which they call "Spookyflix," during Netflix's latest Hack Day (see a video description of it in the link). It was built using depth modeling to estimate the shape of the rest of each head shown in the promo shots and automation to move the eyes around. The hack was built for Netflix's TV app, and it's meant to follow the movement of your remote control. It could also be built to follow the cursor on a laptop or the tilt of a phone on mobile, according to the video's narrator.
Seeing these heads move subtly is super trippy.
This is just a demo. Don't look for it in real life yet, but you can imagine Netflix building it out and activating it across their devices on Halloween or when they debut an especially scary new film. Or maybe they will just make it the default any time someone looks for horror movies? They could even start capturing images of talent with the intention of making them three dimensional and responsive. Things could get real weird, like those paintings in the Harry Potter movies.
A bunch of other fun new hacks were also revealed on the company's tech blog. They showed off a sort of status bar for binge watching shows and an audiobook mode for listening to video.
Last year, employees at the company built a remote that works with the Muse headband to let users control their Netflix viewing with their mind alone.