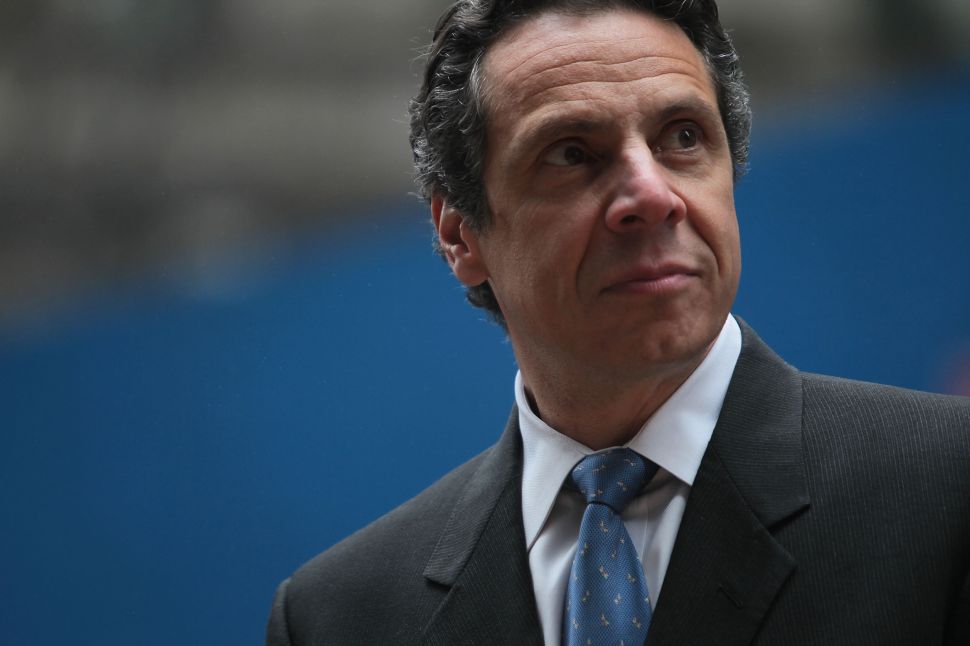 Running for a third term isn't easy. After eight years, the voters—not to mention the media—start hankering for change, sometimes simply for the sake of change itself. If you govern in a real way, which entails making difficult choices and saying no to powerful constituencies, then you will have enemies by year eight. Gov. Andrew Cuomo's bid for a third term next year will likely be successful—but it will be more difficult than people realize.
I should know. I ran Mike Bloomberg's campaign to win a third term as mayor in 2009. On one hand, Mike had been a phenomenally successful mayor and his approval ratings were high. On the other, he was an Independent in a city of Democrats. Plus, after eight years, people were starting to hunger for something new. He was also a billionaire (self-made and honorably-made but still) and it was the Great Recession. He had governed in a very direct and tangible way, which meant he had made decisions over the years that upset our base. For example, he had enacted higher property taxes, higher water rates, and enforced parking regulations. And the decision to change the law on term limits, while necessary to run for a third term, was unpopular. Despite all this, we still had to capture 50.1 percent of the 55 percent of available votes. Our strategy was to project inevitability and invincibility to scare off potential challengers (if we hadn't, our next mayor very well may have been Anthony Weiner) and dissuade a host of powerful interests (unions, Democratic Party officials, Democratic donors) that there was no point in trying to beat us. It worked, but our margin for error was small, and we didn't win by much.
In some ways, Cuomo faces an easier task in his quest for a third term. He's a lifelong Democrat in a very blue state. The law already allows him to run for a third term. And he's far more mindful of the politics than Mike ever was. But at the same time, to his credit, he has alienated different constituencies by actually governing. For example, the SAFE Act angered gun owners and his support for charter schools made his relationships with teachers unions tenuous. Cuomo is politically savvy and tough. While these traits have earned him a significant number of legislative and budgetary accomplishments, they also cause the political class to chatter, meaning more and more people want to see him fail and feel increasingly comfortable saying so. His war chest is impressive—$25 million and counting. And after two gubernatorial elections and a statewide attorney general election, voters know who he is. Positive advertising isn't likely to change their perceptions of him, so most of that money will go toward making voters aware of his opponents' flaws.
Cuomo's biggest risk to re-election, however, isn't the strength of his potential opponents—Harry Wilson, Stephanie Minor, Terry Gipson and John DeFrancisco all have low name recognition with voters. It's his ability to show he can lead on issues that matter to voters, his ability to demonstrate that he stands for more than his own ambition, and his ability to ensure that neither he nor his staff repeat the mistakes of the Christie administration by making stupid decisions that destroy lives and careers.
Clearly, the MTA is the issue that demands the most leadership from Cuomo. His choices of Joe Lhota and Pat Foye are strong and will help put the agency back on track. And while he can't fix the problem overnight—or even by Election Day 2018—by demonstrating constant leadership on the issue, proposing new ideas regularly, demanding accountability, and owning the problem (no one dislikes de Blasio more than I do, but trying to pin the blame on him assures mutual destruction), he can convince voters he's on their side and best equipped to (literally) run the trains on time.
Voters have made it abundantly clear they no longer want traditional politicians who cater to the interests of donors and who don't believe in anything. Cuomo has faced complaints at times from the left because he governs as a moderate, pro-business, pro-law enforcement Democrat. But that juxtaposition says he actually stands for something and isn't just hostage to the demands of the resistance. So while saying no to powerful special interests may seem like it carries short-term political cost, it's necessary to assure voters that he's not just another politician who only cares about himself.
And finally, for next year's campaign, he needs to worry about winning—not the margin by which he wins. Christie's team didn't understand this. Instead, Bridgegate destroyed his career and several of his staffers are headed to prison. It's hard to imagine anyone on Team Cuomo being that obtuse, but the desire to win runs deep in campaigns.
Is Cuomo savvy enough to execute the above? Without a doubt. But winning a third term is tricky for even the sharpest of politicians. He will run a strong campaign, but he won't cruise to victory. And besides, he doesn't need to. He just needs more votes than the other guy.
Bradley Tusk is the founder and CEO of Tusk Holdings, the parent company of Tusk Strategies, Tusk Ventures, Kronos Archives, the Ivory Gaming Group and Tusk Montgomery Philanthropies. In 2009, he served as Mike Bloomberg's campaign manager, guiding Mayor Bloomberg to a third term.