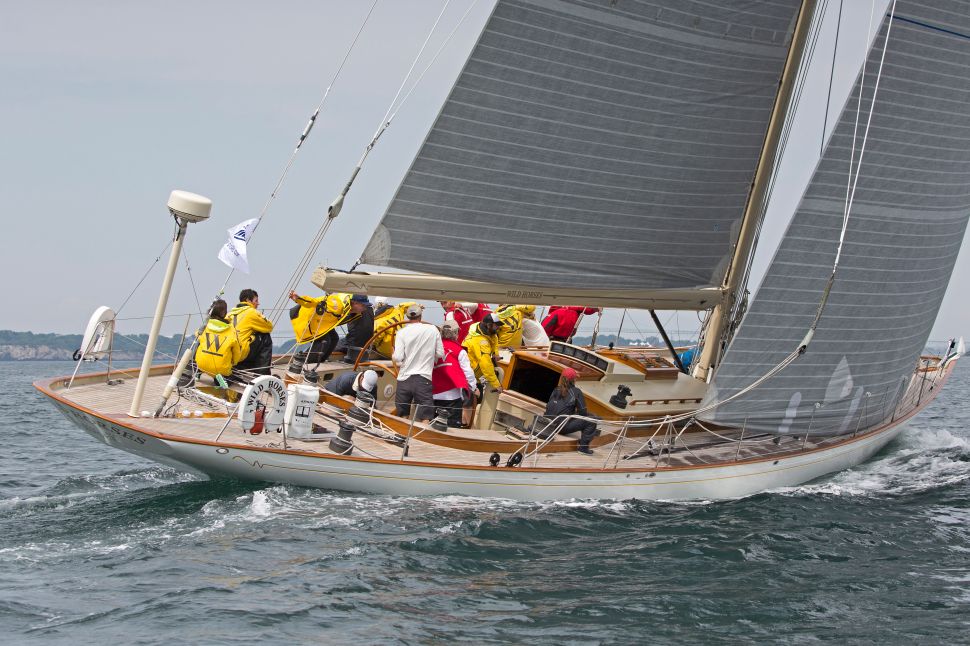 Newport Rhode Island has a lot of sailing history to uphold. Newport has been the undisputed leading harbor for recreational yachting since Vanderbilts and Astors sailed on her waters. Not to mention the Kennedys. For decades Newport was also the home of the America's Cup. Today that legacy is being kept on course by several institutions and quite a few anchor characters.
Newport is the venue for the second annual Candy Store Cup. The Candy Store Cup starts where the Bucket Regatta and a previous non-superyacht version of the Candy Store Cup left off. This is big boat sail racing. Exceptions are allowed, but the Candy Store Cup is intended for sailing yachts over one hundred feet. Newport is home water to scores of smaller racing yachts from designs like Shields to the New York Yacht Club Swan 42 class, but there needs to be a race for the superyachts to strut their stuff and the Candy Store Cup at Newport is it.
The Candy Store Cup is organized by Newport Shipyard, New England's port of refuge for the biggest, fastest and most innovative yachts on the water. Everything important afloat has been and can be found at Shipyard, from internet billionaire Jim Clark's 90-meter Athena, currently on the western dock, to the 40-meter record beating trimaran Spindrift, which used Shipyard as her base while waiting for the best weather window to cross the Atlantic. As Charlie Dana, founder and owner of Newport Shipyard, says, "We love the culture of yachting and sailing, so we do everything to keep it vital." David Ray owner of the Clarke Cooke House Restaurant, which houses the top-floor Candy Store bar, is the other key organizer. The two of them were instrumental in the revitalization of the waterfront. Ray believed in its potential enough to build his restaurant there, back when the area now called Bannister's Wharf was known as Blood Alley. And Dana rescued the Shipyard from becoming condos.
One of the other aforementioned characters is Donald Tofias. Donald is a sailor's sailor. After leaving behind a successful career as a real estate developer he is now, in his own words, "a yacht developer." What he has developed is the "W" class boat. These yachts share an aesthetic sensibility. They are classic looking, and high tech. They range from Colt at 22 feet to the queen of the fleet Wild Horses at 76 feet. Donald has some carryover marketing from his previous career. He has a logo (three prancing horses), a symbol, (a large red W) and a slogan, ("yachting is the winner"), the latter meaning that win or lose just being on the water makes for the best day.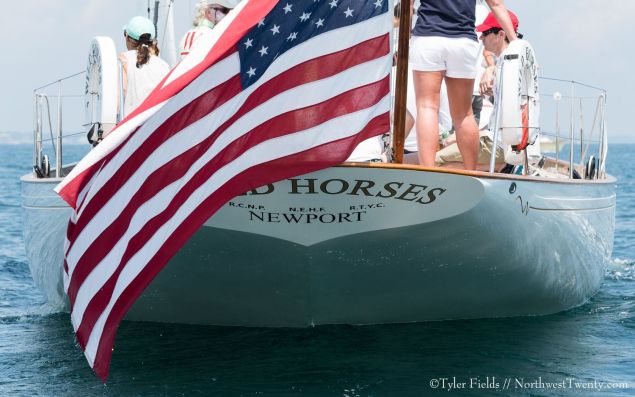 I sailed aboard Wild Horses for two of the three race days of the Candy Store Cup. Donald never left the wheel. Through light airs and heavy weather sailing he stood fast at the helm.
Andy Green called tactics. There was a congenial crew of 21, some long time "W" campaigners and some like me, picked up for the regatta crew. Tofias might best be described as a nautical Tom Wolff. He is sartorial in dress and even mirrors Wolff's recreational white suit and hat when appearing at the awards afterparty. He is also unfailingly polite and welcoming. I have sailed with scores of captains and owners and Donald was amongst the easiest. He never raised his voice in anger or ridiculed crew for a mistake. His commands were clear and his humor made for a lovely experience. His love of sailing is profound.
This year's Candy Store Cup had almost everything weather can generate. Day one was perfect, winds around 15 from the southwest, a Newport classic. Day two was lighter, the sea breeze setting up on time but without much oomph. Day three was more emphatic, with northeast gusts, a glowering fast moving cloudy sky and a confused sea state with swells up to four feet. Several Candy Store Cup participants withdrew after breaking something.
What yachts were sailing in the regatta? Simply some of the most beautiful boat flesh around. Let's start with Zenji a Ron Holland Perini-Navi 56-meter ketch. She is enormous, beautiful and possesses a no-expenses-spared pedigree, having been built originally for Larry Ellison. There was the magnificent Meteor at 52 meters, a Dykstra-designed schooner that really can take your breath away. She looks like a classic yacht from a century ago, but has all the bells and whistles of a modern racer. She doesn't just pass you on the water she whooshes by. There was the Bruce King-designed Whitehawk at 32 meters and the unique 42-meter gaff rigged Naema. And that was just Class C!
Class A and B had the magnificent J boat Ranger. She is participating in all the J revivals including the J Class Worlds taking place in Newport August 19 to 21. The classic yawl Bequia was there giving competition to both Audrey ll and the most modern of all yachts, the Frers-designed sloop Freya. Rounding out the fleet was the 37-meter sloop also designed by Dykstra, Action, as well as Sunleigh, a Tony Castro-designed 33-meter sloop.
There were plenty of parties and awards, and in the words of race pro and regatta organizer Peter Craig, "We're all here to have fun, this is about having a good time." The yacht hop, where everyone could be a voyeur and ogle each other's yachts, was fantastic. The generosity of the owners for opening their yachts during yacht hop night, and providing strong libations, was exemplary.
The closing party held at Meteor owner's oceanfront estate was as good an awards and wrap party as you can get. Bequia, with North Sails Chairman Tom Whidden as tactician, won the regatta.
But, to sum up the entire event, we need to go back to Donald Tofias and his trademarked slogan: "Yachting is the winner."