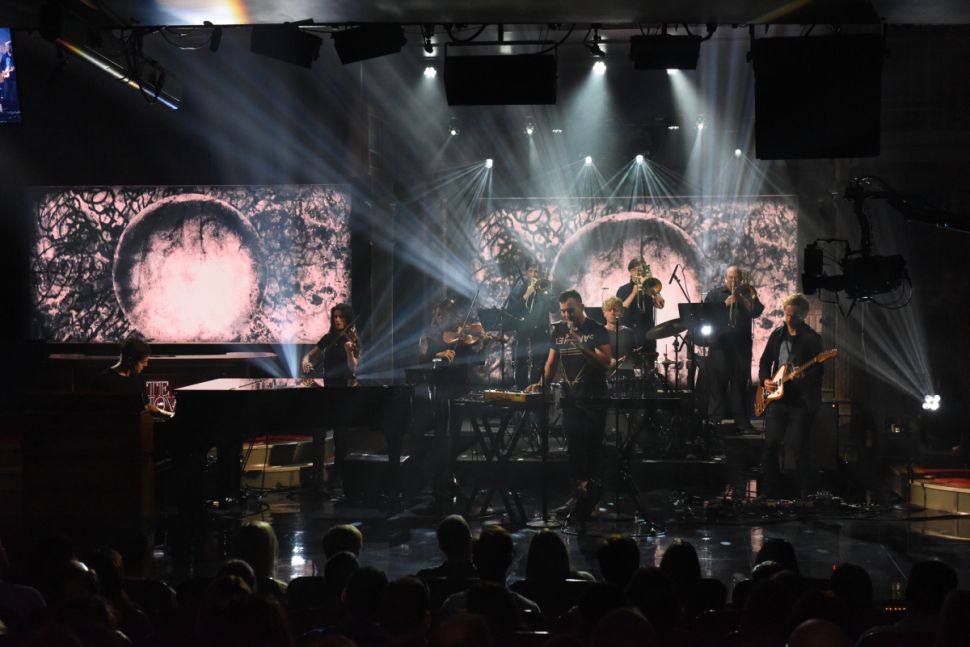 Speaking as the dad of a preschooler, a love for the cosmos comes at a very early age. Sometimes, these children grow up to become gifted adults who parlay their love for the stars into remarkable things.
Such is the case of the amazing new indie supergroup comprised of Sufjan Stevens, Bryce Dessner of The National, acclaimed film composer Nico Muhly and beat-maker James McAlister. Their excellent collaborative debut LP Planetarium was released June 9. What these four men have crafted is a blend of electronic beats, chamber pop and interstellar rock that could very well be the unofficial soundtrack to A Brief History of Time—it's as much Carl Sagan as it is Carl Palmer.
The quartet appeared on The Late Show With Stephen Colbert to perform the standout track "Mercury" late last month. The band is also played their only North American shows together the same week: one at Brooklyn's Prospect Park Bandshell, one L.A.'s Hollywood Forever Cemetery, and a final performance at the Fox Theatre in Oakland.
Observer had the opportunity to speak with Muhly about how this unconventional project came together as well as his own enduring love for outer space. Planetarium is in stores now from 4AD.
How young were you when you first took interest in the solar system?
Where I'm from (Providence, Rhode Island) they start teaching it to you around grade school. In terms of a catalyst, I feel like school is a pretty strong one for very young children. We lived in a place with really, really clear skies, too, so my parents would point out the constellations to me as a boy. As I didn't have a strong religious background, learning about the solar system is one of the first times I was exposed to the concept of the infinite; things that stretch way past the visible. Of course, if you rewind to a pre-scientifically enlightened time, you realize that studying the solar system was, itself, a function in faith and in an awareness of the supernatural. In Roman and Greek times, you have this almost constant commute between the stars, Mount Olympus, and the earth as we know it—the same is true in other faith traditions the world over. My sense of the solar system comes as much from that gorgeous D'Aulaires Book of Greek Myths. I was always so much more interested in fiction about space than the scientific nitty-gritty, which, for me, represents the limits of my intelligence and a slight restriction on my imagination! So the Tintin where they go to the moon was very poignant for me—even old cartoons.
How did the four of you come together for this album?
We've known one another for years; in a sense, this album was a solidification of the friendship we already enjoyed. One of the difficult things about being on the road all the time is that one makes music all the time but not always with one's nearest and dearest.  This project—which started in Eindhoven, in the Netherlands, where I was a composer in residence—was a multi-year multi-pronged series of long stretches of time spent with James, Sufjan and Bryce, which is always a pleasure.
What is your own interpretation of our universe? Are we a major cog or do we exist on a flower being held by the trunk of an elephant named Horton?
Turtles all the way down.

What piece of classical music beyond Holst's The Planets, in your opinion, was the best interpretation of outer space?
Olivier Messiaen's Des Canyons aux Étoiles is pretty amazing. Most of Messiaen's music does this genius natural-world-meets-Jesus trick that gets me every time. Another great example, which I recommend highly, is Now the Great Bear & the Peiades from [the opera] Peter Grimes—Benjamin Britten parks the singer on a single E-natural, and then lets the strings create the most delicious nebula around it.
What single planet are you most intrigued by?
I have a soft spot for Pluto. One of the things I love so much about science is the regular unveiling of a new fact that completely contradicts the one before it—you usually see this in newspapers talking about diets—eat only eggs, never eat eggs, eat only brown rice, never go near brown rice, and so forth. Pluto has gone in and out of his planetary designation so many times, I've lost count.  Is he a planet again?
How do you plan on recreating this listening experience for the concert stage?
We're restoring a lot of the original instrumentation. For starters, we'll have a clutch of trombones and a brace of strings. The structure has gotten tighter and we are having a lot of fun. Note, though, that we actually first built this piece as a concert piece and toured it a bunch about five years ago—at that time, the ensemble was the four of us plus seven trombones, and a string quartet—a much more unwieldy beast! Now we are tight and slick. Also, the video is really, really beautiful. I generally sit such a place that I can see it relatively well from my keyboards and it is such a pleasure.