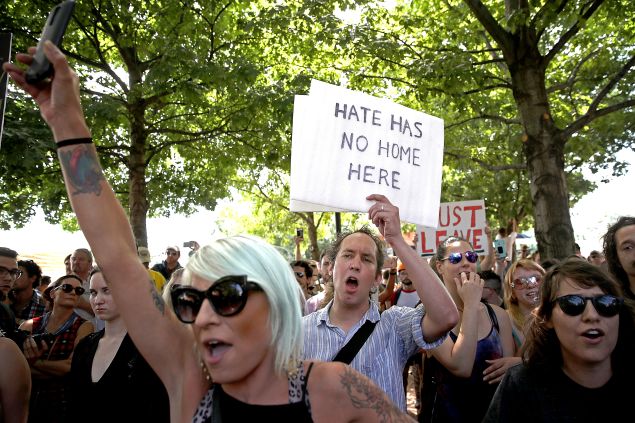 President Trump on Monday condemned weekend violence in Charlottesville, Va., that took the life of Heather Heyer, a 32-year-old counter-protester killed by a white nationalist who plowed through a crowd with his car.
Prior to his Monday announcement, Trump had been criticized for a Saturday statement condemning violence "on many sides" without specifically denouncing the neo-Nazis and white nationalists who organized the Charlottesville protest.
Before Trump called the weekend's events "repugnant" and condemned the KKK and neo-Nazi groups that organized the protest on Monday, New Jersey political leaders from both parties had pointed words for the violent agitators and the president.
The Democratic nominee for governor this year, Phil Murphy, said the violence could be traced back to Trump's actions.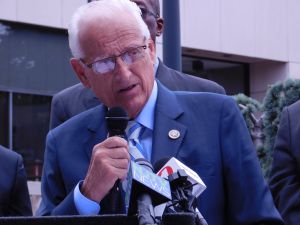 "What we are witnessing in Charlottesville is the sad result of when hate and bigotry are given a wink and nod by the president and those around him," Murphy said in a statement over the weekend. "This is raw ugliness and betrays our values. That this is happening in the community of Thomas Jefferson, who wrote, 'We hold these truths to be self-evident, that all men are created equal,' is profoundly disturbing. We are better than this."
Lt. Gov. Kim Guadagno, the Republican nominee, condemned "white supremacists" in a Twitter post over the weekend.
"We must all condemn violence and white supremacists," she wrote. "Only thoughtful dialogue and civil debate, not hatred, will heal our divisions."
Rep. Bill Pascrell (D-9) and faith leaders called on Trump and his administration to condemn the incident and reinstate federal grants to combat violent extremism. In Trump's 2017 budget, the president proposed cutting funding dedicated to the Countering Violent Extremism Grant Program, a program that allocates federal dollars for organizations combating radical views.
"Civil rights abuse and inequality need continued attention from the Department of Justice," Pascrell said. "At the Department of Homeland Security, the administration must not treat homegrown, right-wing terrorist differently from other threats."
According to Pascrell, a number of individuals in the Trump administration who have ties to white nationalism should be fired. Pascrell cited the employment of White House Chief Strategist Steve Bannon, Senior Policy Adviser Stephen Miller and staffer Sebastian Gorka as validation for right-wing rhetoric.
"These people are just a few of those who influence President Trump's policy," Pascrell said. "It is simply inexcusable for these individuals to be paid by taxpayers to work in the White House."
Other New Jersey leaders also spoke out against the Virginia violence prior to Trump's statement.
In a Saturday Twitter post, Gov. Chris Christie said that "everyone in leadership" must "reject the racism and violence of white nationalists like the ones acting out in Charlottesville." A long-standing Trump ally, the governor did not mention Trump by name.
U.S. Sen Cory Booker said it was "hateful hypocrisy" for Trump to not mention the white nationalist groups by name in his Saturday statement. Last year, Trump was adamant that President Barack Obama and Democratic presidential nominee Hillary Clinton use the phrase "radical Islamic terrorism" to condemn violence carried out by practitioners of Islam.
"President Trump's words in his statement — hatred, bigotry and violence that's on many sides' — not only fuels a misleading account of what actually happened but shamefully puts the counter-protesters on the same moral level and as those carrying Nazi flags and chanting vile racist rants," Booker said.
Rep. Frank Pallone (D-6) on Saturday also called on Trump to condemn the "condemn the underlying racism" that he said fueled the "vile" Charlottesville incident. Rep. Bonnie Watson Coleman (D-12) on Twitter said that Trump had "greenlighted" discrimination and hate speech. All other members of New Jersey's congressional delegation condemned the weekend incidents but their comments did not mention Trump by name.
"The hatred on display in Charlottesville is absolutely unacceptable and I condemn it entirely," Rep. Tom MacArthur (R-3) wrote on Twitter on Saturday. "There is no room in our society for it."