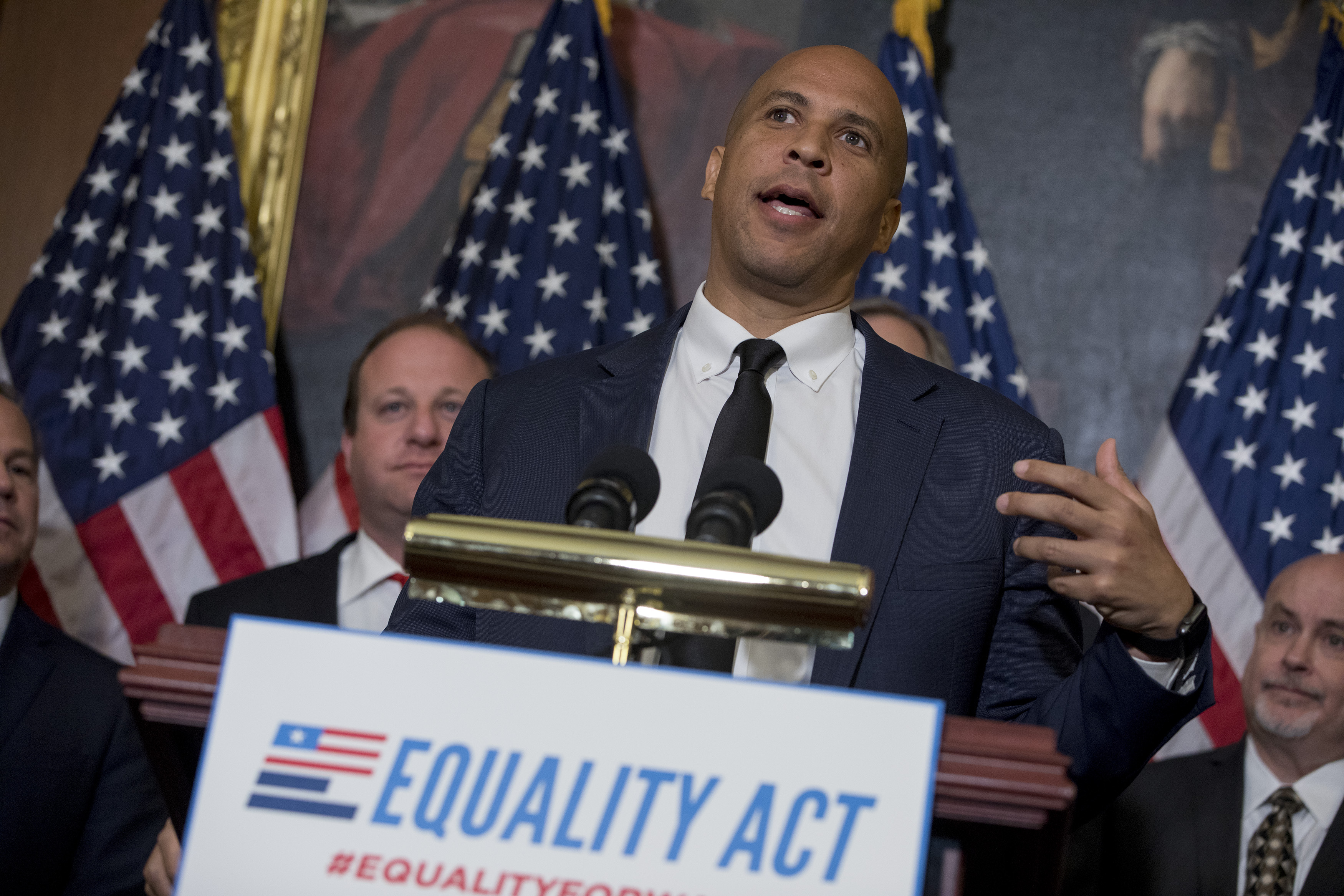 The fight over Confederate statues is moving to the halls of United States government, as Sen. Cory Booker plans to introduce legislation to remove such statues from the U.S. Capitol building. Meanwhile, Rep. Leonard Lance (R-7) said he supports a new version of the Voting Rights Act.
While other states have said they won't cooperate, the New Jersey Division of Elections is turning over some records to President Trump's Advisory Commission on Election Integrity. Division Director Robert Giles said New Jersey would supply information that's already publicly available.
And Phil Murphy plans to raise taxes on the wealthy and pot smokers to generate $1.3 billion to pay for his progressive campaign platform. He wants to hike the millionaire's tax, close several corporate loopholes and legalize and tax recreational marijuana.
Quote of the Day: "Individuals who were treasonous to the United States, who took up arms against their own country, and inflicted catastrophic death and suffering among U.S. citizens, are not patriots and should not be afforded such a rare honor in this sacred space. — Cory Booker on removing confederate statues from the U.S. Capitol.
Exclusive: Murphy Plans to Raise $1.3 Billion in Taxes
Phil Murphy's proposed tax increases would raise roughly $1.3 billion a year, his spokesman told Observer on Thursday, releasing for the first time a cost estimate of the Democratic gubernatorial nominee's plans to pay for a multitude of campaign promises.
Christian Hetrick, Observer Read more
NJ Officials Supply Voter Data to Trump's Commission
New Jersey state officials are sending reams of voter data this week to President Trump's Advisory Commission on Election Integrity, the controversial panel investigating claims of electoral fraud in the 2016 race.
Alyana Alfaro, Observer Read more
Booker, Lance Push for Legislative Changes After Charlottesville
The deadly neo-Nazi rally that shook Charlottesville, Va., over the weekend spurred several members of New Jersey's congressional delegation to announce or support legislative plans to counteract the recent spurt of white nationalism in the United States.
Alyana Alfaro, Observer Read more
Why N.J. lawmaker who helped Trump just rejected the president
A South Jersey congressman and recent beneficiary of a fundraiser hosted by President Donald Trump after helping the president in the Obamacare repeal drama is breaking with him for equating neo-Nazis who marched in Charlottesville with those who came out to oppose them.
NJ.com Read more
At Senator Menendez's Trial, Stakes Are High for Democrats
When Senator Robert Menendez of New Jersey goes on trial on federal corruption charges in less than three weeks, far more than his own fate hinges on the outcome.
New York Times Read more
Fourth public gig for this N.J. Democrat boosts his pay to $273K
Harrison Councilman James Doran is one busy man.
Doran, 56, holds three public jobs, is an unpaid board member for a Hudson County agency and was sworn in last month as a paid commissioner for the Passaic Valley Sewerage Commission. That position comes with a pension — Doran's third.
Jersey Journal Read more
N.J.'s links to Nazis, the KKK and the Confederacy
What do Nazis, the KKK and George Washington have in common? Federal Hill in Bloomingdale, of course. Like just about every other state in the Union, New Jersey has many remnants of America's storied past — the good, the bad and the ugly.
The Record Read more
Lakewood Orthodox leaders to Trump: Rethink Charlottesville
Leadership of the township's large Orthodox Jewish population – which was all-in for Donald Trump in last year's election – say they want the president to take a stronger stand against the white supremacist and neo-Nazi groups that gathered in Charlottesville, Virginia, for the deadly "Unite the Right" rally.
Asbury Park Press Read more
Linwood, Philadelphia men plead guilty in federal prescription drug fraud case
A pharmaceutical representative from Linwood said he knowingly defrauded a health care benefits program of $28 million using phony prescriptions through a network of recruiters, doctors and public employees.
Press of Atlantic City Read more
ACA Uncertainties Could Mean Fewer Enrolling
In addition to fueling premium increases, uncertainty over federal healthcare policy is also prompting customer confusion that could limit the number of eligible people who obtain insurance coverage through the Obamacare marketplace in the coming year.
NJSpotlight Read more
Cuts to EPA budget are attack on N.J., environmental groups say
A bipartisan group of elected officials from the Jersey Shore joined with environmental groups Thursday to denounce proposed cuts to the budget of the federal Environmental Protection Agency, reductions they say would decimate programs that keep the state safe and its residents healthy.
NJ.com Read more
EpiPen maker finalizes settlement for government overcharges
EpiPen maker Mylan has finalized a $465 million government agreement settling allegations it overbilled Medicaid for its emergency allergy injectors for a decade — charges brought after rival Sanofi filed a whistleblower lawsuit and tipped off the government.
The Record Read more