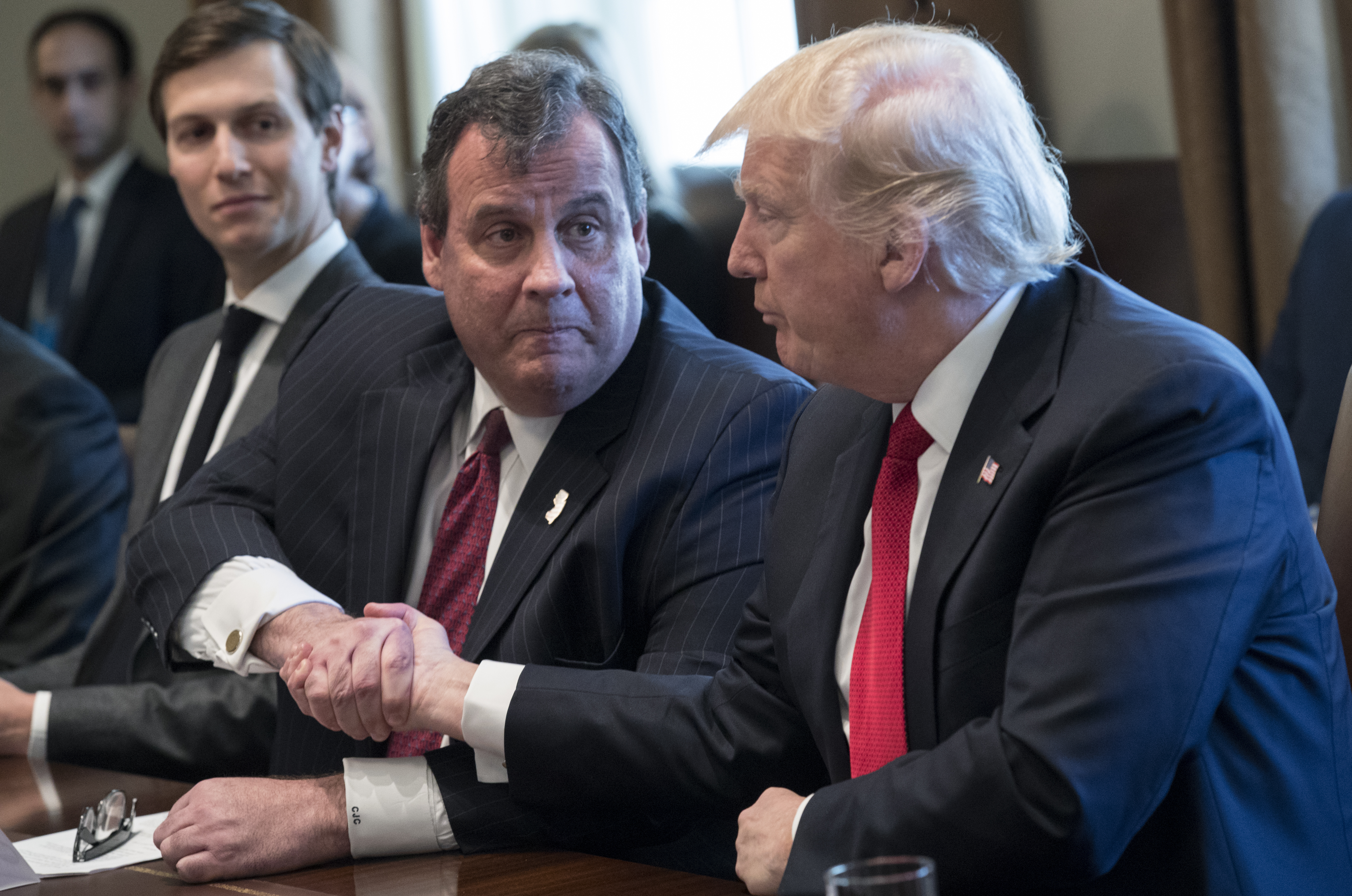 The opioid commission led by Gov. Chris Christie urged President Donald Trump on Monday to declare a national health emergency to help bring the drug crisis under control.
The panel's 10-page interim report said about 142 Americans die everyday from a drug overdose, and recommended a national emergency declaration to empower Trump's cabinet and "force Congress to focus on funding and empowering the executive branch even further to deal with this loss of life." The commission said it will undertake a full-scale review of federal funding, programs, regulations and laws to address drug addiction before releasing a final report.
The state Assembly convened a rare summertime session to approve back pay to to public workers who were forced to stay home during the three-day government shutdown of early July. The back pay bill is now on Christie's desk, and he is expected to sign it.
And Kim Guadagno got some much needed help from Republican National Committee Co-Chair Bob Paduchik, who came to New Jersey for a fundraiser and rally. Despite polls showing Guadagno trailing Murphy by more than 20 points, Paduchik said the gubernatorial race is still winnable for Republicans.
Quote of the Day: "I think we need to call it Murphy's law, right? Any tax that can be raised will be raised." – Kim Guadagno trying a new attack line on Phil Murphy.
NJ Assembly Approves 3 Beachgate Bills
The state Assembly voted 67-0 on Monday to pay public workers for days they missed during the three-day government shutdown in early July, sending the back-pay bill to Gov. Chris Christie, who has pledged to sign it.
Christian Hetrick, Observer Read more
RNC Co-Chair Rallies, Raises Money With Guadagno
Way behind in the polls and trailing in fundraising, Kim Guadagno got some much-needed help Monday from Republican National Committee Co-Chair Bob Paduchik, who came to New Jersey for a fundraiser and rally.
Christian Hetrick, Observer Read more
Gottheimer Supports Ex-Im Bank After Groups Call on Garrett to Withdraw Nomination
Rep. Josh Gottheimer (D-5) held a round table discussion on Monday with local business owners to discuss the merits of the Export Import Bank, a government agency that his predecessor in Congress Scott Garrett opposed while he was serving in the House and has now been tapped to chair by President Donald Trump.
Alyana Alfaro, Observer Read more
New Jersey a Pretty Good Place to Live, 59% of Residents Say
New Jersey residents have more pride in their local communities than the state as a whole, according to a Monmouth University poll released Monday.
Alyana Alfaro, Observer Read more
Christie-led panel urges Trump to declare national opioid emergency
The opioid commission led by Gov. Chris Christie is urging President Donald Trump to declare drug abuse a national health emergency to combat a crisis that has claimed a record number of lives and has shown no sign of easing its grip.
The Record Read more
Bipartisan group led by Gottheimer offers plan to stabilize individual health market
A bipartisan group of more than 40 House members offered a joint plan Monday they said would stabilize coverage for individuals by increasing funding for insurance companies and states, cutting regulations and eliminating a tax.
The Record Read more
Thaw For Senior Property Tax Relief Out of 2018 Budget
A recent poll of New Jersey voters indicated the top issue this gubernatorial election year is the state's notoriously high property taxes. Ever-rising property tax bills are also a particularly troubling issue for the state's senior citizens because many are living on fixed incomes.
NJSpotlight Read more
New Jersey schools ranked second best in America
New Jersey schools rank as the second best in America, according to WalletHub, a personal finance website.
Asbury Park Press Read more
'Dog the Bounty Hunter' announces lawsuit against Gov. Christie
Duane "Dog the Bounty Hunter" Chapman announced Monday a lawsuit against Gov. Chris Christie regarding the April killing of a Millville man.
Press of Atlantic City Read more
Lawmakers, advocates slam Christie over nursing 'crisis,' but the administration sees none
Democratic lawmakers and health care advocates are calling on Gov. Chris Christie to "immediately" address what they say is a crisis in the state's nursing industry fueled by years of neglect.
The Record Read more
20 people killed on NJ train tracks in '16 — NJ Transit says people need to pay attention
Every couple of weeks or so, someone is killed by an NJ Transit train.
Jersey is the most densely populated state in the nation, and not surprisingly, many railroad tracks run right through populated areas.
NJ101.5 Read more