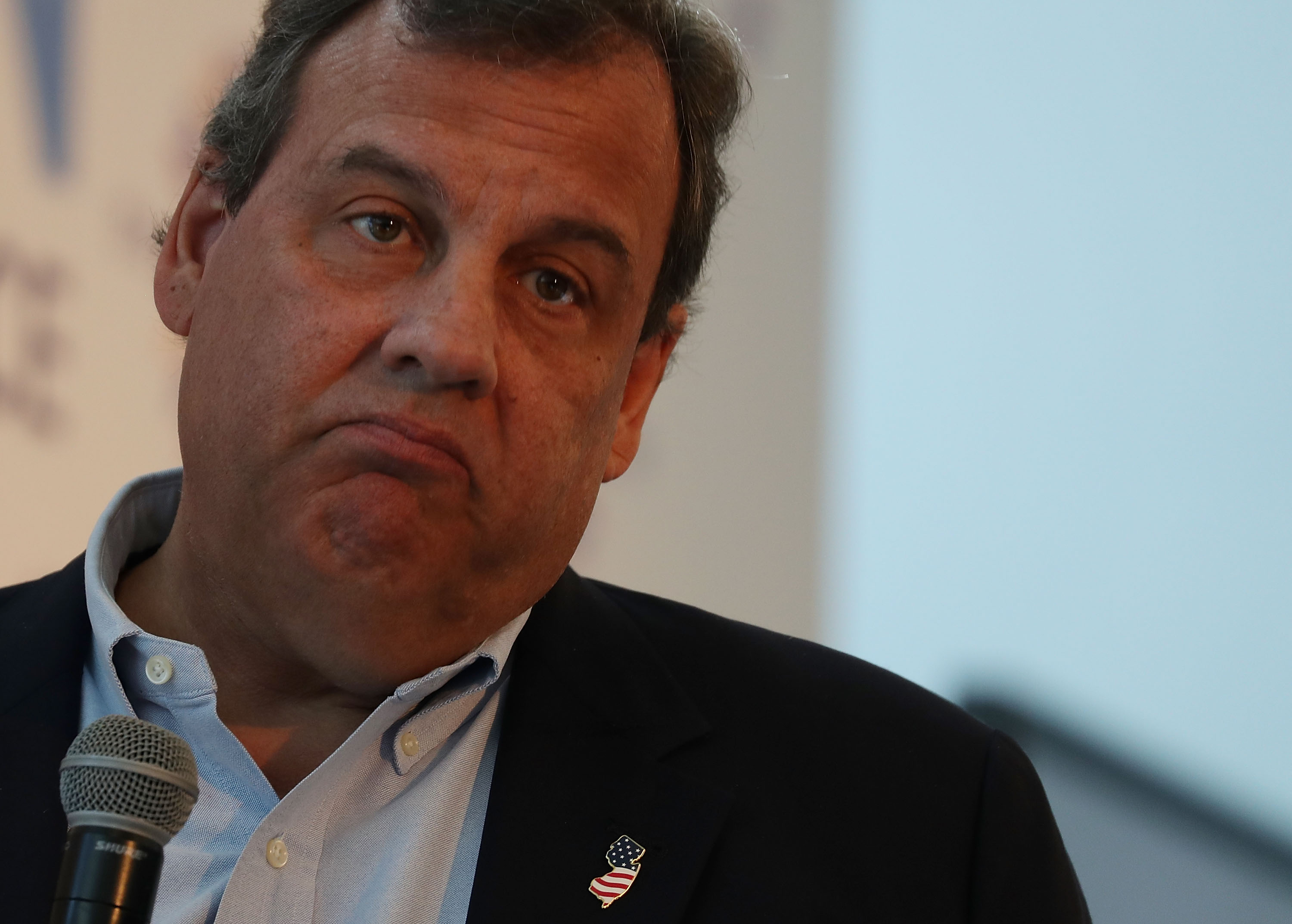 The 15 percent of New Jerseyans who still like him will never know the joy of listening to four hours of Gov. Chris Christie every day on the radio.
Christie, whose term is up in January, can scratch one job prospect off his list. He's out of the running to be a sports talk radio host on WFAN after several auditions this year. Sources told The Daily News that station executives told Christie to take a hike. Then, Christie told The Record he turned them down. Got that? He wasn't fired — he quit. Anyway, Christie's auditions were, uh, memorable. He was roped into a discussion about dildos. One guy called him a "fatass."
In the governor's race, Lt. Gov. Kim Guadagno pounced on Democrat Phil Murphy's tax plan, saying the $1.3 billion he would raise by taxing the rich and pot smokers was too much for the overtaxed Garden State. Murphy, meanwhile, attacked Guadagno for keeping mum as state officials send voter data to Trump's controversial voter fraud commission.
Quote of the Day: "After considering the other options that I have been presented with for post-gubernatorial employment, I declined their request to do additional shows." – Gov. Chris Christie.
Guadagno: Jersey Can't Afford Murphy's $1.3 Billion Tax Hikes
Phil Murphy's plan to raise taxes by $1.3 billion if elected is too much for New Jersey's overburdened taxpayers, Lt. Gov. Kim Guadagno said Friday at a campaign stop, even if those tax hikes would be geared at the state's wealthiest residents and marijuana users.
Alyana Alfaro, Observer Read more
Murphy Attacks Guadagno for Silence on Trump's Voter Fraud Commission
Democrat Phil Murphy on Friday attacked his Republican rival in the governor's race, Lt. Gov. Kim Guadagno, for sitting on the sidelines as state officials send reams of data about New Jersey voters to a controversial commission President Trump appointed to investigate claims of voter fraud.
Alyana Alfaro, Observer Read more
Jersey Gov. Chris Christie no longer a candidate to replace Mike Francesa at WFAN
Scratch Chris Christie off the list of candidates to replace Mike (Sports Pope) Francesa when he leaves WFAN (if he actually does) in December.
NY Daily News Read more
Christie drops out of contention for WFAN job
Gov. Chris Christie has pulled himself out of contention for a post-gubernatorial job as a sports radio host on WFAN, he said Sunday.
The Record Read more
Full recap of Christie's (failed?) bid to be WFAN host, from Cowboys to communists
Looks like Gov. Chris Christie's going to remain a free agent … for now. The governor's months-long flirtation with replacing WFAN's popular sports-talk radio host Mike Francesa appears to have come to an end…Here's a look at his bid, from start to finish:
NJ.com Read more
Will ties to Trump sink MacArthur's statewide prospects?
Rep. Tom MacArthur, who is serving his second term in Congress, is often mentioned as one of the Republican Party's best prospects for winning a statewide office in New Jersey in the post-Christie era…But MacArthur has perhaps inextricably tied himself to President Donald Trump.
Politico Read more
Here's the new face in the N.J. Assembly
A former mayor of Wall Township will soon be sworn in as the newest member of the New Jersey Assembly. Edward "Ned" Thomson, a Republican, is scheduled to take the oath of office Thursday to begin representing the Jersey Shore's 30th legislative district in the Assembly, the lower house of the New Jersey Legislature.
NJ.com Read more
Democrats in NJ38 have raised $30 for every dollar GOP opponents have raised so far
The three Republicans looking to represent in Trenton the 38th legislative district face an arduous task: defeating three well-funded Democratic incumbents in an election many expect will be a referendum on New Jersey's extraordinarily unpopular GOP governor.
The Record Read more
Protesters rally outside Trump National Golf Club in Colts Neck
Suellen Sims said she watched in horror last week as a group of white supremacists, white nationalists and neo-nazis clashed with counter protesters in Charlottesville, Virginia, leaving one woman dead.
The Record Read more
Trump heads back to D.C. after quiet weekend in N.J.
President Donald Trump left his Bedminster golf club Sunday, returning to the nation's capital, ending a working vacation spent mostly in New Jersey while the White House was being renovated.
NJ.com Read more
Q&A: Why N.J.'s tobacco-control cash went up in smoke, and what's being done now
New Jersey became the third U.S. state to raise its smoking age to 21 last month, which should reduce the 11,800 deaths and $4 billion in health care expenses caused by tobacco each year in our state. But reality intervenes.
NJ.com Read more
Cash-strapped Lakewood schools paying $600,000 for new attorney
The school board is bringing back controversial attorney Michael Inzelbuch, who formerly worked for the district, and will pay him a one-year retainer of $600,000 plus an hourly rate – making Inzelbuch potentially the highest-paid school employee or contractor in the state.
Asbury Park Press Read more
Fulop re-election effort is on cruise control: Political Insider
Jersey City Mayor Steve Fulop's re-election campaign is on cruise control with no perceived need to disengage it. Also, back-to-school sales warn us that fall is near and there isn't a whiff of political trouble for the mayor in the air. We're all waiting for some rival to throw a spike strip in front of the Fulop machine, but an October surprise seems doubtful.
Jersey Journal Read more
Atlantic City firefighter, two drug reps plead guilty in Shore Rx scheme
A retired Atlantic City firefighter and two pharmaceutical representatives pleaded guilty in federal court in Camden on Friday to their roles in a $28 million prescription drug benefits scheme that prosecutors say ensnared Shore firefighters, police officers, teachers, and a state trooper.
Inquirer Read more